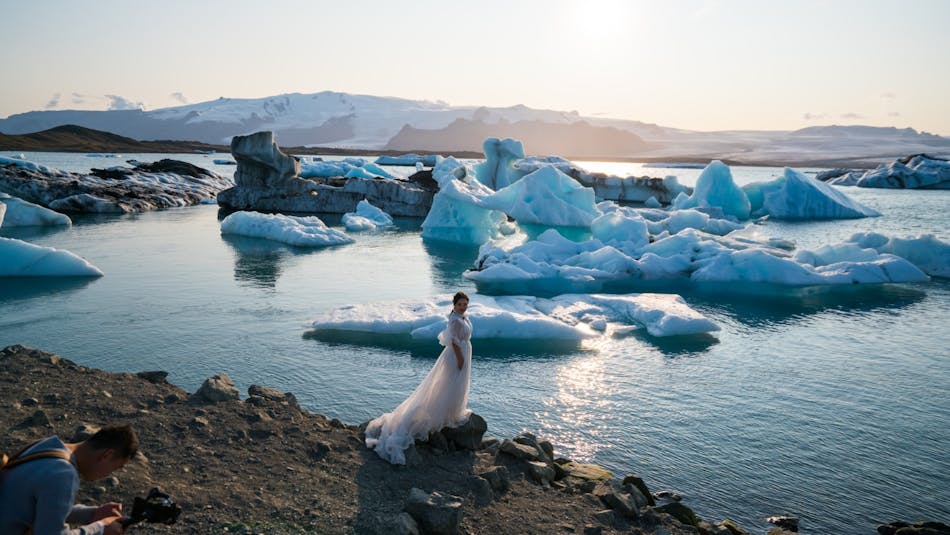 Romantic Iceland
An Interview with Iceland's leading wedding planner
To find out, what makes Iceland a perfect country for romance, we talked to someone with over ten years of experience in that field: Hannes from

Pink Iceland

organizes weddings, engagements and photoshoots in Iceland for couples from all over the world. He took us behind the scenes and told us about stunning elopement locations, exceptional customer wishes, why Icelanders are so good at organizing weddings and what romance really means!
What makes Iceland such a perfect wedding destination?
There is no wedding industry here, no molds into which things are formed. Getting married in Iceland means that it is unique and personal. Over the years we have cultivated relationships with our suppliers and we only work with people, that are excited! A wedding is a shared experience, and everyone involved from hotel receptionist to wedding planner is invested in your experience. You get the type of intimacy, attention and kindness you deserve.
Why is Iceland such a popular wedding destination? Is it only because of the pictures on social media?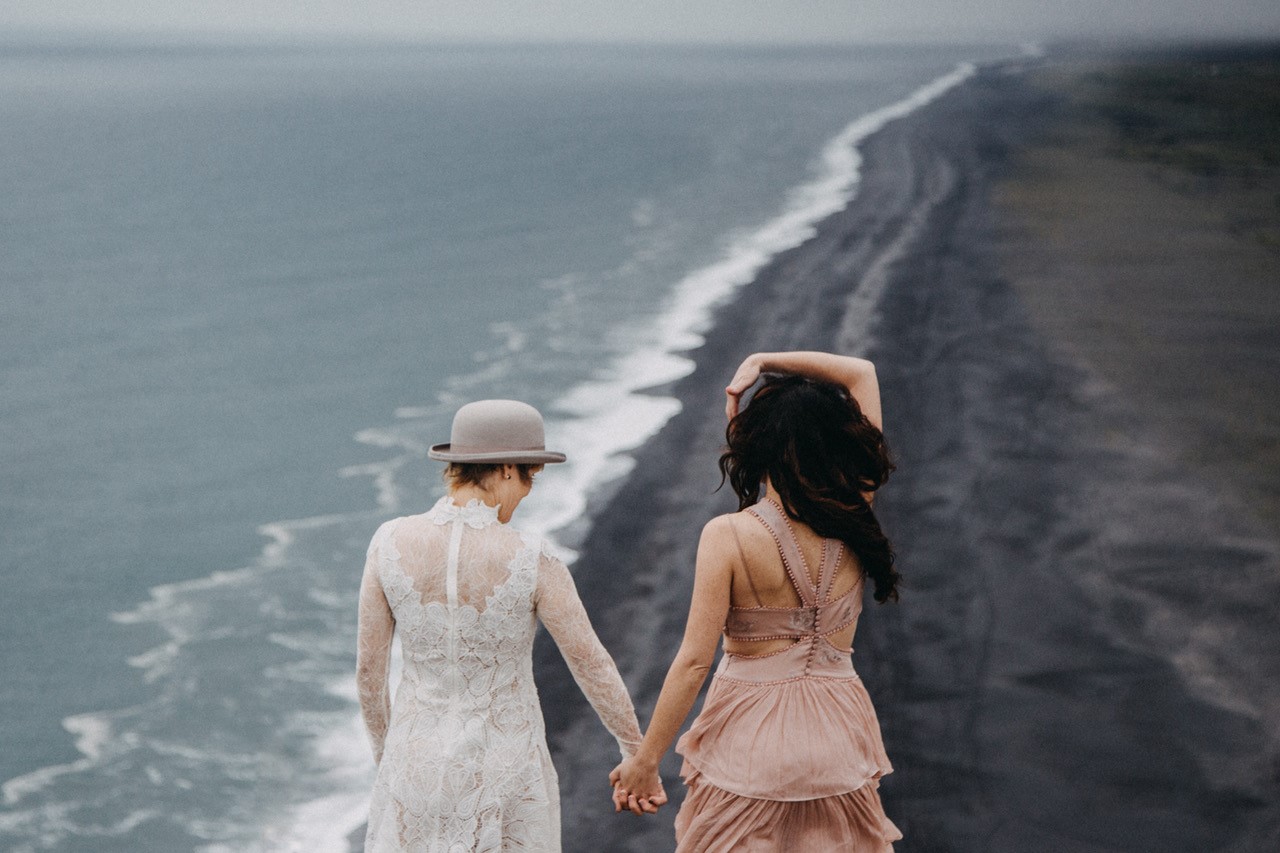 Black sand beach and other famous sites provide the perfect background for spectacular wedding pictures @pink iceland
It's a mixture of social media and word of mouth. Research shows that visitors to Iceland are in general incredibly happy with their stay and the combination of this and beautiful pictures on social media creates the perfect storm.
Why do people that come to you, want to get married in Iceland?
For two reasons mostly: it's the connection to nature and to something bigger than oneself that is appealing as well as that there is no wedding industry. This makes it more intimate and unique to get married here. Most couples that contact us, want to break with convention and do things their own way and on their own terms - which makes it more romantic.
Have couples sometimes even been in Iceland for the first time when they got married here?
The majority of our clients have not been to Iceland before! They show us an amazing level of trust. Inspired by what they see online and the good reviews, they know that they are in safe hands. But they are also brave and for many, it is on the bucket list.
How many weddings and engagements do you organize per year?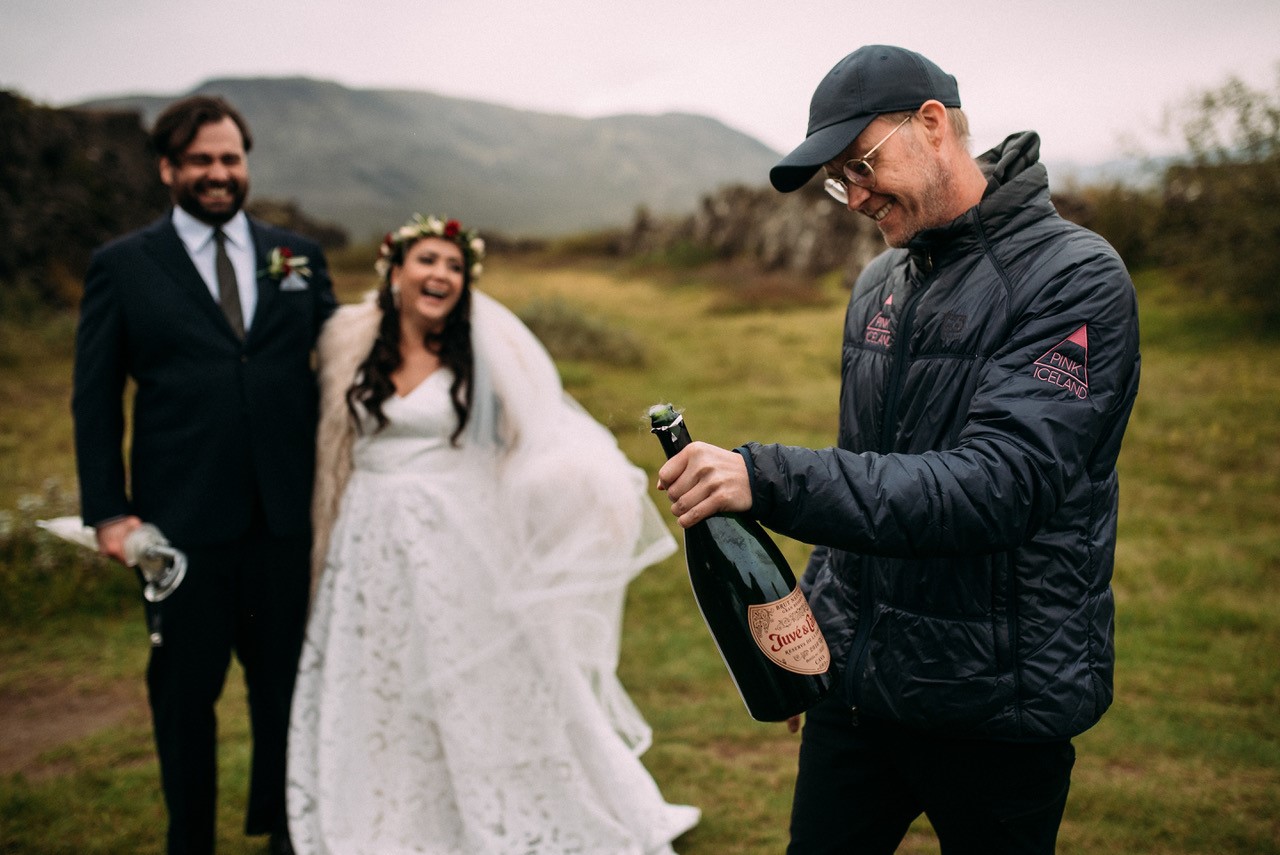 All hands on deck: Pink Iceland co-owner Hannes (right) and his team make sure, that everything is taken care of. photo [email protected] iceland
We plan between 120 and 140 weddings and 10-25 proposals per year. BUT we have 9 full-time wedding planners! That is how we can guarantee, that everyone gets personal service.
 How have location trends changed? Do you feel the influence from Instagram, that some locations suddenly get a boost due to social media and others that once were very popular are not so much in demand anymore?
Yes, we feel that these things change a bit. People often already have chosen the location when they come to us, because of pictures they found on the internet. But what couples mostly want, is privacy. And then we often must explain to them why getting married, e.g., in front of Skógafoss in July is not so private.
Some couples do not mind having hundreds of strangers witnessing the ceremony. For the others, we have developed secret locations and made arrangements with landowners, so we can guarantee absolute privacy.

Have you ever received a location request that totally surprised you?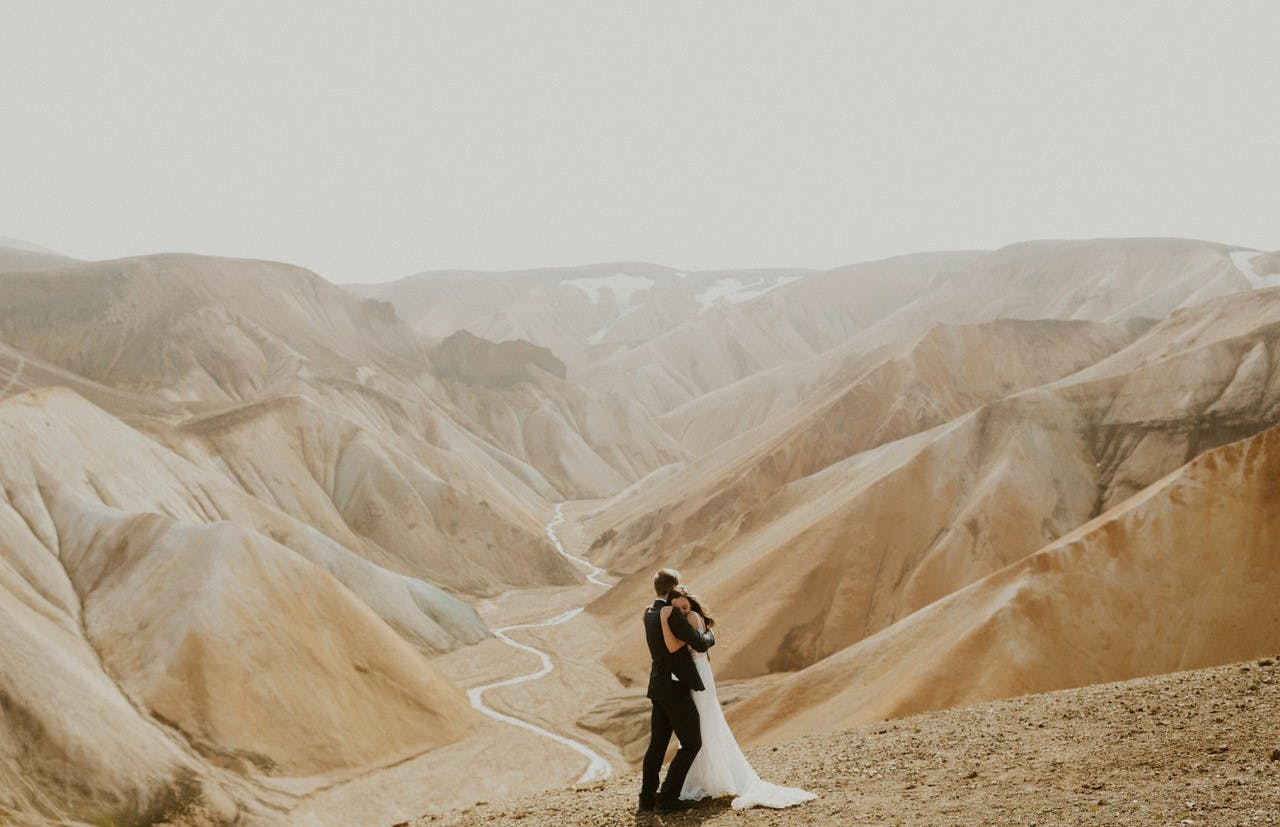 Sometimes a hike is part of the ceremony: this couple chose the highlands of Iceland to say "yes"! photo [email protected] iceland
We have had many extraordinary requests: weddings inside caves, on top of glaciers, on whale watching boats or in the lava tube of Raufarhólshellir. What always surprises me is, when people are willing to walk a long time to get to a location, for example, to get married at Svartifoss waterfall. But to them, even the hike is a part of their experience, it's the journey, not the destination, that makes the entire day special!
The weather in Iceland is unpredictable - how do you and your clients deal with that? Do you always have a Plan B?
 Yes, there is always a plan B and C and D. We have also married people in a horse stable due to bad weather. They loved it! Icelanders are used to changing plans and that is why we're so good at it. When those things happen, they always turn out to be such a great story. Life is just a collection of stories, that we share. And a good story is going to last you a lifetime!
Midnight sun or snow landscape? Are summer and winter weddings equally popular?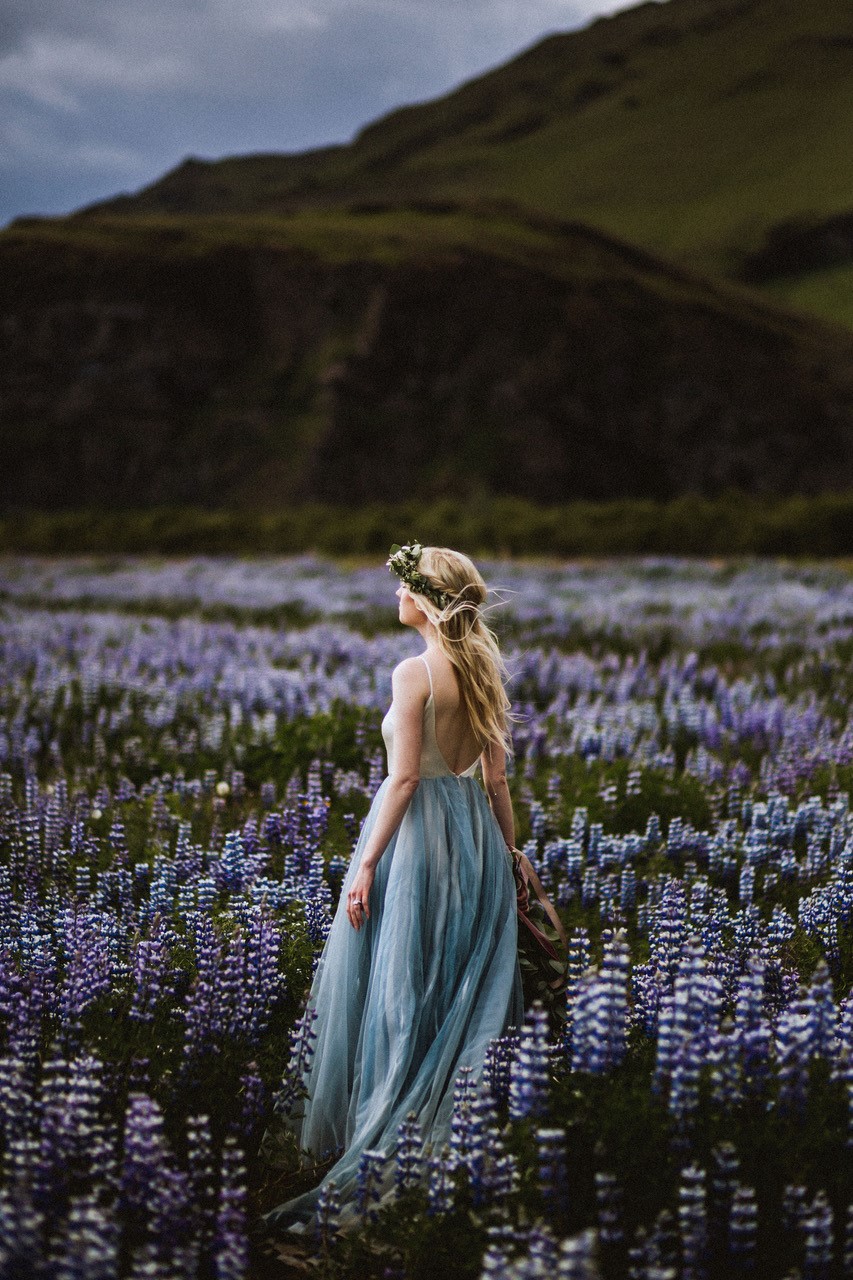 Sommer and winter both have their advantages, but Icelandic weather is always unpredictable! photo [email protected] iceland
The summer is more popular. In the past we used to have a low season from October until the end of March. Now we have weddings all year-round and snow weddings are becoming increasingly popular.
The winter experience relieves a lot of the weather pressure because you automatically expect the worst. The summer is a little bit trickier because people hope for good weather.
Photography is of course a vital part of every wedding in Iceland and photographers always prefer cloudier days due to more even light. Considering the midnight sun: we have experienced an explosion of people who want to get married late at night! We are now sold out for summer solstice and of course for February 22 this year!
What was the craziest wedding/engagement/couples activity you ever organized?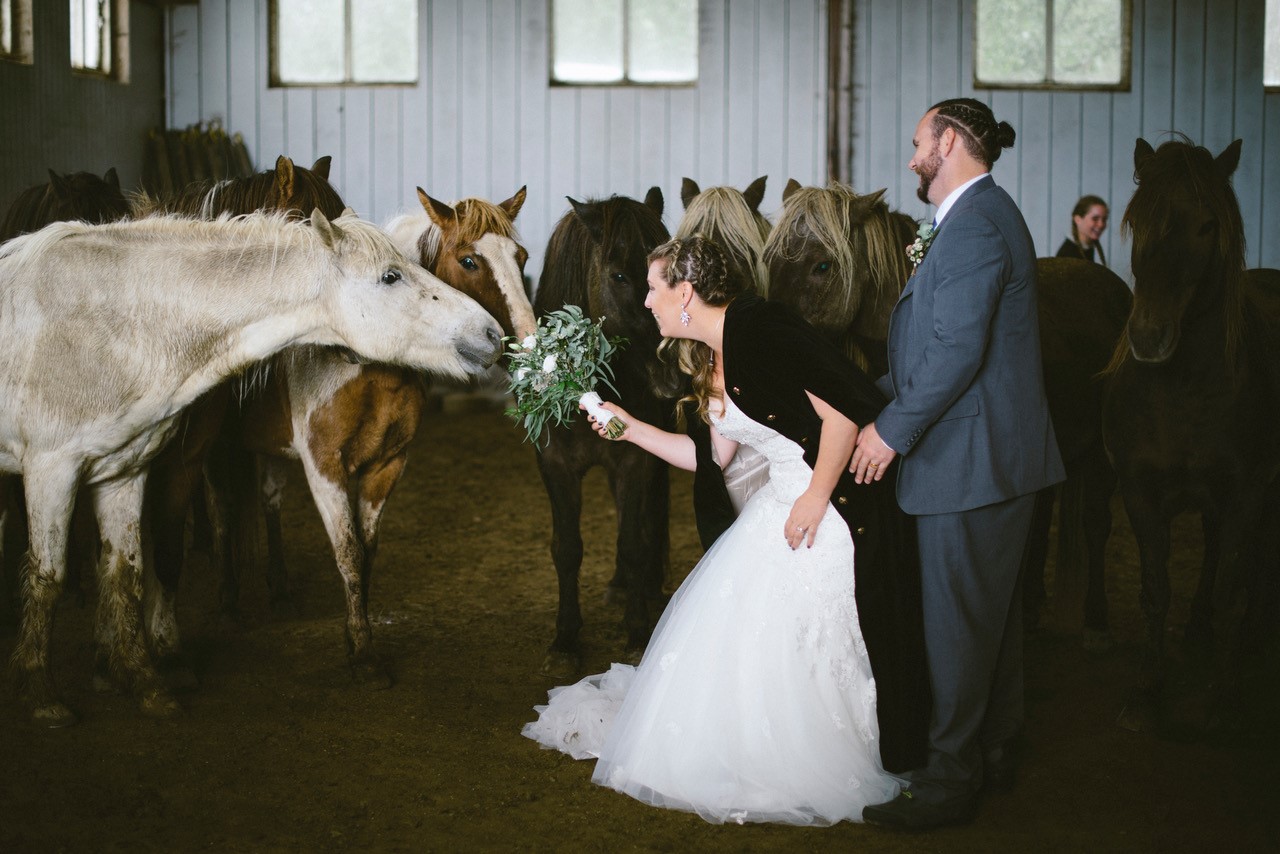 Icelanders are used to changing plans and thats is why they are so good at it! photo credit @pink iceland
The Volcano wedding was incredible, because it took a crew of 10 people to make it happen, involved hiking, and a picnic, videographers and photographers, and a lot of planning and site visits beforehand.

Another wedding turned crazy because of the weather. One couple got in touch 3 weeks before the wedding, and we planned everything. On the day it happened, the weather was insanely bad, and we had to replan absolutely everything! But they were so much in love with nature, with each other and with their day! In the evening, everyone was soaking wet, and when we got to their accommodation, a little summerhouse, the bride jumped into the hot tub in her wedding dress! They absolutely loved it!!!!
People who decide to get married in Iceland are generally brave and adventurous people and when we must change plans, they are always like "let's go for it" "let's do it". Not once had we had a negative reaction to a wedding in the last 10 years!
How have wedding trends changed in the last years and because of Covid?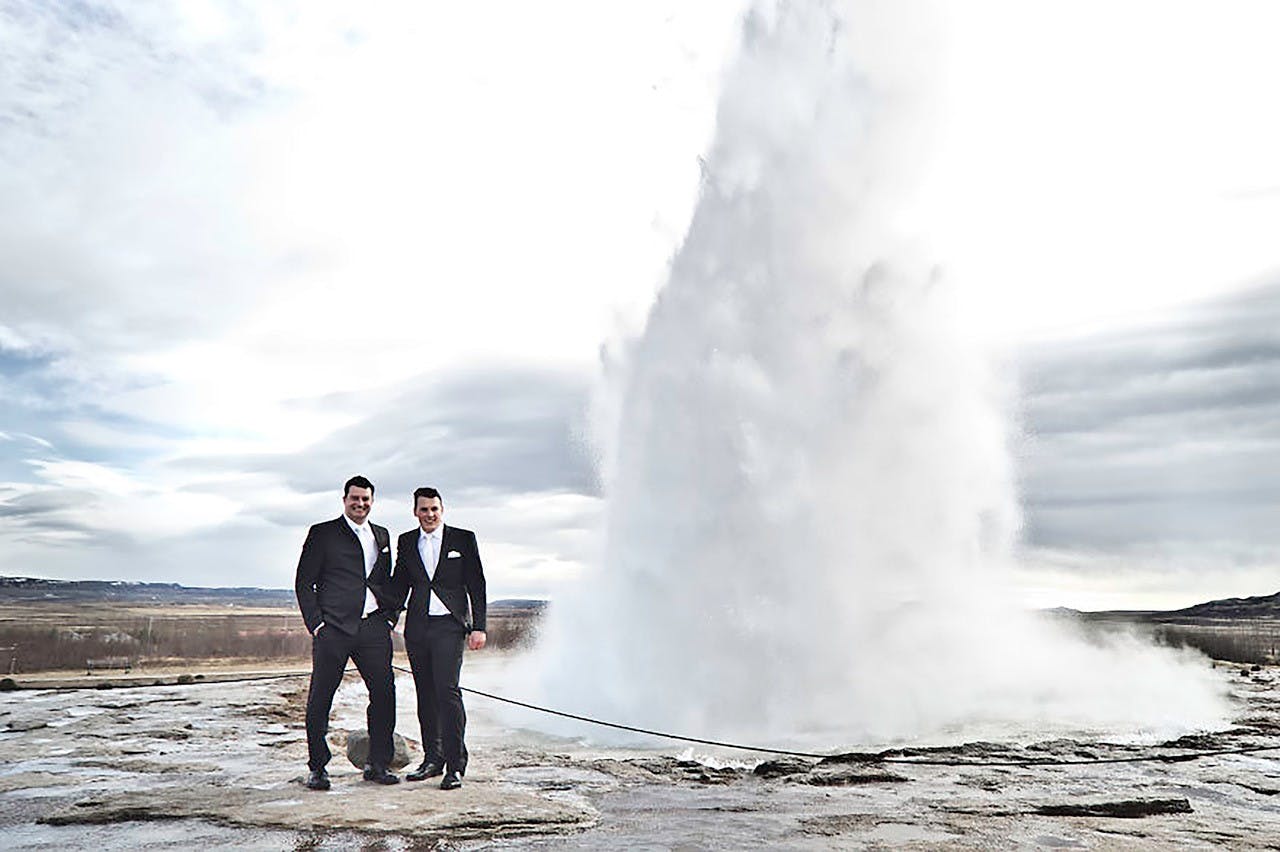 Pink Iceland's first wedding ten years ago: in front of the gushing geysir Strokkur. [email protected] iceland
We always encourage people to really think about: what do they want to achieve? Is it just a checklist?
Especially after Covid, clients want to take it easy, enjoy their time together and focus rather on one area of Iceland. What we consider romantic is time together. Slow Travel is more romantic and that includes weddings.
Friends and families, that do not know each other so well become closer. We call it the alumni-effect, where they share and talk about their amazing experience afterwards.
Besides getting engaged or married: What other romantic activities would you recommend to couples, who want to spend a romantic holiday in Iceland?
There are great couple accommodations, for example, the panorama glass lodge or a traditional Icelandic summerhouse with a hot tub. I would recommend to them a week in a cottage, and travel from there, hang out in the hot tub, enjoy themselves.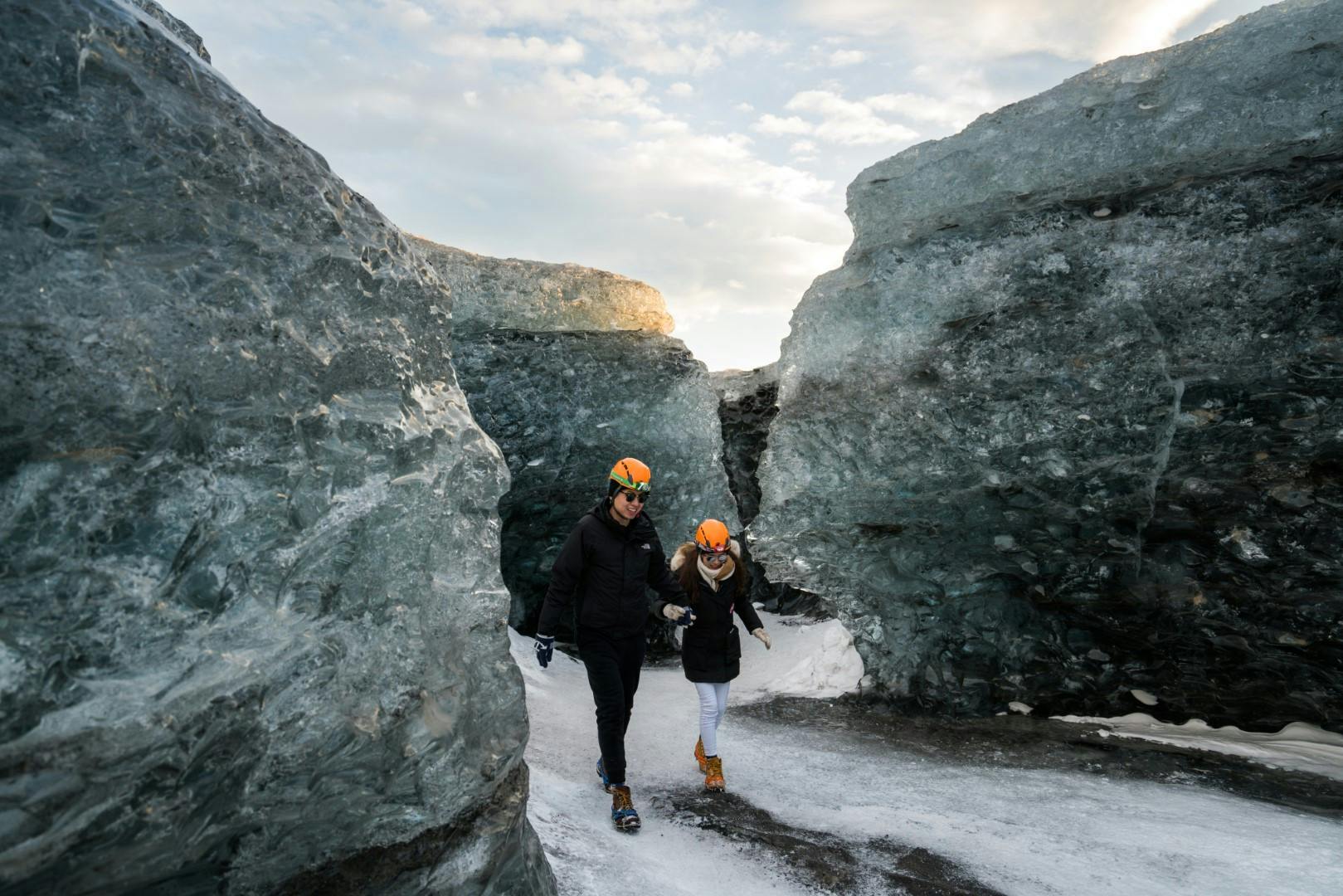 Exploring Icelandic nature: time with each other and time for common experiences is also romance
Being romantic is just giving yourself time to be with each other. That's what we plan for so many couples: seeing these beautiful locations in Iceland, you always feel so connected to mother nature, it's a grounding experience, that they share.
We make sure, that the people don't spend the entire day driving, and not check out of their accommodation every day, but have lots of experiences with short drives in between accommodations.
Would you say that Iceland is per se a romantic country?
Yes, absolutely, 100 %!!!