The best souvenirs from Iceland
Packing your bags and already wondering how much space to save for all the souvenirs you want to buy in Iceland? And what is an authentically Icelandic souvenir to bring home? The selection is bigger than you probably expect, but here are some ideas:
The famous lopapeysa - and Other woolen souvenirs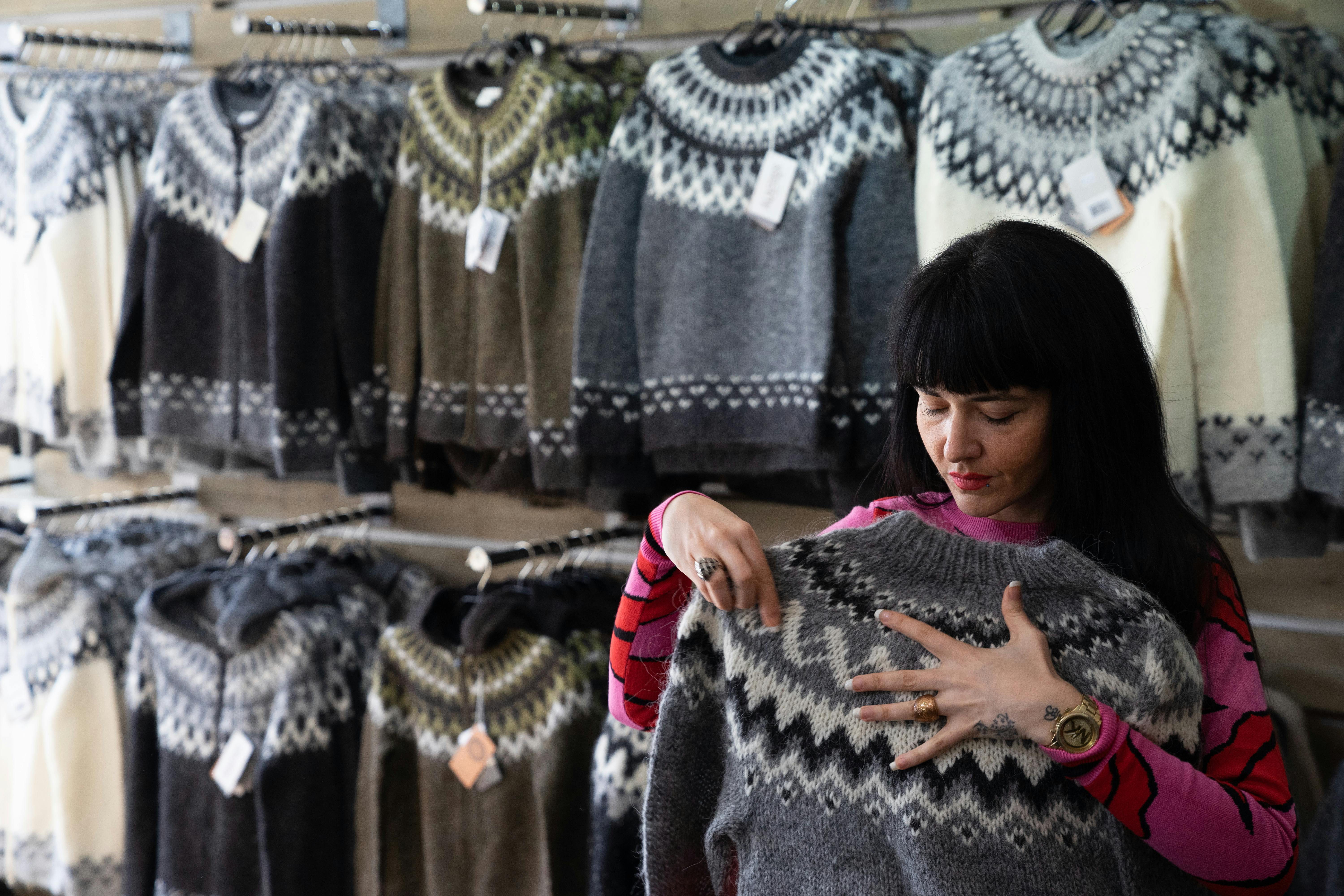 Sweaters are only one of many wooly options
The world-famous lopapeysa woolen sweater is arguably our number one souvenir. Those who have tried one on, know why: the wool is thick and water repellent, with beautiful patterns and color combinations to brighten up every outfit. Our lopapeysa guide will help you to find the right one.
The lopapeysa sweater costs between $150-200 depending on size and pattern.
On a budget? The lopi yarn is surprisingly inexpensive and knitting is, well, fun. Just ask grandma!
The universal Icelandic wool is also used for other beautiful home décor souvenirs, such as bedspreads, wooden sheep sculptures with sheepskin, and pillowcases. For more extravagant souvenirs look for woolen teapot warmers, elf shoes, and cold water swimming bathing shorts.
3 reasons to stock up on Icelandic chocolate and licorice
A dozen Icelandic candy and chocolate factories fill the local sweets market with a huge variety of sugary supplies. With this selection, it's probably no wonder that the average Icelandic consumes about 20 kilograms of sweets per year. But what makes Icelandic sweets so special?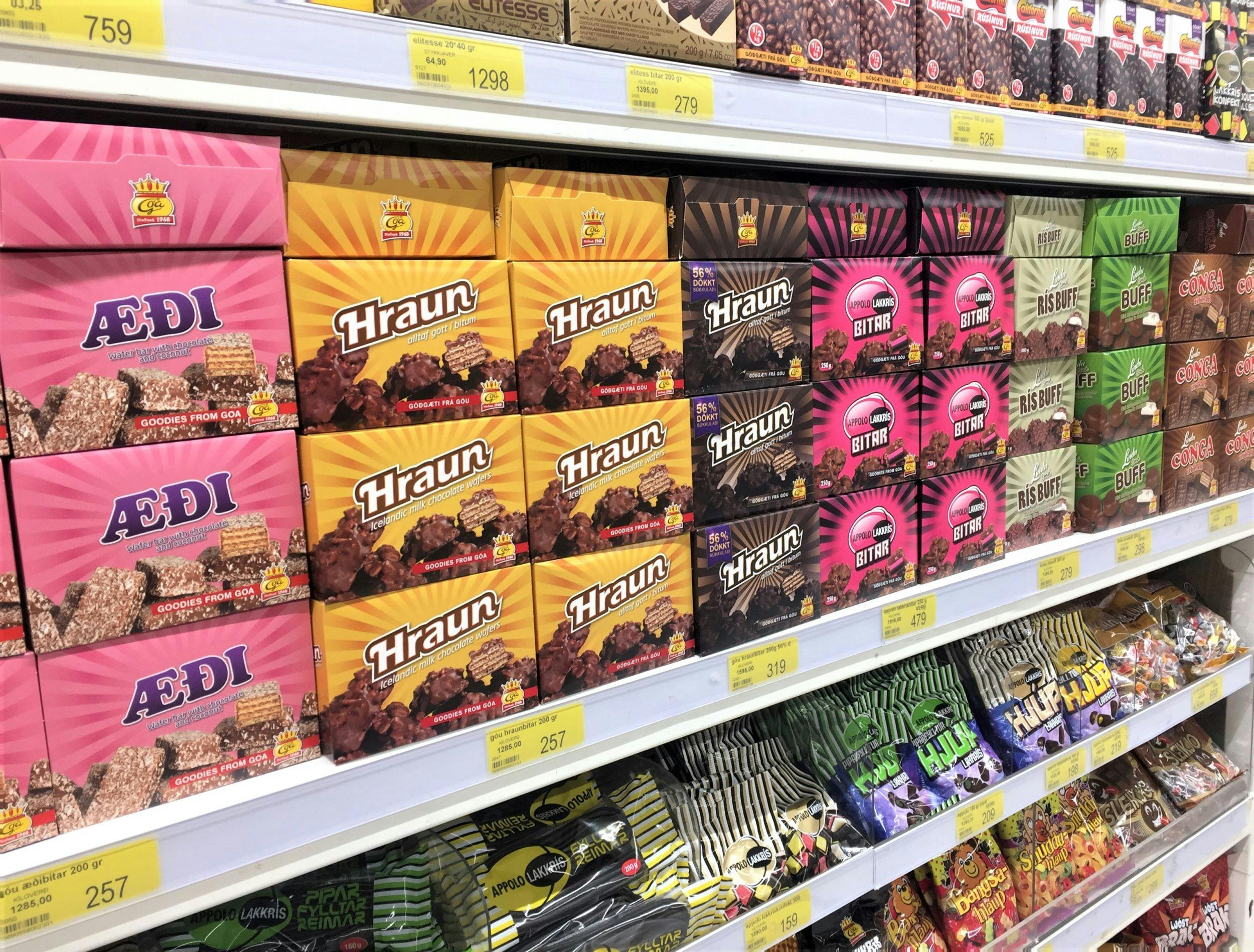 You might want to stop a bit longer in one of our supermarkets
There's licorice in almost all of it: and there's not only one kind of licorice: it can be salty or sweet, salmiac enhanced for a tarter taste, pepper spiced for more power, hidden in chocolate, or hiding other fillings like peppermint and marzipan. In rolled form, straw from or just as gummi bears – you'll find what your licorice heart desires and more.
 We use our own sea salt: yes, we are of course following the caramel-sea salt trend, and find it delicious. And with so much sea around, we of course use the produce from our very own salt factories.
 Originality and beautiful packaging: Waferpieces that resemble cold lava, chocolate malt balls, and huge chocolate Easter eggs filled with candy – you'll come across endless sweet goodies made in Iceland that you'll only find here. Lots of chocolate bars are also available in nice landscape or designer wrapping and make beautiful and tasty gifts.
Hung out to dry - Harðfiskur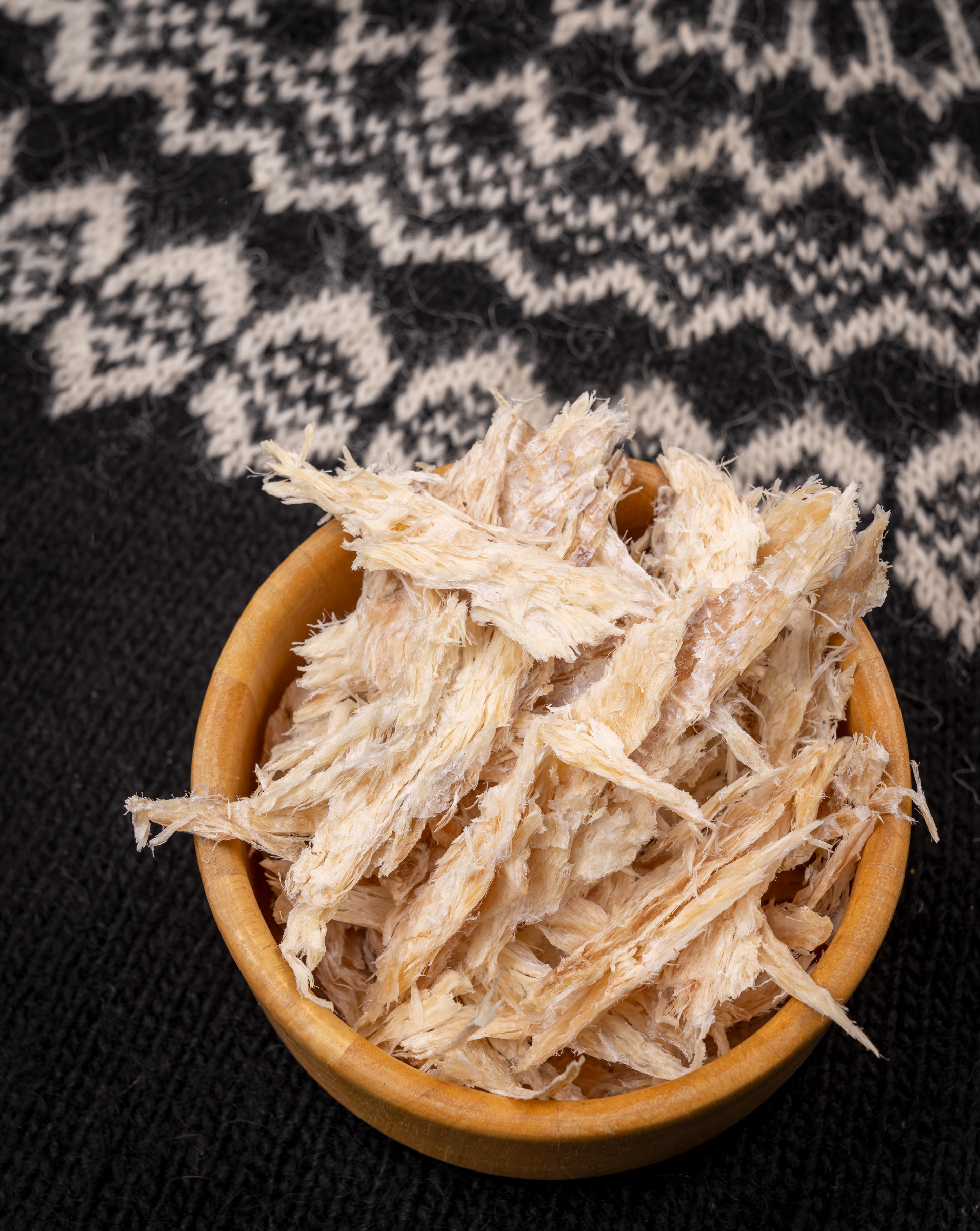 Harðfisk-pieces in a bowl - only the butter is missing
Rich in protein, low in fat, gluten-free, keto, and packed with vitamin B-12: Icelandic harðfiskur is a superfood.
The production process is quite simple: haddock, cod, or seawolf gets salted and hung out to dry for many weeks and sometimes months. What's left is a dried piece of fish fillet, only almost a tenth of its original weight, packed with delicious flavor.
Harðfiskur is a beloved snack amongst Icelanders and visitors alike, it's best enjoyed smeared with salted butter. And it's easy to find, too: supermarkets all over Iceland sell this delicacy in little bags that make perfect Icelandic gifts.
Tattoos – The puffin on your ankle
A souvenir for the daring ones: a tattoo of the Nordic compass in front of Kirkjufell mountain. photo credit @Reykjavik Ink
According to Hildur Sif, manager of Reykjavík Ink, approximately half of their customers are tourists, who wish for a lifelong reminder of their Iceland trip.
Ok, admittedly, this is only for the daring ones, but tattoos with Icelandic motives have become more and more popular in the last years.
"Usually travelers want something to remember their trip in Iceland - like a souvenir."
And what's at the top of the motif-wish list?
"I think what is classic, is the Nordic compass, it's a really nice magical stave and has a really beautiful meaning. Runes and magical staves, Northern lights and Icelandic landscape and puffins, to give you the most common tattoos that tourists get. And we cannot forget "Þetta reddast" (ed. the Icelandic motto, that can be translated as: "it will work out somehow")."
The spirit of Iceland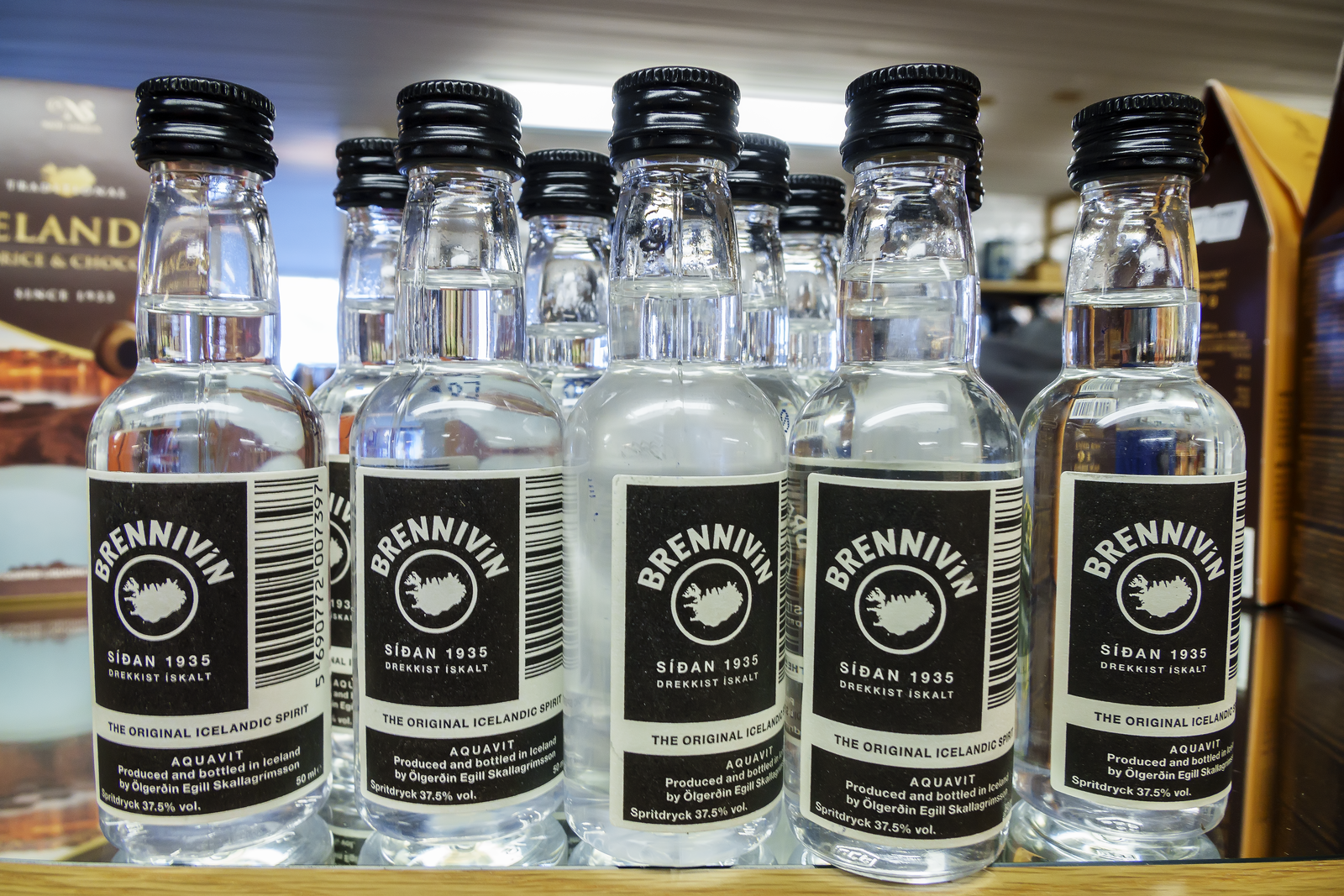 The selection of Icelandic spirits has long exceeded the classic Brennivin
From 1915 until 1989, beer was banned in Iceland and the product range for stronger spirits was almost equally limited. The famous exception being the aquavit-like Brennivin, that was then almost the only Icelandic spirit on the market.
But since then, the selection in our Vínbúðins (The State alcohol and tobacco company) has grown immensely and become more and more exquisite: blue- and crowberry liqueurs, gins from Iceland's own juniper berries and vodkas made from lava filtered glacial water – take your pick!
Our craft beers have also gained in popularity as well. On a trip around Iceland, it's possible to visit more than 20 local breweries and to learn more about their unusual brewing methods and ingredients.
Icelandic Fashion, Art and Handicraft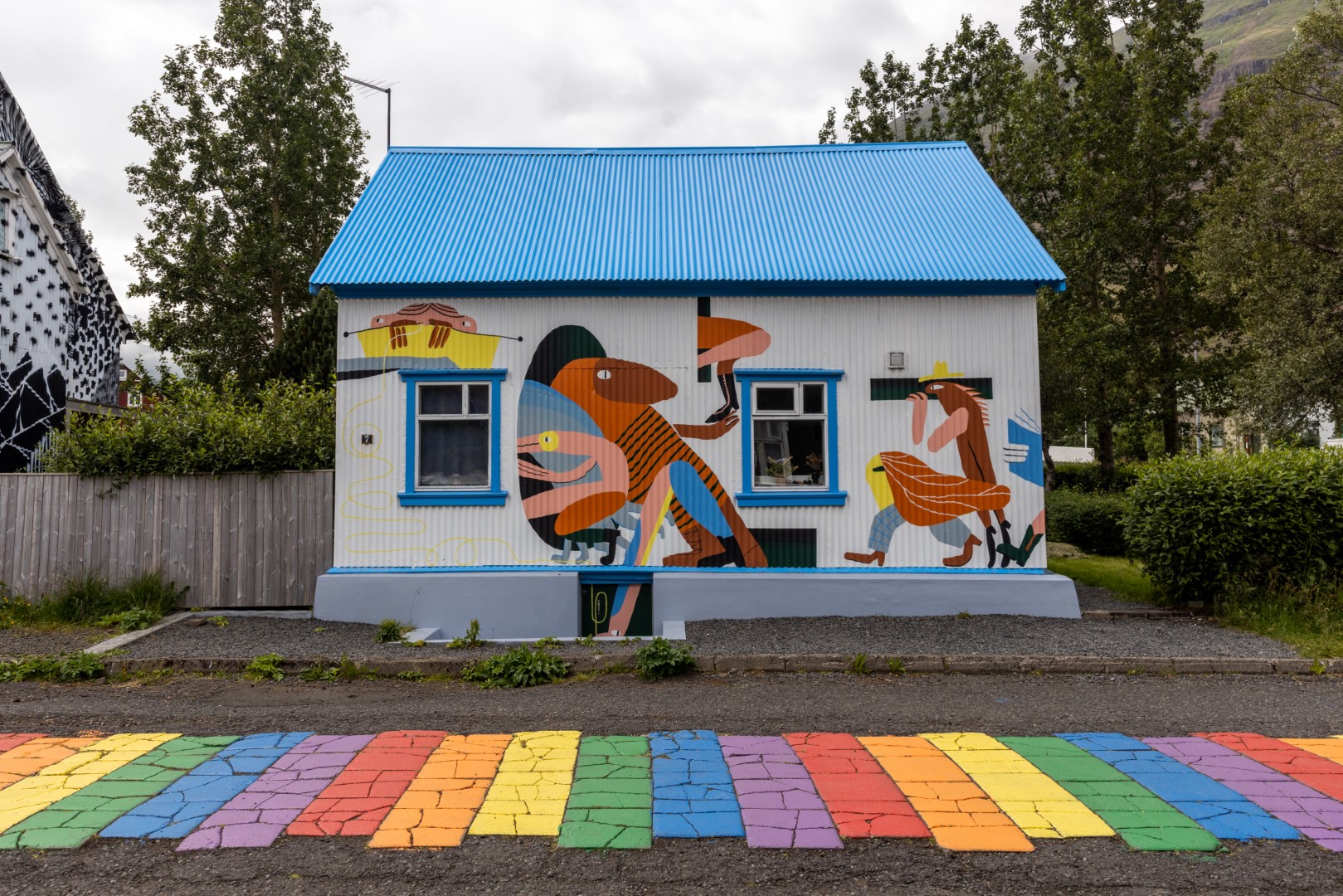 Creativity can be found around every corner
On your trip around Iceland you'll find many opportunities to shop local handicraft and artworklocal handicraft and artworks:, even in the smallest of towns and of course also downtown Reykjavik.
Whether its ceramics, weavings or paintings, uniqueness is everywhere! Hand carved sculptures of Icelandic birds; knitted, woven and crocheted clothing items. Fish skin, sheep bones, wool and lava stones – handicraft artworks made with the help of Iceland's resources are amongst the most popular souvenirs.
You can also check out some of the makers beforehand and if you want to dive deeper into Icelandic design and fashion, you can visit the Icelandic Design March in Reykjavík, an annual festival, that celebrates fashion, architecture and all creatives!
Iceland's 13 – Our Yule lads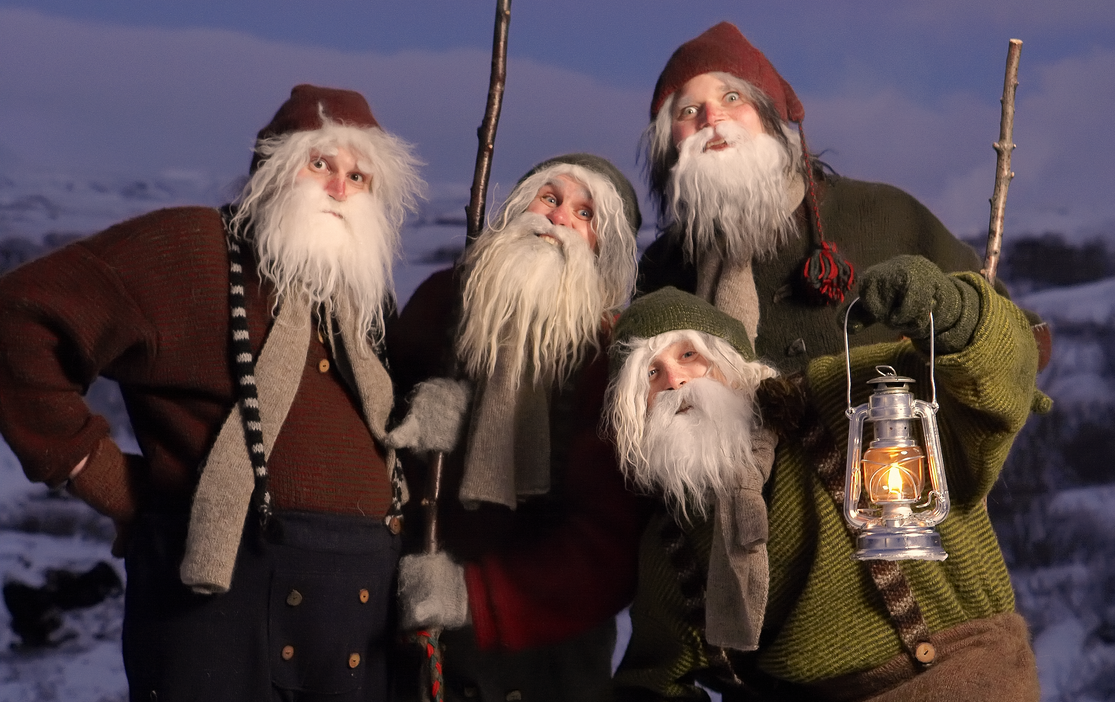 Beloved characters in Iceland: 4 of our 13 yule lads
Icelanders celebrate Christmas excessively and we not only have one Santa Claus but thirteen troll brothers. As their names reveal, they love to play pranks: Spoon Licker, Door Slammer, Skyr Gobbler, and Sausage Stealer are only some of the very popular thugs. Colorful puzzles and books about the whole sneaky bunch are available in many languages and make great souvenirs for kids!
Specialized Christmas shops, e.g. the Little Christmas Shop and Jólahúsið in Reykjavík or the Christmas garden in Akureyri offer beautiful Christmas ornaments throughout the year.