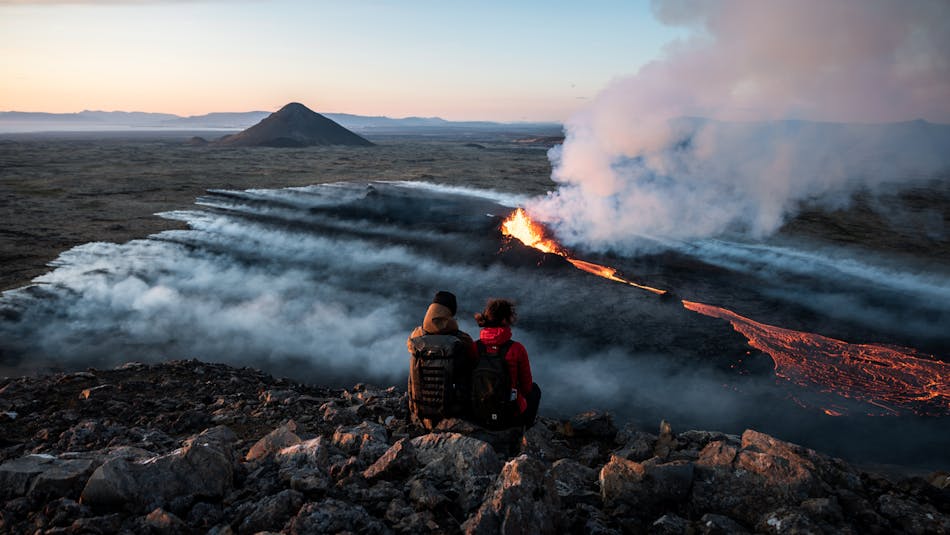 Increased seismic activity in Reykjanes: Latest Updates
The National Police Commissioner of Iceland declared a Civil Protection Service Level of Emergency on November 10th in response to increasing seismic activity on the Reykjanes Peninsula. There are strong indications of an imminent volcanic eruption in the area close to Grindavík.
The 2023 Litli-Hrútur Eruption Declared Over
The cooling craters of Litli-Hrútur are the newest landscape of Iceland. The area, known broadly as Fagradalsfjall volcano, has erupted three times since 2021 and remains a top-attraction in Iceland's southwest corner.
No activity has been in the Litli-Hrútur crater since August 5 and no lava is running.  None the less, the dormant craters and black, uneven lava is a spectacular sight, in the uninhabited valley on the Reykjanes Peninsula.
When the craters flared to life -- only 35km from Reykjavík -- the glow was visible from Iceland's capital. Getting closer, however, is a hike. Contrary to expectations, the longest path leads to the newest lava, from 2023, at a mountain known as Litli-Hrútur, some 20km (12 miles) round-trip. The shorter path, at Stórhóll viewpoint, features everything but the creates.
Always consider weather conditions. The mountain is cold and windy, with a stubborn fog.
Choosing a hiking route
It is best to begin the hike at 'Geldingadalir Parking P1', the label given on Google Maps, with three marked options.
Path A - Mt. Fagradalsfjall (pink) to the eruption from 2021 and 2022 is about 6-8 km (one way), or about 2-2,5 hours of hiking. The distance depends on where you are able to park your car and how much hiking you do when reaching the eruption site.
Path C - Mt. Langihryggur (green) is about 4 km long (one way) to a viewing point of all the eruptions, from 2021, 2022 and 2023. From this path, you can see the lava from the new eruption by Mt. Litli Hrútur, but not the crater itself. Walking on the lava is dangerous and not allowed.
Path E - Meradalir (blue) to the new eruption site (July 2023) by Mt. Litli-Hrútur. The path is about 18--20 km. The first part of the hike is on a gravel path. The last 2 km over mossy lava rocks. It can take 5-6 hours in total to hike (not including a stop for viewing). It can be challenging. There are nice viewing spots on the way and remember that walking on the lava is dangerous and not allowed.
Are you up for it? Then check out Safetravel.is for current information on weather and possible hazards and this article with general safety rules at the eruption site.
Getting to the base
The eruption site is within an hour's drive from Reykjavík and about 30 minutes from Keflavík airport. 
FROM REYKJAVÍK. Take road 41 towards Keflavík, turn to road 43 towards Grindavík, and follow road 427 until you see the marked parking lots. 
FROM KEFLAVÍK. There are two routes available that both lie through Grindavík. They make a nice Reykjanes circle if you are going both ways. 
Option 1: Take road 41 towards Reykjavík, turn right on road 43 towards Grindavík and follow road 427 until you see the parking signs. Strætó buses only go as far as Grindavík; without a rental car it is best to join an organized tour.
Option 2: Along the coast, take road 41 towards Reykjavík, turn right on road 44 towards Hafnir, continue on road 425 towards Grindavík and follow road 427 until you see marked car parks.
Note that parking along road 427 is forbidden. The parking fee of 1,000 ISK (8 USD) can be paid electronically at Parka.is.
Keep in mind that no service is available at the eruption site, so having a pit stop in Grindavík to get food and drinks is an excellent idea before continuing to the eruption site.
Also, don't forget to check the current road conditions on the official Icelandic Road administration site Vegagerdin.is.
Before heading to the volcano site, please look at Safetravel.is for current safety information.
Guided tours to the volcano
Many tour operators offer guided tours of the volcano. Visiting with a local guide is highly recommended to get the most out of the experience and for maximum safety. Tours vary and may include transport or a meeting with your guide in the parking if you prefer to drive there yourself.  
Airplane or helicopter
Witnessing an eruption from above is an unforgettable experience. For a bird's eye view of Fagradalsfjall, book a scenic helicopter or airplane flight over the volcano as far in advance as you can to ensure a seat.  
For a list of aerial sight-seeing tours, see Reykjanes.is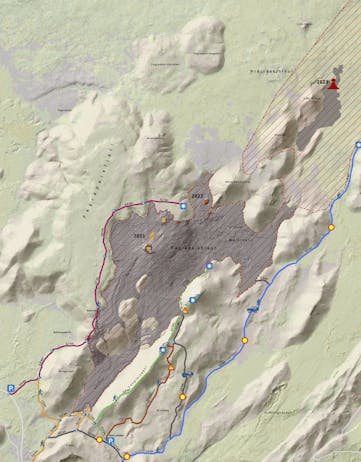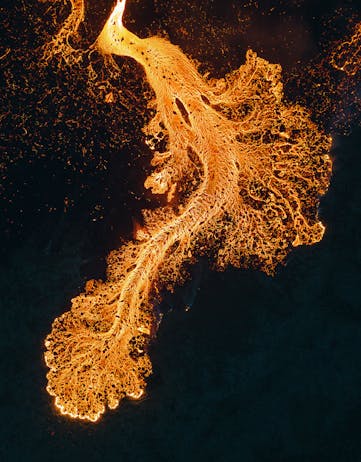 (Images L to R) Map of the hiking route to the Litli Hrútur eruption site. Litli-Hrútur eruption in Iceland with Keilir Mountain in the background and a bird's eye view of the lava flow on July 11, 2023. Photos: Thrainn Kolbeinsson

No matter when or where you are hiking in Iceland is is critical to be prepared. Here are some suggestions.
Gear checklist
Hiking boots (best above ankle) 
Waterproof shell jacket
Layered clothing, gloves/mittens, neck warmer (wool & fleece, avoid cotton)
Backpack
Fully charged phone (power bank can be helpful)
Headlight/flashlight with extra batteries
Plenty of food & water for more time than you anticipate
Hot coffee, tea, or chocolate in case you get cold
Leave no trace and take all your waste with you
Be prepared for cold, wet, windy, and possibly icy conditions, even if you begin your hike in good weather.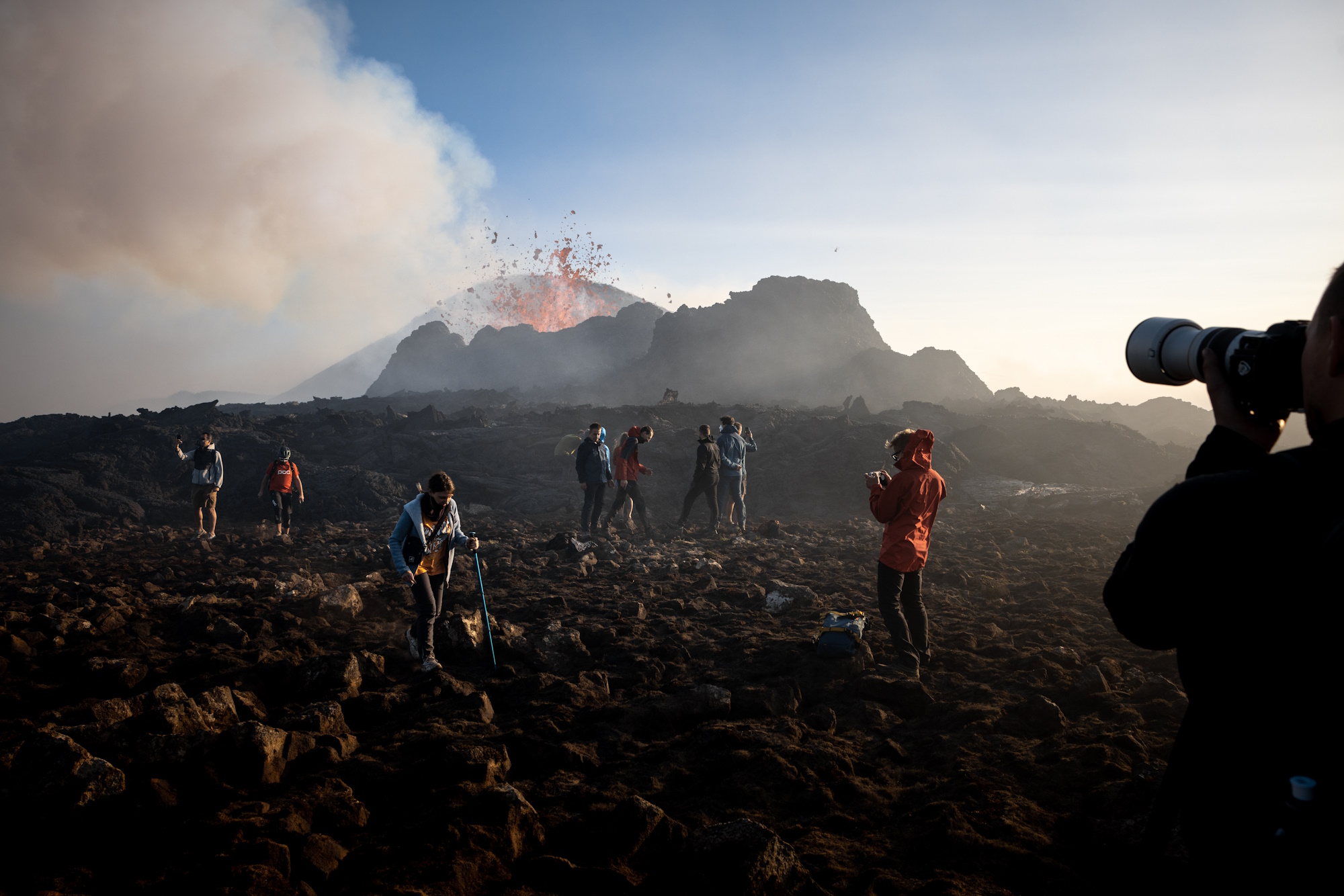 Safety at the volcano
It is safe to visit the eruption if you are well prepared and follow instructions. Check safetravel.is if the site is open before arrival and follow the advice of the authorities.
As elsewhere in Iceland, the number one safety concern is the weather. The volcano is located on a peninsula close to the ocean, where rain, fog, and cold temperatures are serious hazards, and conditions may change very quickly. Here are the most vital ones:
Check SafeTravel.is. for detailed alerts at the eruption site and any other travels in Iceland.
Follow instructions from the local authorities and the ICE-SAR members on site. The area may be closed with short notice.
Do not walk on the lava from previous eruptions or lava that appears to be cool! Even though it feels cool and looks safe, lava can remain dangerously hot below the hardened crust for months and even years. The lava tends to crumble underfoot and makes it slippery and treacherous walking. Trust us, falling on newly formed lava is not fun!
Weather changes can be sudden. Always expect cold, wet, windy, and icy conditions, even if you begin your hike in good weather. Check the local weather forecast.
More earthquakes may occur in the area.
Drones & cameras
Looking for that perfect picture? Focus on your surroundings before the shot! Lava can build up and spill out quickly.
It is hard to deny the appeal of seeing the eruption from the perspective of a drone. However, there are many hazards around the volcano, including numerous drones in the vicinity, manned aircraft at low altitudes, many visitors, and proximity to an international airport. Not to mention drone-melting hot lava! Drone operators should monitor the Icelandic Transport Authority and the Department of Civil Protection and Emergency Management for current regulations.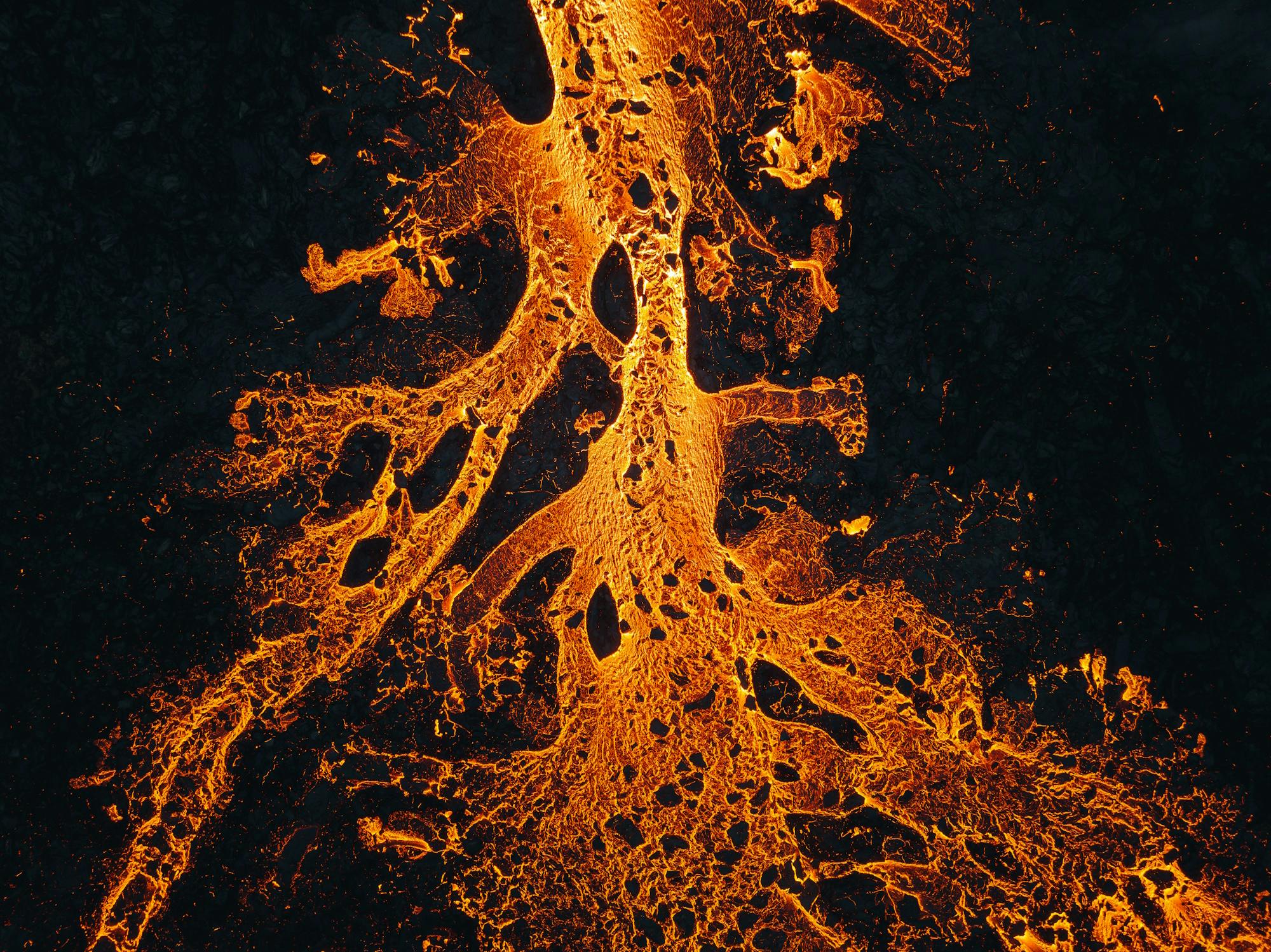 General drone rules:
DO NOT fly a drone above 120 m (390 feet) above the ground.
Drones shall always give way to manned aircraft.
DO NOT fly drones beyond the visual line of sight.
Flying too close to lava might result in melting the drone.
For commercial drones, please check additional requirements.
Good to know
Be prepared for cold, wet, windy, and possibly icy conditions, even if you begin your hike in good weather. 
No bathrooms or services are available along the way or at the eruption site. 
Volcanoes emit gasses during eruptions! Volcanic gases can be highly poisonous. Avoid low-lying areas in the landscape and leave the site immediately if you feel discomfort. Shifting winds can rapidly change and move gasses., Please note that children are more sensitive to gas.
Driving off-road or parking in unauthorized places is forbidden.
Is the still running lava?
No activity has been in the crater since August 5, 2023, and no lava is running. It is important to keep in mind though, that the area is still an active site and not a safe zone.