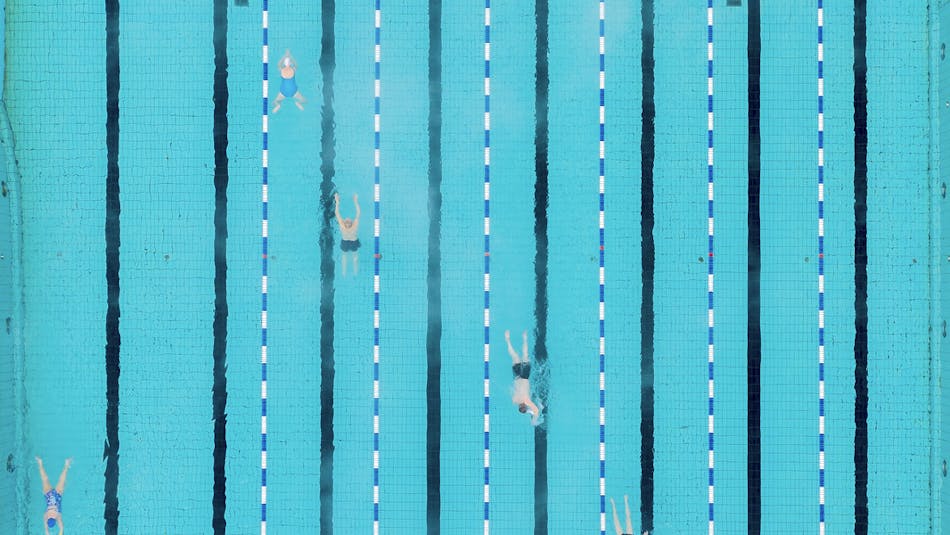 Where swimming is part of the culture
The cold weather and arctic atmosphere in Iceland are maybe not the ideal conditions for a dip in a pool for many people. But you should think again! In every town around Iceland you will find warm and refreshing swimming pools and secret lagoons in the unlikeliest of places far away from the ring road. 

Natural resources
Iceland is privileged with many natural resources and geothermal water is one of them, filling our natural hot springs, nature pools, swimming pools and baths all around the country. Ever since the earliest settlement, Icelanders have enjoyed bathing in geothermally heated warm water pools all year round and that is still a big part of the weekly or even daily routine for many Icelanders. 
However, geothermal water cannot be found in all parts of the country, but that does not stop us from building swimming pools all around. They are heated with hydroelectric power in areas without geothermal water sources. A dip in the pool is not just a summer activity in Iceland, nothing beats a swim in a warm pool or hot tub on a frosty winter afternoon.
Historical background
The oldest man made geothermal pools in the country can be traced back to the 13th century, and one of them, Snorralaug is located in Reykholt, in the western part of Iceland. It is named after the historian and poet Snorri Sturluson and is believed to have been his bathing pool. 
A part of the culture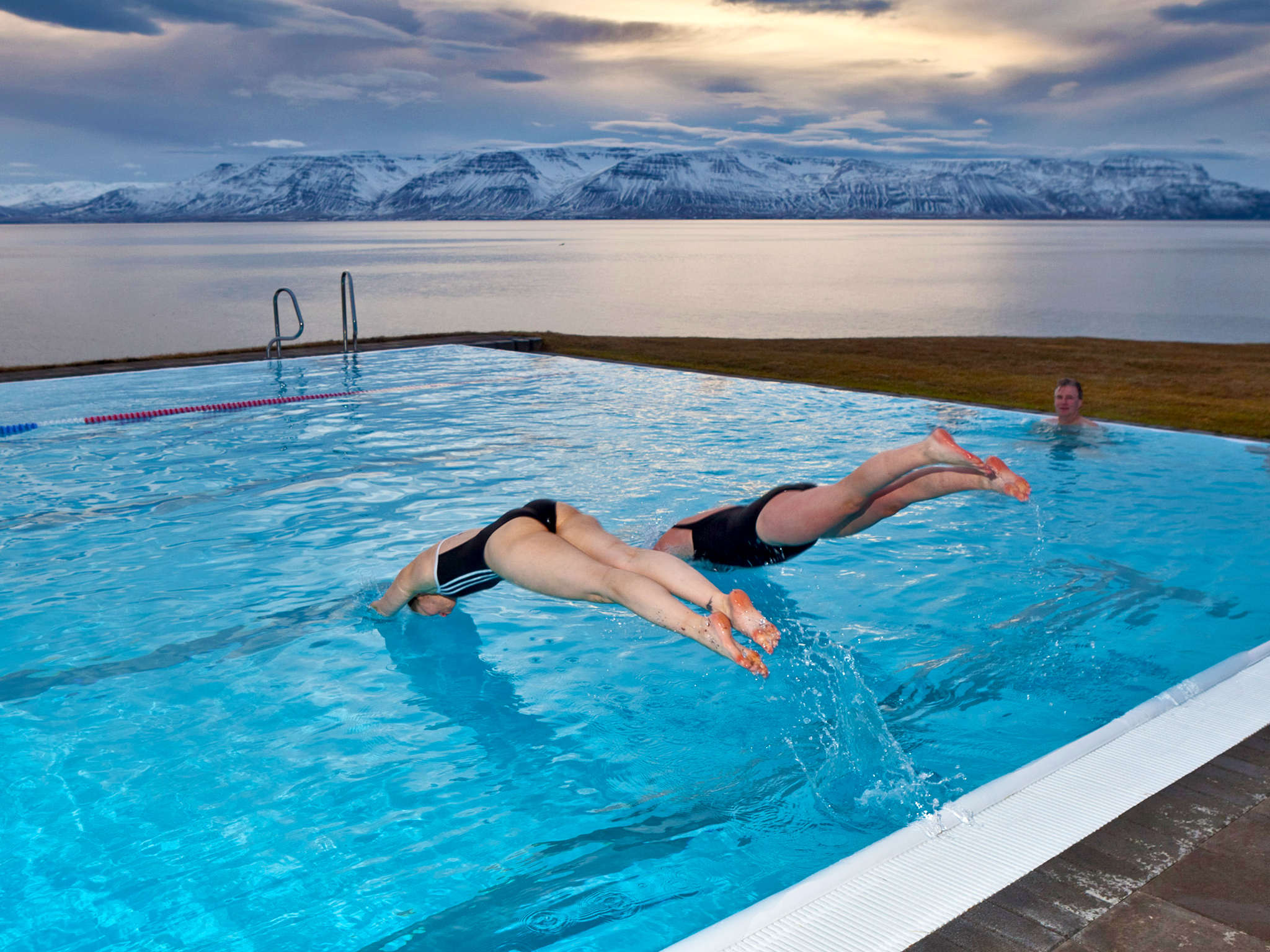 Iceland is made up of mostly small towns in addition to our few bigger cities. The smaller communities often have a homely feel to them with a sense of unity. Many of our smallest towns have only one grocery store but most of them have a local swimming pool. The pool is often the staple of the community, a daily meeting place for people of all ages and a big part of the community as a whole. In the hot tub, you can find yourself in a conversation with the town mayor, discussing everything from local politics to the most casual topics. So it is safe to say that the local public swimming pools are a vital part of the typical Icelandic small-town community. 
However, Reykjavík and the bigger towns have a great selection of fantastic pools and the whole family will find activities such as water slides, cozy hot tubs, cold pots and saunas.  
Hot & cold
Many swimming pools in Iceland now have a cold tub. Cold therapy is a fast-growing popular activity in Iceland and is thought to be great for stress relief, reducing inflammation in the body, relieving pain and be good for recovering after a physically challenging activity. A quick dip in the 15°c or even colder water for about 10-30 seconds can be revitalizing. Cold therapy is not suitable for people with heart complications and you should never enter a cold pot when feeling cold! Steam baths are also a part of many of Iceland's swimming pools, enjoy the cleansing hot steam during your visit to the pool.
How to 
When you visit a public pool in Iceland there are a few things you should keep in mind:
Pay for admission before getting in, the pricing is very reasonable
Don't wear your shoes in the locker room, most pools have a shoe rack outside of the locker rooms
You leave your towel in a towel rack in the shower area, you don't take it with you to the pool
Using a cell phone or camera in the locker rooms is prohibited, for privacy reasons
 Everyone is required to wash their bodies without a bathing suit before entering the pool
 The showers are usually in an open space and in most public pools you will not find private stalls for showering or undressing before getting in the pool.
Just keep swimming!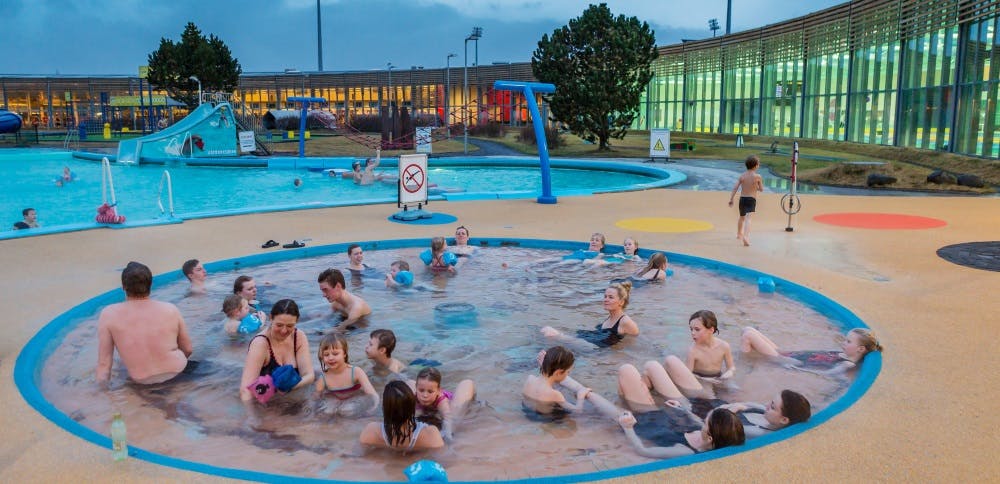 As Iceland has a rich fishing history, swimming became a very important skill early on as many men drowned every year around the shores of Iceland while fishing and trying to make a living and obtain food for their families. Swimming has become a general learning skill for Icelanders and everyone is obligated to learn how to swim in early childhood. 
Healthy for all ages
Water aerobics is a popular activity, especially for senior citizens, and is thought to be great exercise for people of all ages since moving in the water is easier on the joints and leaves the body relaxed. A good dip in the hot tub after a good workout to catch up with the latest talk of the town is always a part of the program. 
A useful tip from a local is to use www.sundlaug.is to find new pools and monitor how many pools you have visited. The website is only in Icelandic for now but using it is pretty straightforward and will make your Icelandic pool-hopping journey even more fun! According to the website Iceland has 121 pools all around the country.
So as you see, the swimming pools of Iceland have a huge cultural value and you should make sure not to miss out on visiting some of them as you make your way along the roads of Iceland.