Outdoor art
Those visiting Iceland and who love a good art, should look up these eleven outdoor art installations.
The Great Auk, In Bronze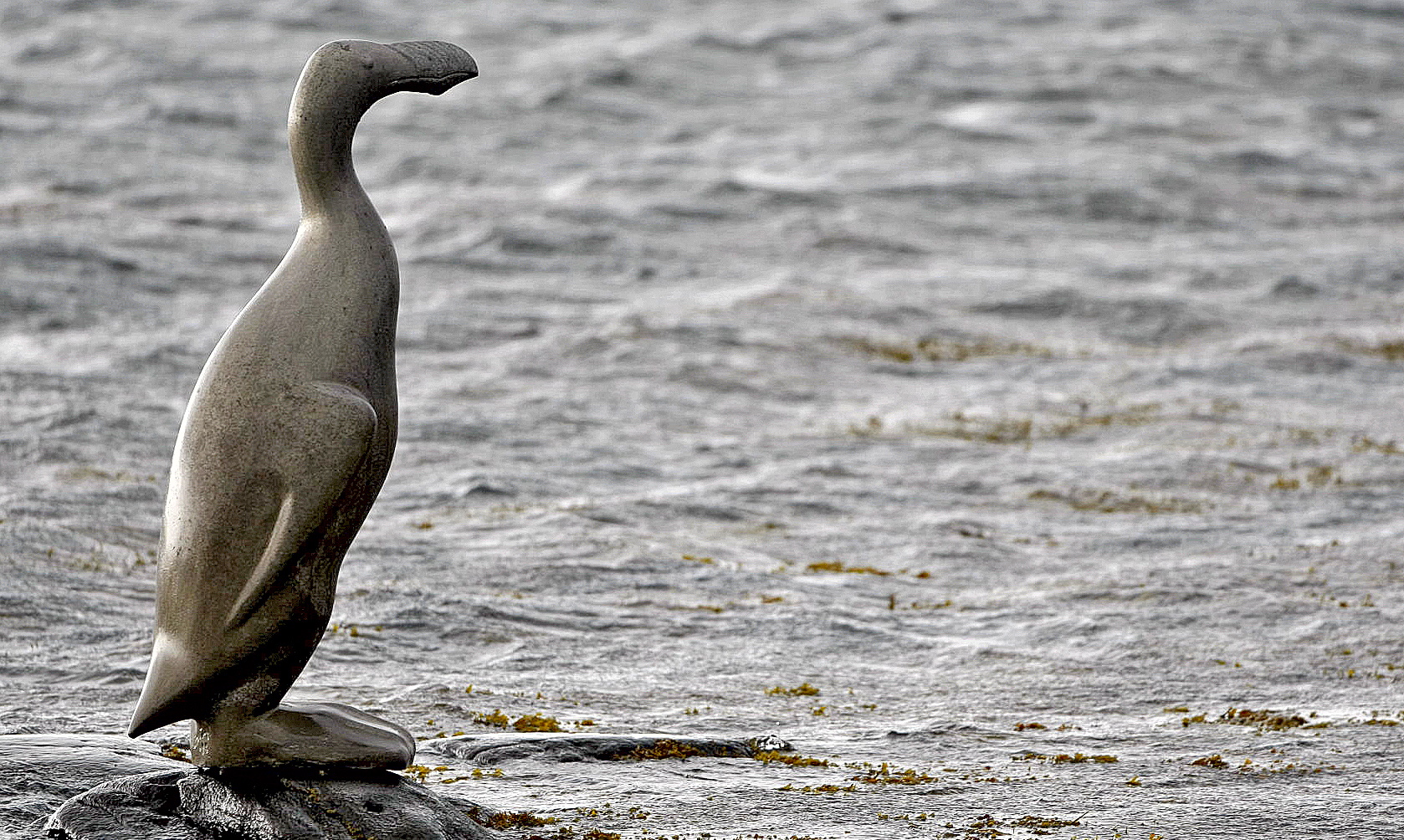 Geirfugl by Ólöf Nordal @mbl
Geirfugl (The Great Auk) by Ólöf Nordal, Iceland's most prominent outdoor installation artist. Geirfugl is a life-sized aluminum sculpture of a now-extinct bird. The sculpture sits upon a rock in the bay of Skerjafjörður (close to the domestic airport in Reykjavik), its body appearing and disappearing with the tide. The public sculpture was created as a monument to the last pair of great auks that were hunted for their high selling price in 1844.
Geothermal footbath
Kvika by Ólöf Nordal is a short walk along the Seltjarnarnes Peninsula from Geirfugl (Great Auk). This public installation is in the form of a geothermal footbath. Visitors are invited to remove their shoes and sit within the bowl of the sculpture and take in the sight of Mount Esja across the bay.

Tussock Times Ten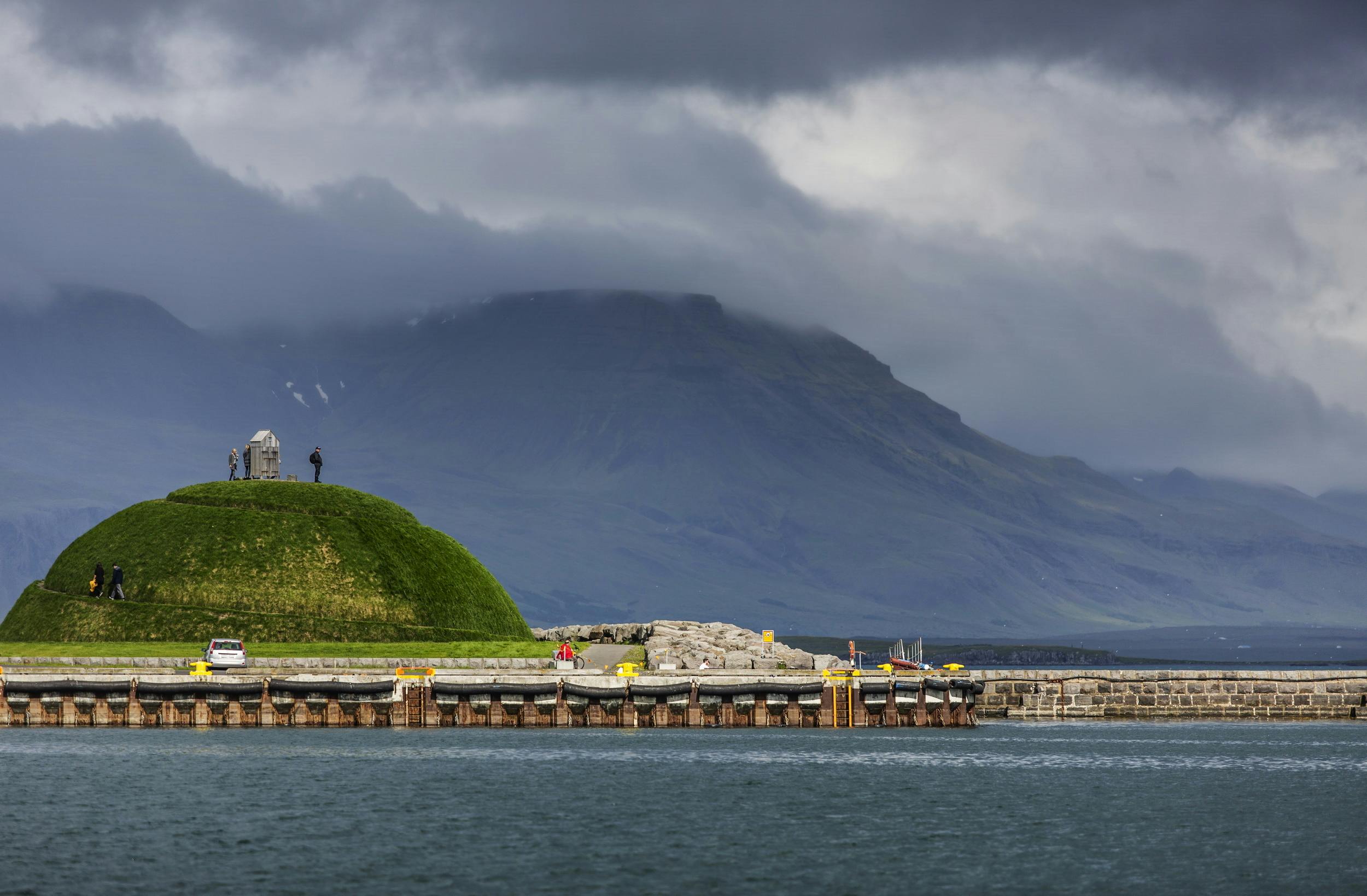 Þúfa by Ólöf Nordal @mbl
Þúfa by Ólöf Nordal can be reached by continuing along the sea-side path from Kvika. The word "þúfa" is Icelandic for tussock, but this 8m-tall grassy mound is hardly a small crop of grass. Made of 4500 tons of gravel, layered with grass, this is one of the largest artworks ever made in Iceland. At the top of the hill is a type of hut used to make harðfiskur (dried fish) and a wonderful view of the harbor.
Yoko Ono's Peace Tower
The Imagine Peace Tower by Yoko Ono is also on Viðey island. The public installation, a wishing well from which light beams erupt, was conceived as a beacon to world peace dedicated to the artists' late partner, John Lennon. 'IMAGINE PEACE' is inscribed on the well in 24 different languages.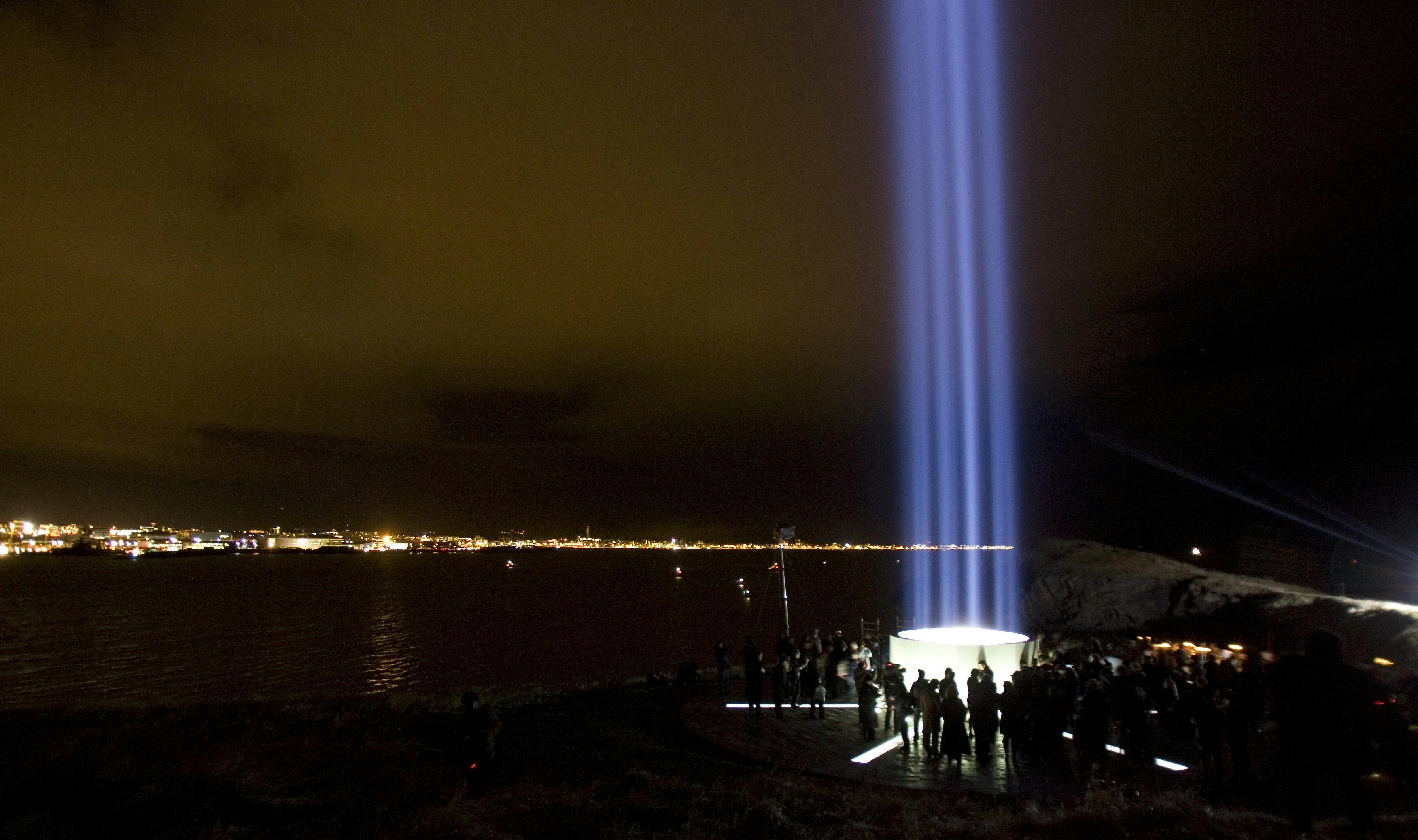 The Peace Tower is lit every year on John Lennon's birthday, 9 October
Reykjavík's Sculpture Garden
The Ásmundarsalur Gallery is located in a building designed in the 1930s by sculptor Ásmundur Sveinsson, who used it as an artist's studio. Previously, it was an art school where many early avant-garde activities by Icelandic artists took place. Today, Ásmundarsalur is a non-profit space focusing on all forms of art and design. Around the museum, one can find sculptures by Ásmundur Sveinsson.
Come Inside Tvísöngur. Now, Sing
Tvísöngur Sound Sculpture by German artist Lukas Kühne is a site-specific "sound sculpture". Located near the small artists' village of Seyðisfjörður in eastern Iceland, it is always open and is only a short walk away. Built out of concrete, the five domes of varying sizes are interconnected, corresponding to the Icelandic musical tradition of five-tone harmony.
The Granite Eggs of Gleðivík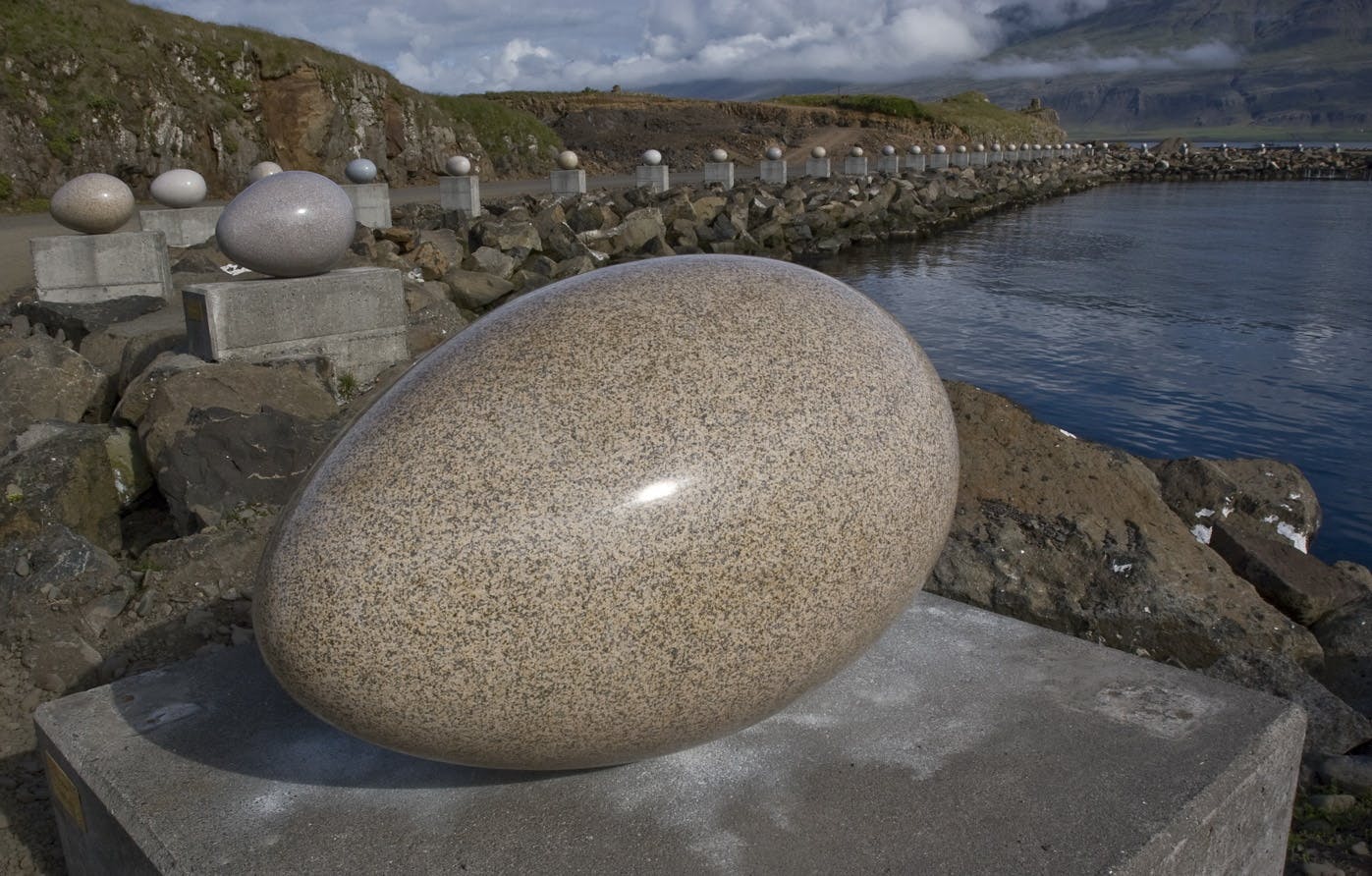 Eggin granite sculptures in Djúpivogur @mbl
Eggin í Gleðivík by Sigurður Guðmundsson is 900 meters from the town of Djúpivogur. Situated by the shore, these larger-than-life granite egg replicas (produced in China where the artist lives part-time) of the 34 bird species that nest in the area are mounted on pedestals each with a plaque telling what species the sculpture represents. Examples of the species of bird eggs include the Common Eider and Little Auk.
Spot a Giant Red Chair from the Ring Road
A Giant Red Chair can be seen along with one of the remote stretches of landscape between Höfn and Egilsstadir in eastern Iceland. The chair with its bright color and size is a startling sight in the otherwise minimal landscape. The giant red chair, which is bolted to a rock in the midst of a field of moss, has become a well-known photo prop for tourists traveling in the area.