Meet the peculiar puffins in Iceland
People coming to Iceland are usually eager to see puffins and puffin souvenirs are popular. But what is so special about this little bird? Where do puffins live and when is the best time to see the puffins in Iceland? Where are the best puffin-watching spots?
To no surprise, the Atlantic puffin (Fratercula arctica) has become the signature bird for Iceland. About 60% of the world population of Atlantic puffins nest here, and it is the country's most common bird. Sometimes nicknamed 'sea parrot,' these stocky little birds with parrot- or penguin-like posture and large colorful beaks are just irresistible. The puffin's breeding habits allow us to watch them from a short distance at their nesting site, but it is important not to disturb the birds by going too close.
The best time to see puffins is in April-July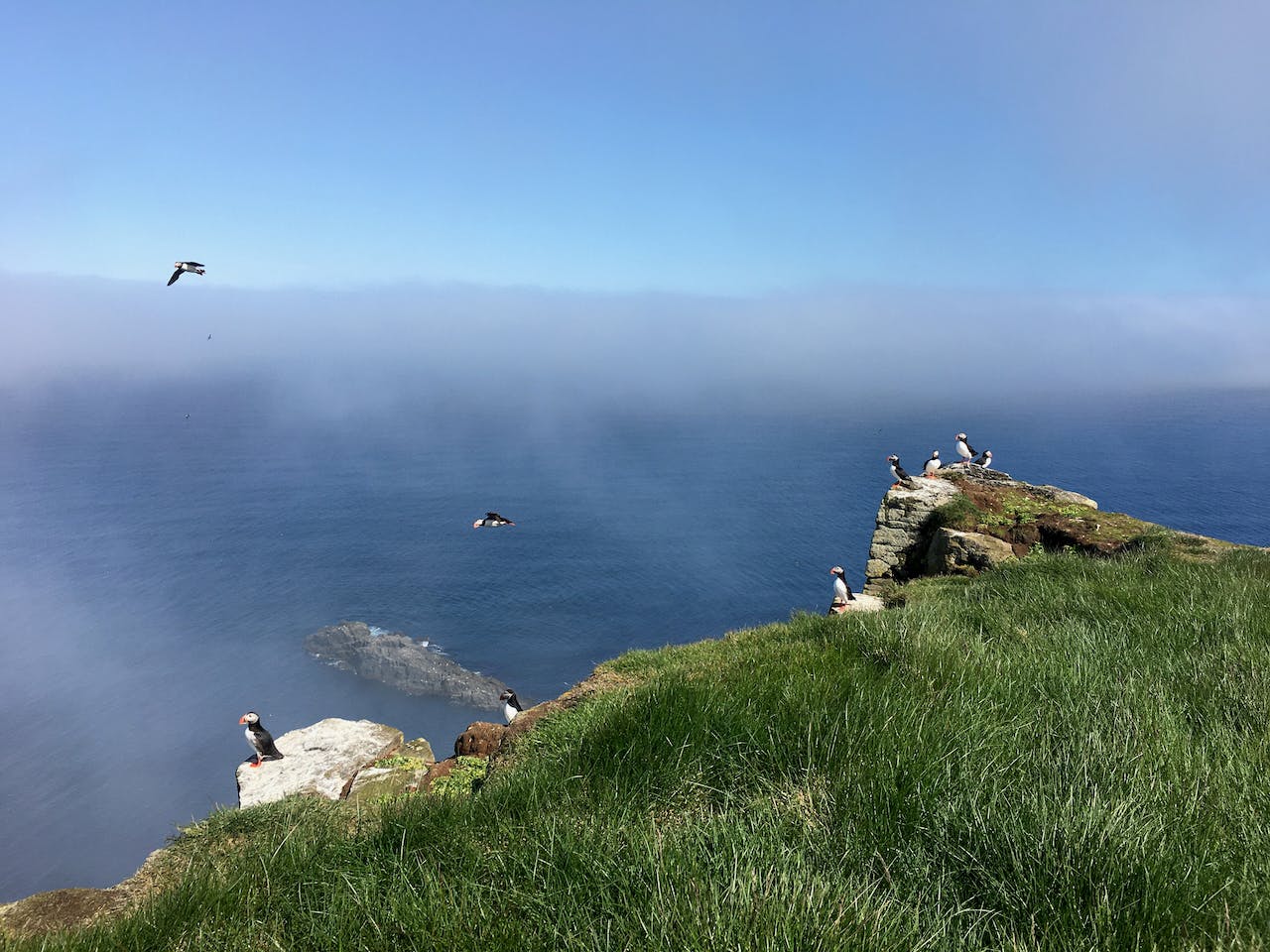 The Atlantic puffin comes to Iceland for nesting in April-July
The Atlantic puffin is a migrating seabird that spends winters in the open ocean in the North Atlantic and moves to shallower waters in early spring when the breeding season starts. It sets in bird cliffs and islands for nesting, usually in late March or the beginning of April. When the pufflings are ready in late July or early August, they start moving out to sea again. It is still possible to see them around the coast in August-September, but after that, they move from the coast, so you can't see puffins in the winter in Iceland.
The parents spend hours out on sea hunting each day, but they usually return to the burrow with their catch in the afternoon. Therefore, a sighting can never be guaranteed. The best strategy is to have enough time on your hand and spend at least several hours at the site or come back at a different time of the day.
Nesting - The Puffins make two-bedroom burrows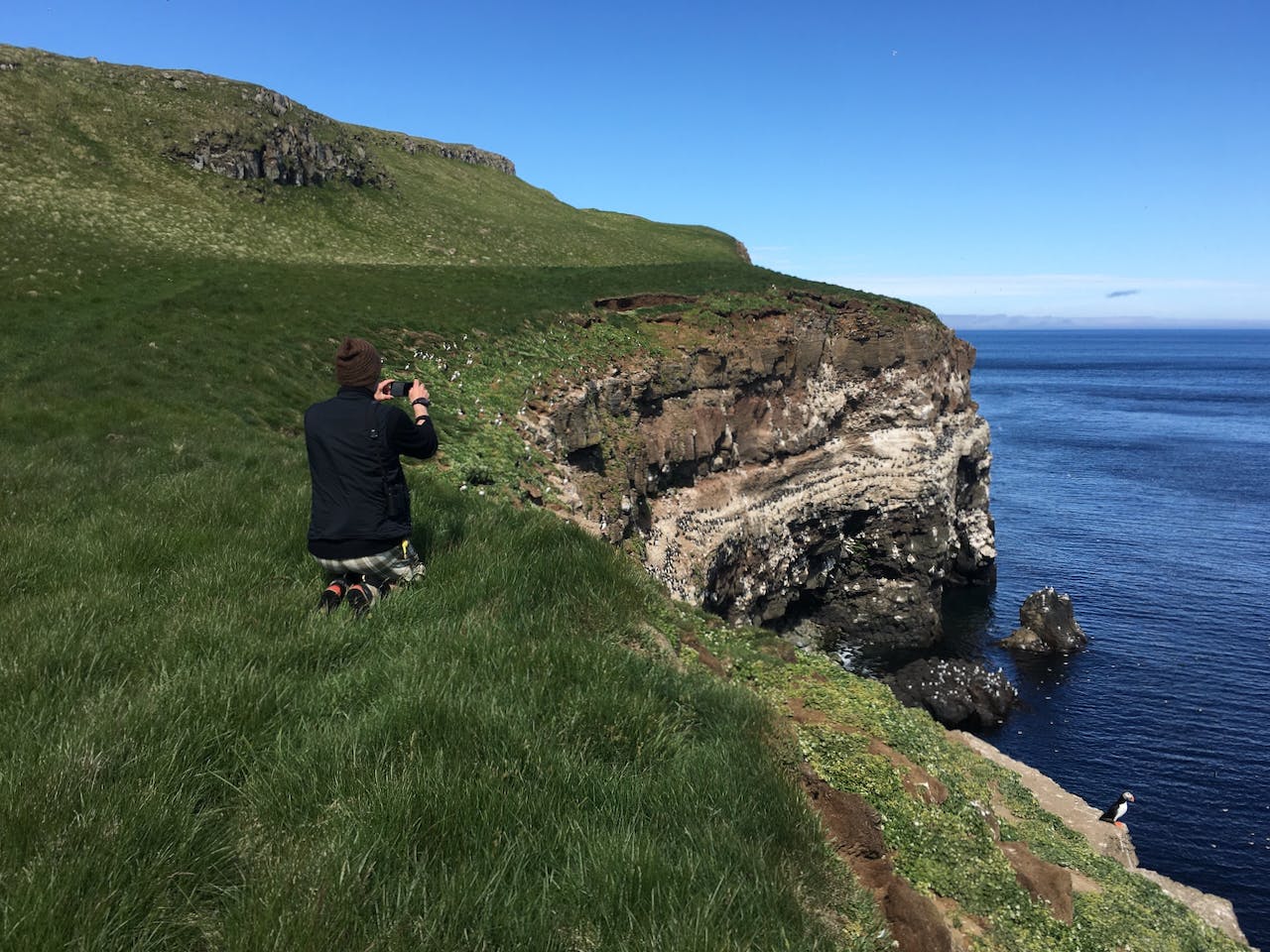 Great caution is needed when bird watching at puffin burrow sites
The puffin is a social bird that nests in large colonies. It burrows in the soil on grassy islands and slopes on top of bird cliffs but doesn't lay eggs on sills like most other seabirds. The burrow is curved, about 1,2 meters long, and has two bedrooms, one for the nest and the other is the toilet. The puffin only lays one egg each year, and both parents share responsibilities for incubating and feeding the chick.
Please note!
Extreme care must be taken when walking in an area with puffin burrows. The burrows are shallow, and the ground can collapse. This is both matter of concern for the birds' safety and yourself.
Many puffin nesting sites are on top of sea cliffs where the edges can be unstable and danger of rockslides.
Birds and their nests are protected by law, and disturbing their nests is strictly forbidden.
Where are the best puffin bird-watching spots in Iceland?
Puffins can be seen on coastal waters all around Iceland from spring to fall, so taking a boat ride usually ensures a sighting. For visiting them at their nesting site, several spots are easily accessible and most hold large populations: