Iceland for Kids
Water and snow, sticks and stones, beaches and baths – Iceland is one big playground for the little people.
The first question to ask, when planning a trip with kids, might perhaps be: What do Icelanders do with their kids?
The answer: Dress them in swimsuits regardless of the weather. Every town, large and small, has an outdoor swimming pool, with at least one hot tub, where parents can try their best to relax. Or just join the fun. Pools are like a neatly structured playground with waterslides of various heights, shallow leisure pools, and balls to play with.
In Reykjavík, the large Laugardalslaug has the tallest waterslide. Other family-friendly pools include Sundlaug Seltjarnaness, Árbæjarlaug, and Grafarvogslaug.
Elsewhere in Iceland, children of all ages will enjoy the pools in Höfn, Neskaupstaður, Akureyri, and Borgarnes, to name just a few. For more visit Sundlaugar.is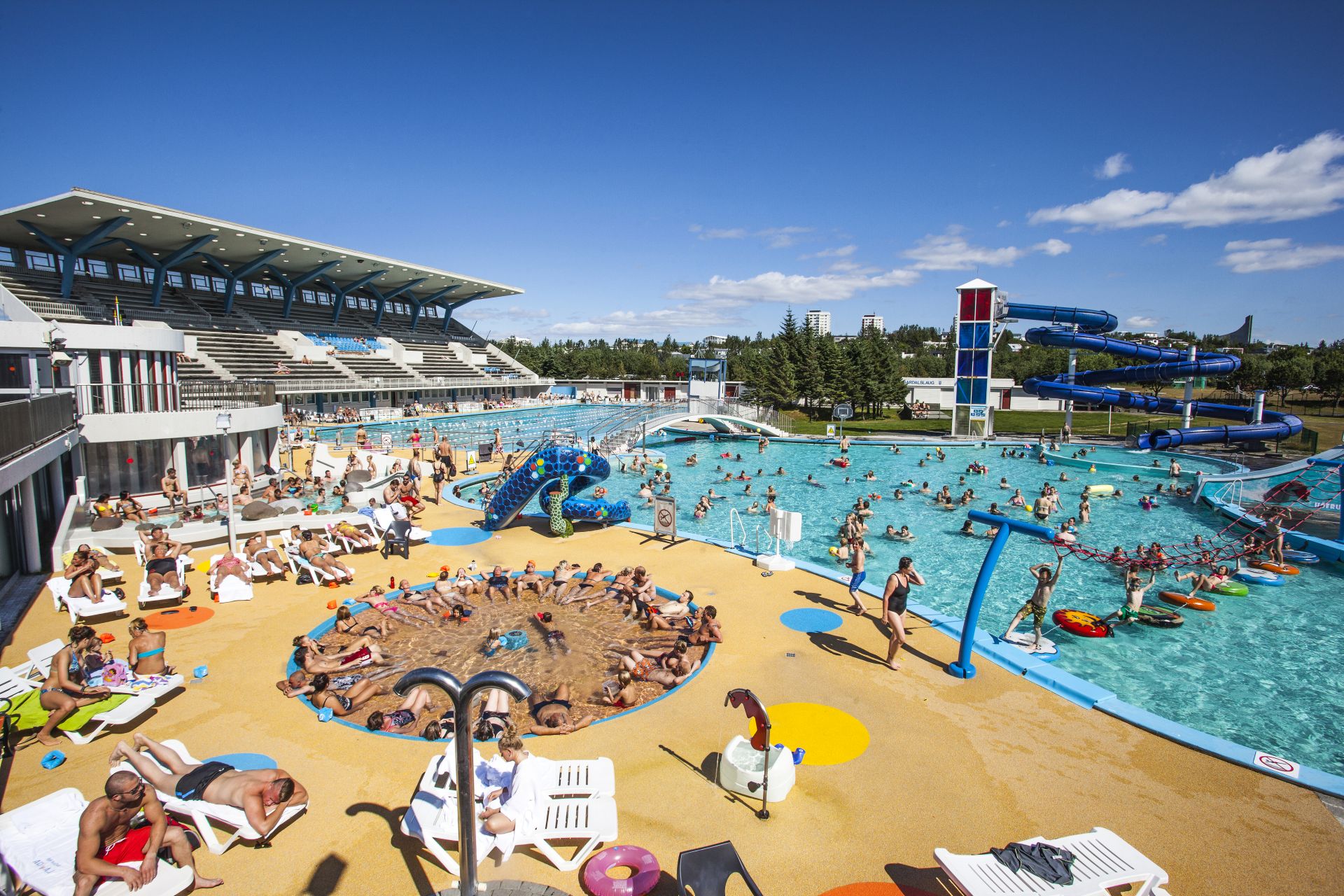 The dinosaurs of the deep: Whale watching
People see flukes, flippers, and fins on a whale watching tour, but hardly ever the entire whale. For children, this tiny glimpse captures their imagination and provides scale to these ocean giants. For one, the mighty blue whale is larger than any dinosaur!
Calm seas are more important to children than adults. Studies show that children over six have hypersensitivity to motion sickness. Nine to 10-year-olds are over four times more likely to get seasick than 30-year-olds. But if the weather conditions are good, like most summer days, there is no reason to worry.
For young children, the duration of the boat ride is worth considering. In the narrow Eyjafjörður, tours take two hours – one hour less than larger bay areas and are available from the ports of Dalvík, Hauganes, Hjalteyri, and Akureyri.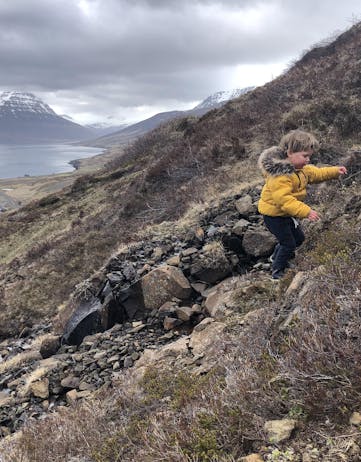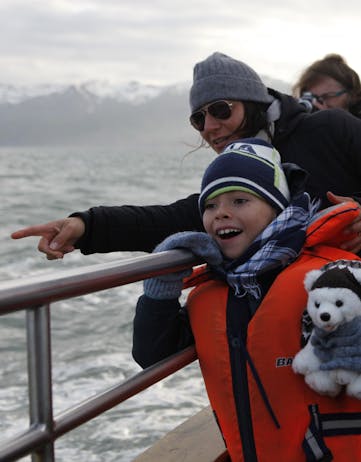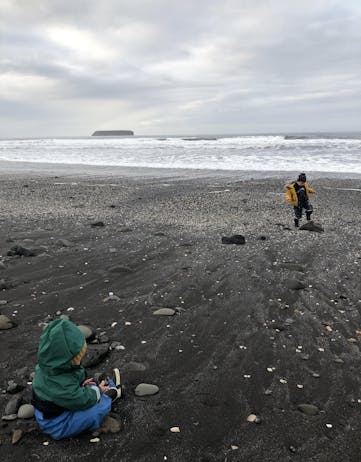 Throw rocks, get wet: Exploring nature
Children like nature to be fun, not just pretty. For instance, check out waterfalls that you can safely walk behind instead of seeking those for their volume and height. Seljalandsfoss is a prime example, but smaller ones include Gufufoss nearby Seyðisfjörður.
Beaches are another great place for kids. Many of them are littered with interesting 'treasures' like whale bones in remote northern areas like the Langanes Peninsula. Keep an eye out for seals and birdlife, particularly on the north coast. While most beaches are charcoal-black, the Westfjords have a rare strip of beach sand at the spectacular Rauðisandur. If Rauðisandur were further south, it would be packed with beach towels!
And how about venturing into a forest? Can't find the trees? They are there, we promise! Hallormsstaður National Forest in East Iceland is the largest in Iceland, with dozens of kilometers of walking paths. Icelandic families love to go camping in the region. In autumn, berry picking is a popular family pastime.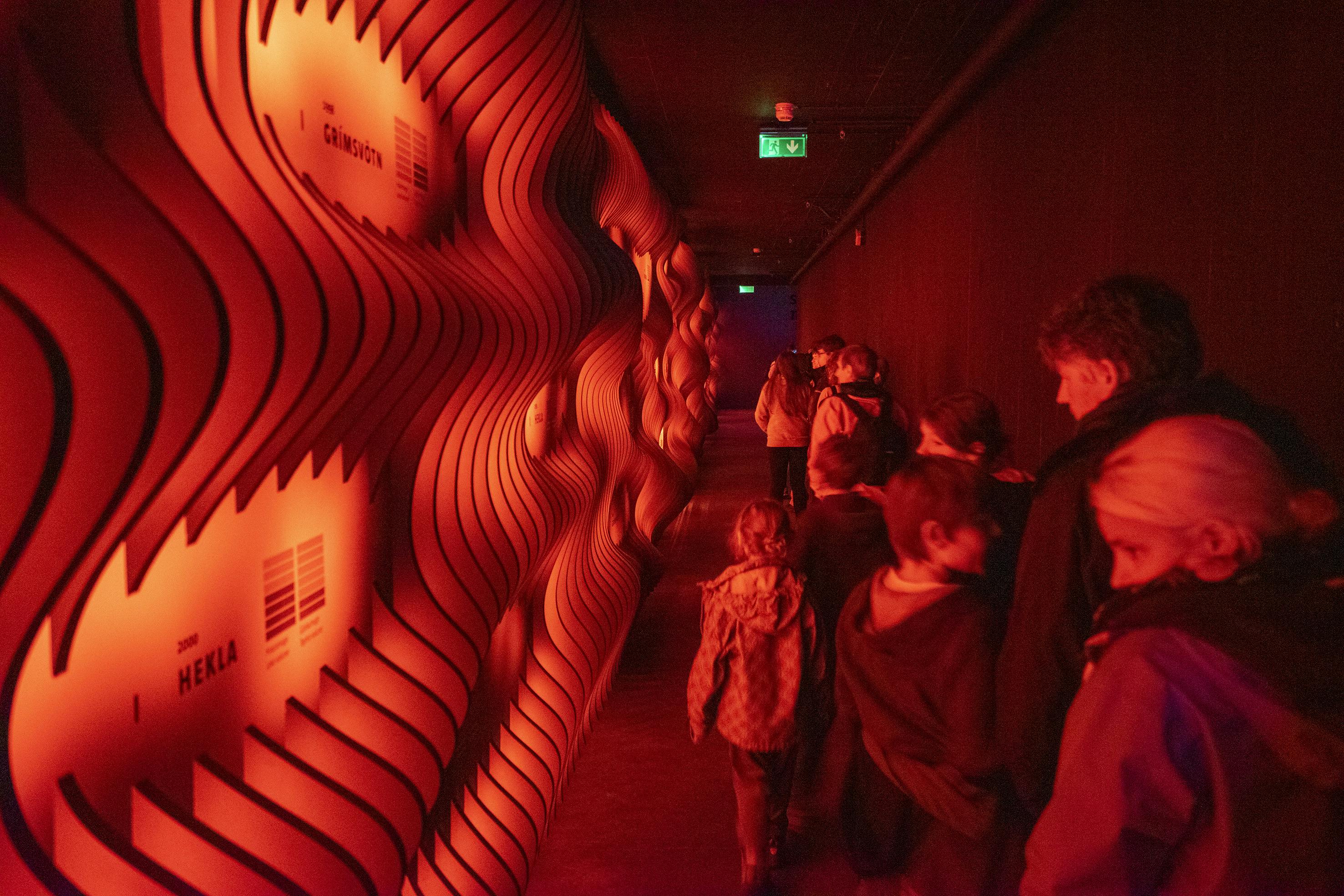 Do touch this: Museums
All museums welcome children – even the famous penis museum – but some try harder than others.
The exhibition Wonders of Iceland at Perlan in Reykjavík is a fantastic way to explain the main elements of Iceland to children. Guests start by entering an artificial 100m (330 ft) long ice cave as cold as the real deal! Interactive exhibitions on volcanoes and glaciers follow a towering model of a sea-bird cliff.
To get children to run around, visit the open-air museum Árbæjarsafn on the outskirts of Reykjavík. The museum is a field of old houses, and inside some of them are exhibitions on Reykjavík's past. The playroom is huge with vintage toys and costumes.
Iceland is a great place to show and explain volcanoes to children. Check out the Lava Center in the town of Hvolsvöllur. This exhibition is interactive and explains Iceland's entire "inside history" and the consequences of eruptions from the past.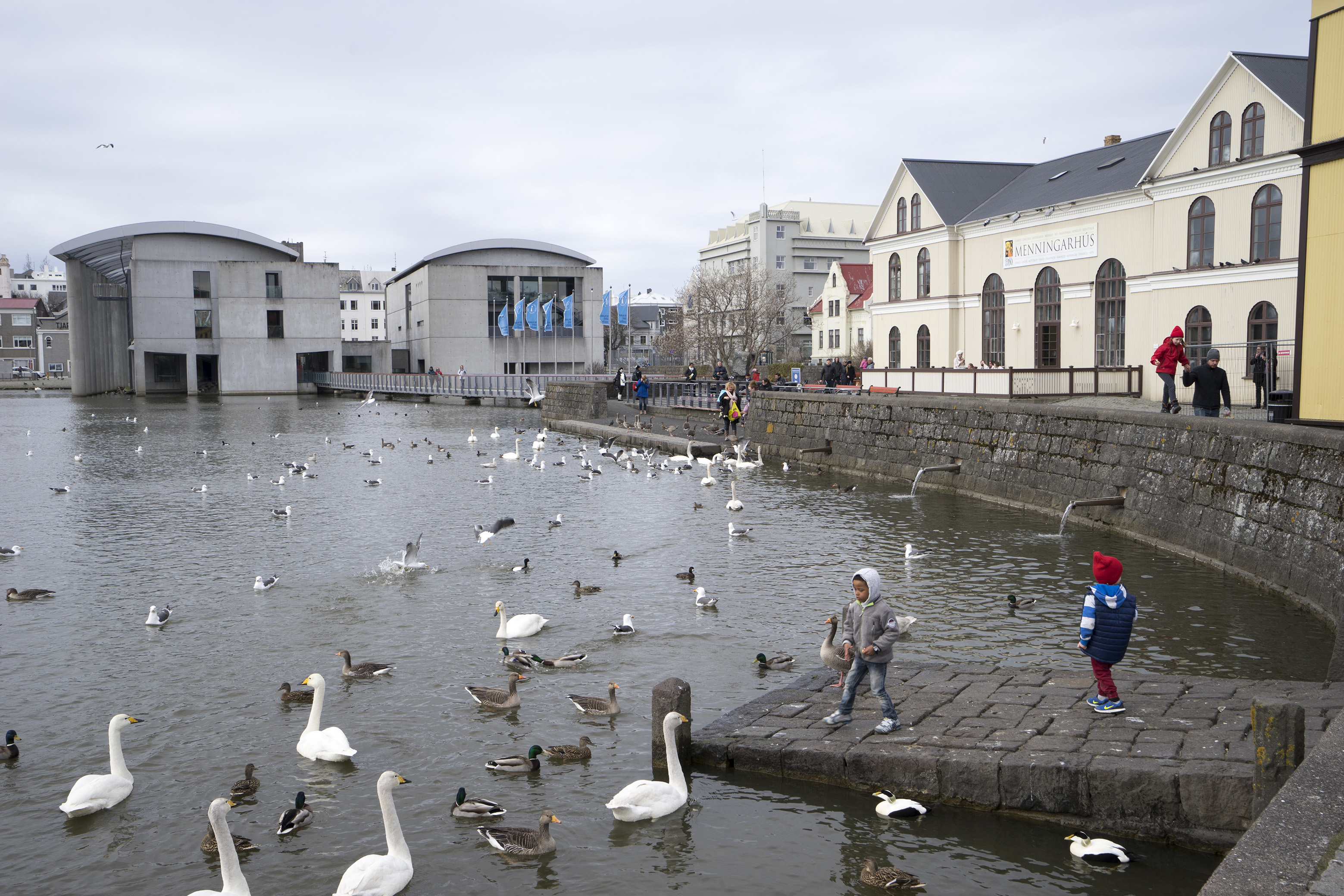 Trolls, elves, and misbehaving Yule Lads: Books and storytelling
Icelanders would scare each other with tales of trolls, elves, and ghosts in the old days. Today, these stories are treated as folklore and considered ideal to torment children!
The colorful gallery of characters includes the 'Yule Lads,' a band of troll brothers who arrive from the mountains to herald Christmas. They have a mother called Grýla and a scary giant cat. Both are notorious for eating naughty children. (Winter travelers can visit the Yule Lads at a fun outdoor event fun by Lake Mývatn.)
The Yule Lads, and many more, serve as the premise of many wonderful children's books that are good for rainy days.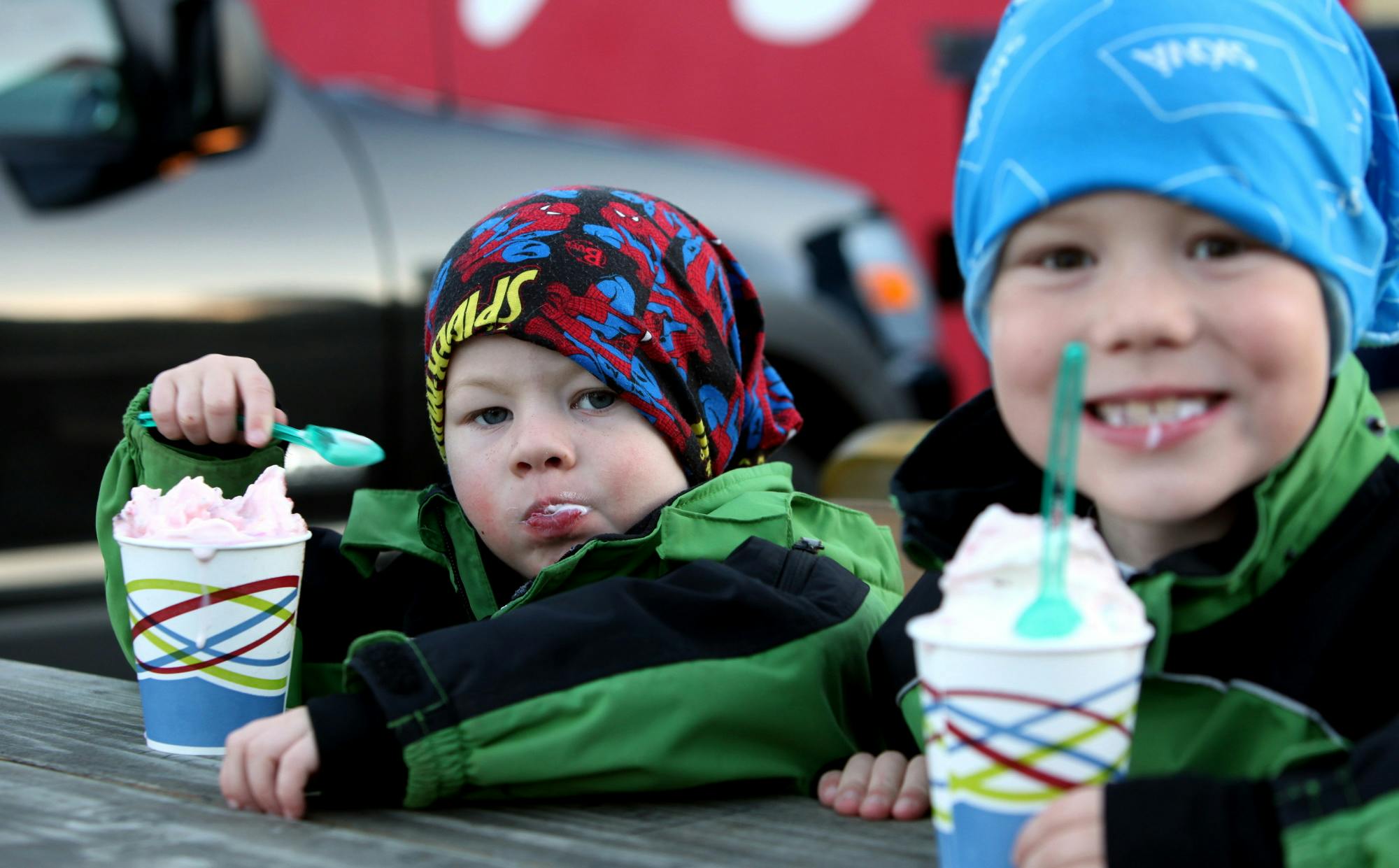 The scoop on Iceland's ice cream culture
One of the hidden pleasures of Icelandic life is the possibility of having ice cream whenever you want – not just when sunshine allows. Soft serves rule the market among Icelandic kids, favouring the bragðarefur made with three "ingredient" picks from the candy bar. The activity is prolonged into a family afternoon with the ísbíltúr, a word literally meaning "ice cream drive", describing the popular past-time of driving around to eat ice cream. You won't regret trying!