Iceland and COVID-19
Visiting Iceland
Before travelling to Iceland we highly recommend you go through this official quick-guide on COVID-19 border measures to help you find out what general rules apply for visitors when entering Iceland.
For further information, developments, and advice about Iceland and COVID-19, visit the designated COVID-19 website for Iceland, the Directorate of Health and the Department of Civil Protection and Emergency Management.
Rules on the border
Updated 6 January, 2022
All travellers must do the following:
Pre-register before arriving in Iceland and confirm their departure day, if available.
Present a certificate of full vaccination, or a certificate of previous infection, at the border.  If a certificate is not valid the individual needs to undergo 2 tests and quarantine for 5 days in between.
14 days have to have passed from the second dose (or 14 days from Janssen/Johnson & Johnson dose) for a certificate to be valid. If the time is shorter than 14 days, the traveler needs to undergo testing at the boarder and follow rules on home quarantine until a negative result is obtained.
Vaccinated passengers, and those with prior infection of COVID-19, need to present a negative covid-19 test either a PCR or Rapid antigen test. NB. self-tests are not accepted. The test must have been taken within 72 hours before departure on the first leg of the journey. A fine for not presenting a negative COVID-19 test at the border is 100.000 ISK ($770).
If a traveller has recently been diagnosed with COVID-19, they do not need to present a negative PCR or rapid antigen test at the border. Instead, a positive PCR test must be presented that is older than 14 days (isolation completed) but younger than 180 days. These individuals do not have to take a rapid antigen test or PCR test within 48 hours due to their connection with the country.
Any passengers that have stayed in a defined high-risk area for more than 24 hours in the past 14 days shall undergo a PCR test upon arrival, followed by quarantine that ends with a second test five days later.
Testing and quarantine of children: Children under the age of 18 are permitted to travel to Iceland with their parents, given the parents are exempt from travel restrictions to Iceland. However, children born in or before 2004 need to undergo testing at the border, quarantine for 5 days and then be tested a second time, unless they have a certificate of full vaccination. Children born in 2005 or later are exempt from the rules at the border.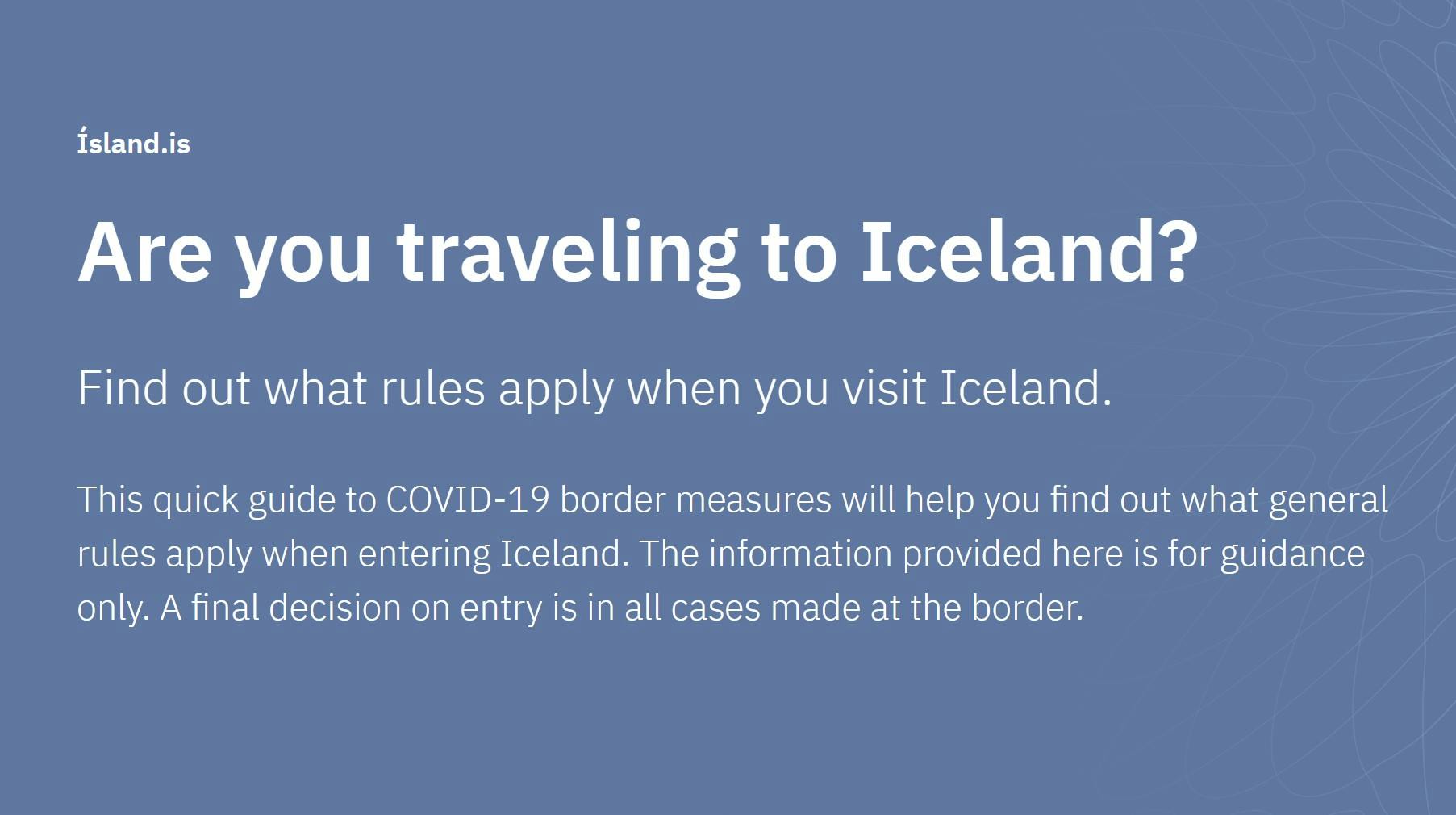 Check out the official quick guide to see which rules apply for you.
It is recommended that travelers download the Rakning C-19 app. It is used, amongst other things, to communicate negative testing results and helps to trace infections if necessary.