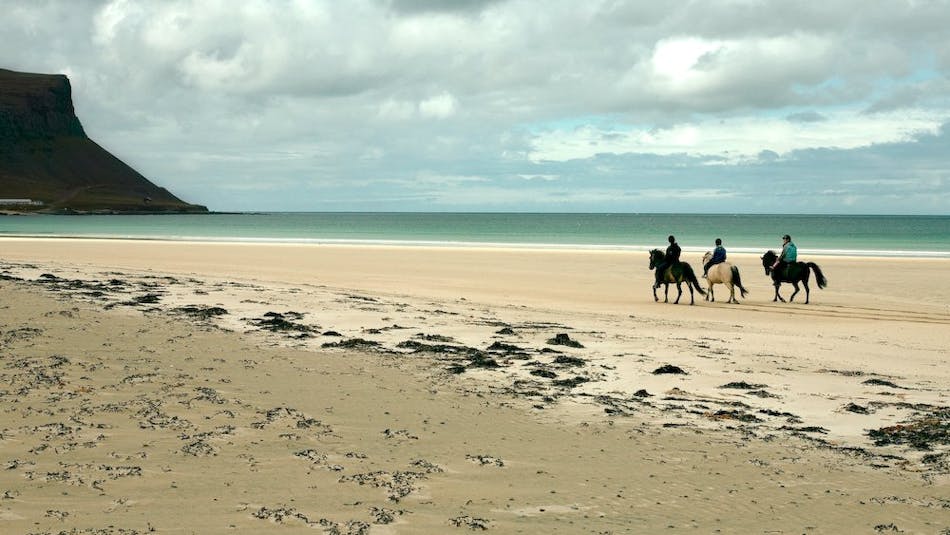 How to practice your hobby in Iceland – from cooking to cold water-swimming
Though Iceland is a popular road-trip country, it is also the perfect place to enjoy your hobby and at the same time get to know the way of life on the island.
Iceland's signature activities – the Classics
Hiking
Have you ever dreamt of exploring Iceland's landscape on foot and leaving the buzz of civilization behind for a few days? Lots of trails can be found within Iceland's national parks and nature reserves. Take your pick, but these multi-day routes are a good place to start: Laugavegur, Fimmvörðuháls, Lónsöræfi, Hornstrandir, and  Vatnaleið. Guided hiking tours for all difficulty levels are offered during the summer season. The selection is huge. Trail running, a growing sport among Icelanders, is practiced competitively over the summer, too.   
Horseback Riding
Galloping along black beaches, trotting over lonely heaths, or crossing rivers on horseback sounds like a dream to many riders: Experiencing the Icelandic horse's gaits on its "home" terrain makes for a Riding vacation never to forget. Horse-riding trips are offered throughout the whole year, but the selection is a bit smaller during the wintertime. From two-hour midnight-sun rides to two-week highland horse trekking trips, there's enough to choose from.
Helping to herd the sheep down the mountains during the sheep round ups in September also makes an exciting trip for advanced riders. The area most famous for that is the Skagafjörður in North Iceland.
Winter sports
It's time to experience what Iceland is famous for: snow and ice! With a season that ranges from November until May, winter sports enthusiasts have a lot of time to enjoy the perks of snowy slopes. Hlíðarfjall in Akureyri and Bláfjall in Reykjavík invite Alpine Skiers, snowboarders, and cross-country trackers. Snowshoeing and guided off-track cross-country tours are available as well.
For the ones who don't want to use their own body strength: Snowmobiling tours are a popular pastime in North Iceland as well as dogsledding. For even more adventurous back-country skiing, heli-skiing and glacial mountain skiing make for an incredible experience in Iceland's winter wonderland!
Fishing
Iceland is a mecca for river fishing, fly fishing, sea angling, and even ice fishing. Some of the most famous salmon fishing rivers in Iceland are Vatnsdalsá, Láxá í Aðaldal and Laxá í Kjós,Hofsá and Selá and Jökulsá á Brú, amongst many others. What they all have in common is their beautiful setting in a tranquil landscape. Fishing lodges provide ambitious anglers with equipment as well as catering after long angling days. The biggest salmon in Iceland was caught in August 2023 in Hvitá river near Selfoss and measured 118 centimeters. Fishing permits for many rivers are issued here.
Golf
Iceland has altogether fifteen 18-hole and some forty-six 9-hole golf courses spread around the country inviting golfers from all over the world to try their best in between lava fields and spectacular landscapes. Golfing season is usually between May and September, including the midnight sun time in June, a dream for golfers who always wanted to indulge in their hobby all night long.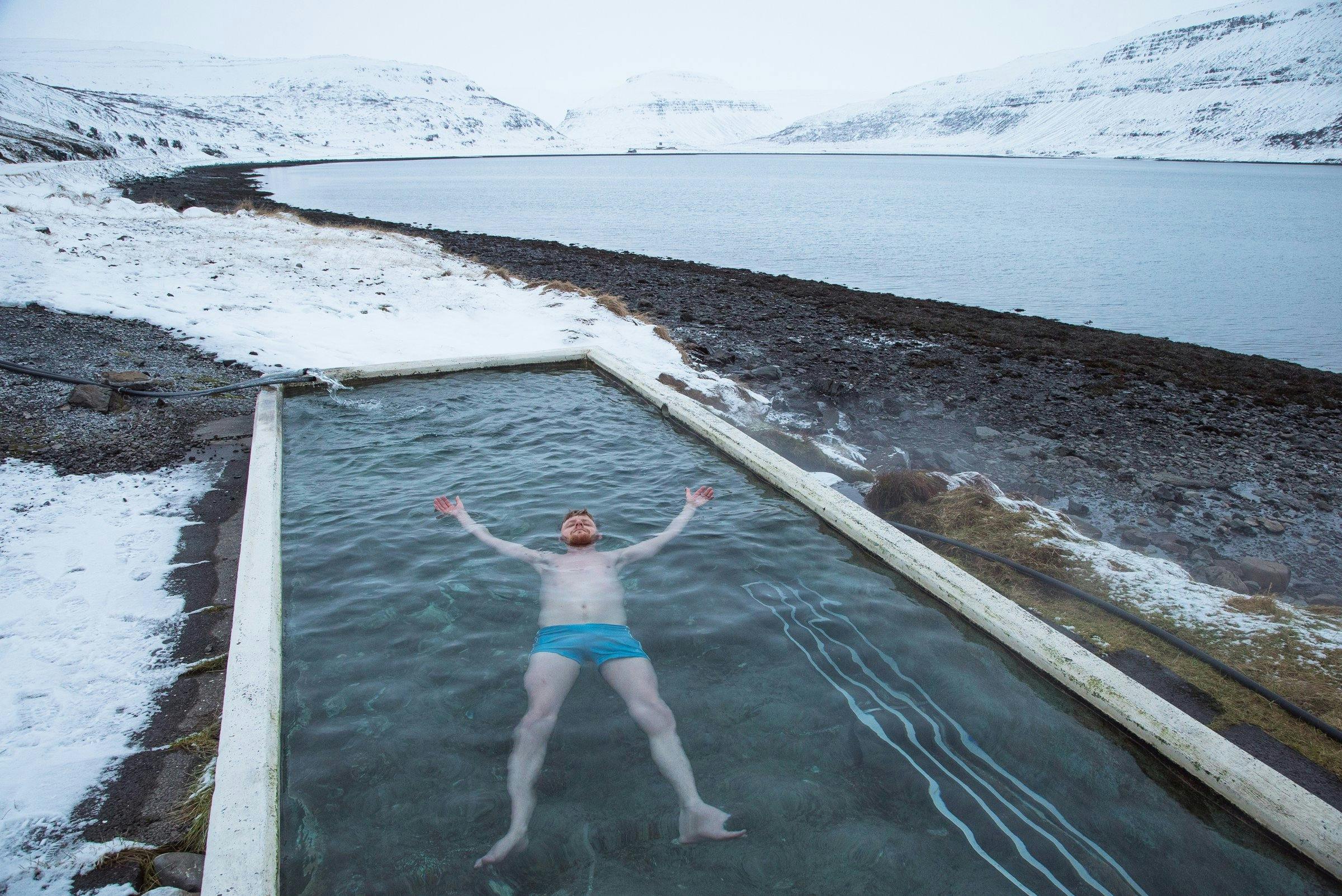 Water water water
Swim around Iceland
We are not saying you should literally swim around Iceland, but Iceland has a distinct swimming pool culture. With  Iceland's abundant amount of geothermal energy, it can heat over a hundred outdoor swimming pools across the country, which usually consist of one large warm water swimming pool and various hot tubs. A fun idea for your round trip around Iceland could therefore be trying to swim in as many pools as possible and make it a wellness trip par excellence – challenge accepted?
Cold-water swimming
Ever thought about trying the icy waters of our lakes and shores? The popularity of cold-water swimming has also increased in Iceland. There are many seabathing groups around the whole country, as well as cold-water-swimming retreats and classes. The knowledge of its positive effects on the immune system and mental health has also arrived in most local swimming pools, where cold tubs can be now found as well.
A great spot to learn about cold-water swimming is  Nautholsvík Beach, a manmade lagoon at the shore in Reykjavík. During the summer, warm water is pumped into the ocean of the small bay heating the seawater up to 19 Degrees. During winter, the temperatures of the ocean water are about 5 Degrees. Several hot tubs help to warm up the body again after a jump in the ocean.
Diving 
The selection of diving and snorkeling spots in Iceland is nothing less than spectacular. Getting underwater here means exploring geologically unique sites and coming closer to the middle of a country, that is still in the making. Local diving companies offer tours for certified scuba divers in different difficulty levels.
The most popular diving spots are the Silfra fissure in Þingvellir National Park, rivers and lakes with submarine hotsprings, such as Lake Kleifervatn or the river Litlaá, wreck diving in Seyðisfjörður or snorkeling with puffins at the Arctic Circle. Already packing your drysuit?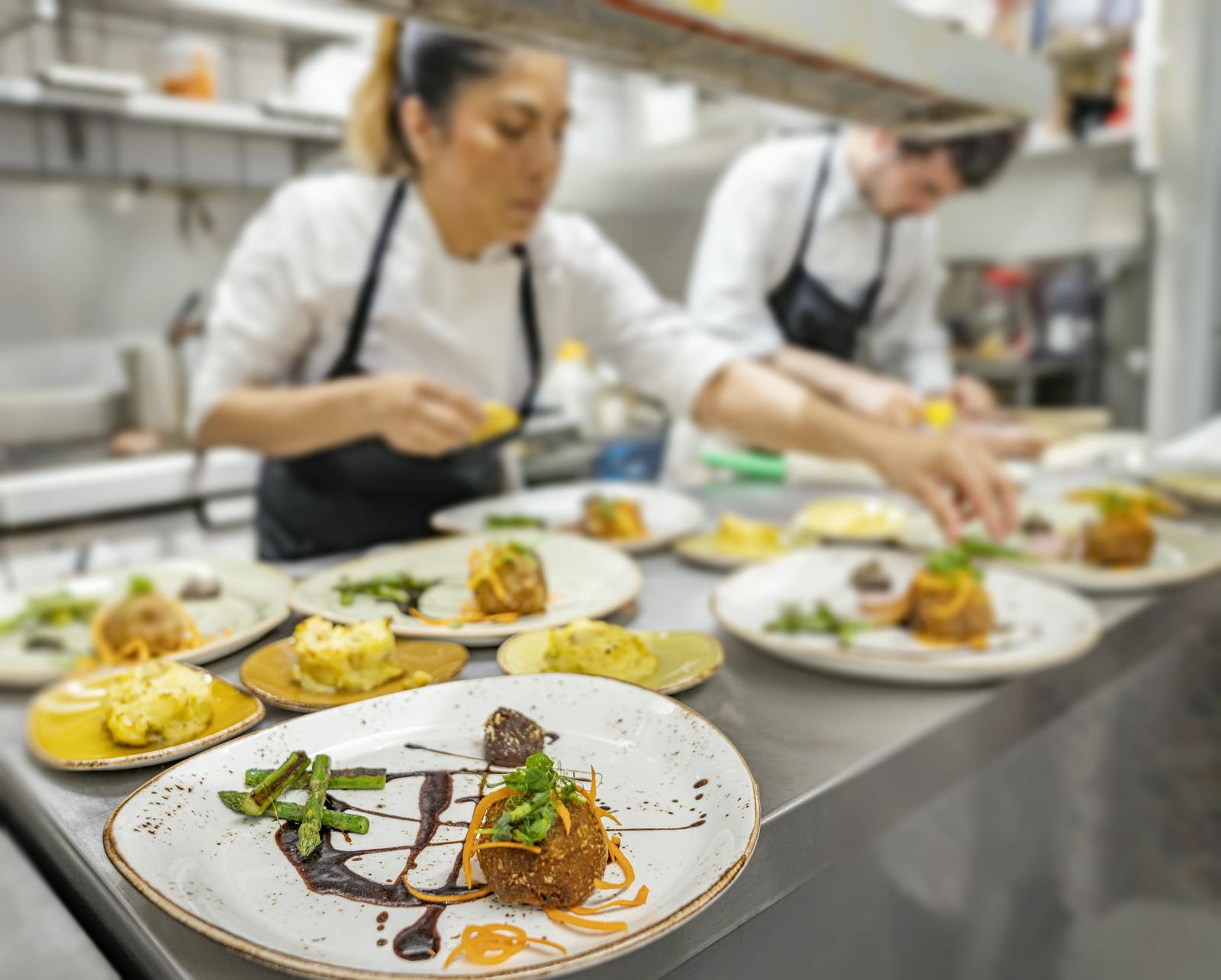 Culinary trips
Iceland might not be the first country one thinks of when asking for culinary experiences. But when it comes to food, Iceland can do more than just its famous hot dogs: Two Michelin-Star restaurants, "Díll" and "'Óx" create exclusive meals with the best produce Iceland has to offer. Want to start a bit smaller? How about a Reykjavik food tour where one gets introduced to Icelandic cuisine in a fun and entertaining group experience?
In case you rather want to lay your hands on Icelandic ingredients yourself, cooking classes such as those provided by Salt eldhús  or Creative Iceland let you create your own Icelandic dish, providing you not only with a meal but great memories.
Beer-circle
Throughout the last five years, beer breweries have popped up in every corner of the country and a trip along Route 1 is therefore the perfect opportunity to visit them all (don't drink and drive though, Iceland has a zero alcohol limit). You can find the map of Icelandic beer breweries and all about their crazy ideas here.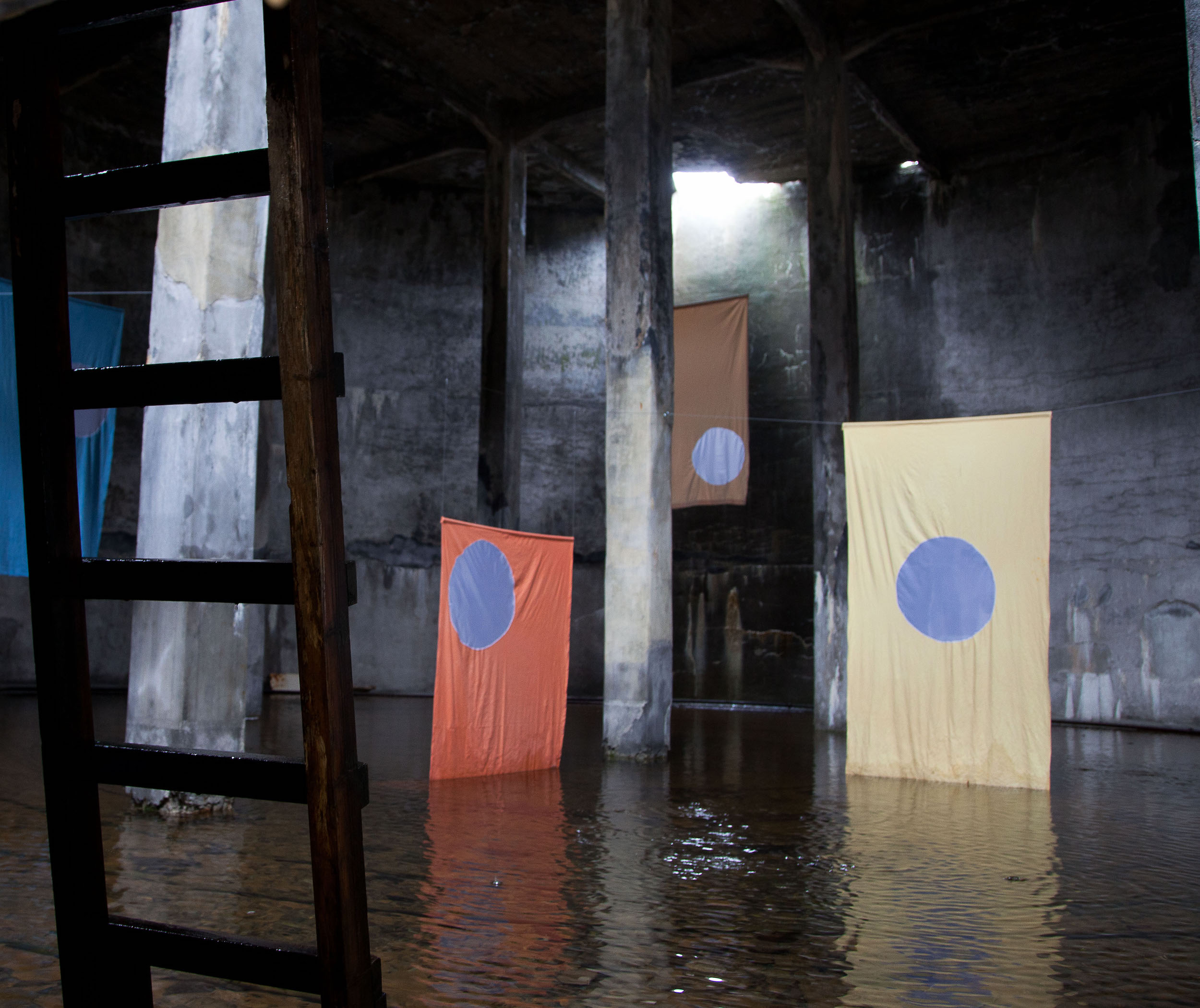 Creative
Iceland holds a special place in the Guinness World Records ranking: here live more writers per capita than in any other country. Does the reason for it ly in our saga tradition? The inspiring landscape surrounding us? The water? We don't know, but our lively music and art scene, support the theory that it's easier to be kissed by a muse in Iceland than elsewhere. If you need an inspirational push or just want some change of scenery, there are many possibilities to visit Iceland for a creative time-out.
If you thrive in company, you can apply for one of our artist residencies around the country, that host artists from all over the world. Painting holidays, photography workshops, and tours for handicraft enthusiasts are available throughout the year. If solitude is what you're seeking, renting a cottage by the sea is always an option!
Film tours
Do you know Iceland mostly from movies? Then it's time to visit the shooting locations for real. Interstellar, Batman Begins, The Secret life of Walter Mitty, Game of Thrones, True Detective... the list goes on and on. Iceland offers 35% reimbursement on film production costs as well as a huge variety of filming locations which attracts more and more Hollywood filmmakers to shoot in Iceland. As a cinema enthusiast, you might love to hear, that a lot of scenes are easily accessible for visitors. Find your favorite movies in the list of movies made in Iceland and come here to join a location tour around Iceland.