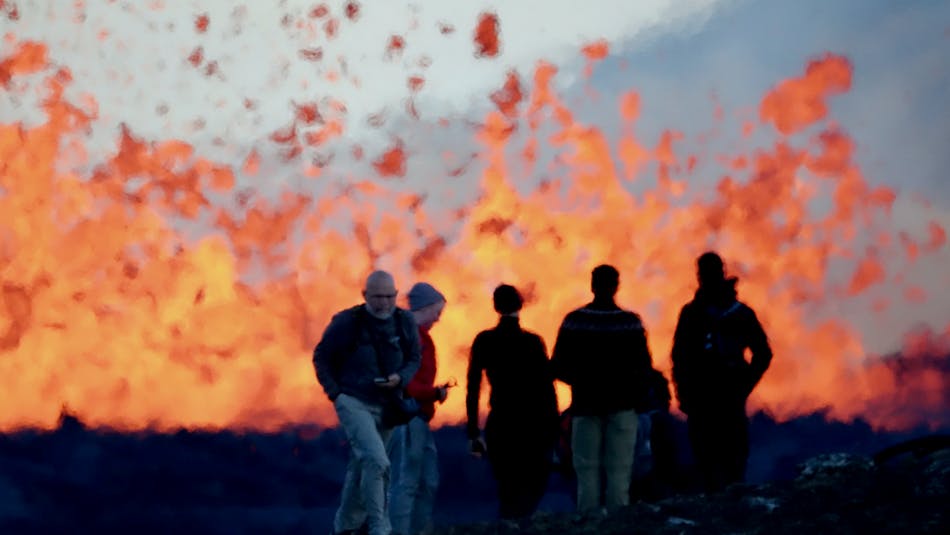 Hiking to the Fagradalsfjall volcano
The Fagradalsfjall volcano in Iceland awoke from 6000 years of sleep when it erupted in 2021 and again in 2022, but is currently inactive. The eruption site is decorated with freshly made lava formations and volcanic craters, providing visitors with a one-of-a-kind experience. Here is how to prepare for a visit to the Fagradalsfjall volcano.
Map of the area
Here is the official Visit Reykjanes website with the most current and updated map of the Fagradalsfjall volcano area with hiking routes and parking spots.
How to get there
The eruption site is an hour's drive from Reykjavík and about 30 minutes from Keflavík airport. 
FROM REYKJAVÍK. Take road 41 towards Keflavík, turn to road 43 towards Grindavík, and follow road 427 until you see the marked parking lots. 
FROM KEFLAVÍK. There are two routes available that both lie through Grindavík. They make a nice Reykjanes circle if you are going both ways. 
Option 1: Take road 41 towards Reykjavík, turn right on road 43 towards Grindavík and follow road 427 until you see the parking signs.
Option 2: Along the coast, take road 41 towards Reykjavík, turn right on road 44 towards Hafnir, continue on road 425 towards Grindavík and follow road 427 until you see marked car parks.
Note that parking along road 427 is forbidden. The parking lots are on private land, and the fee of 1,000 ISK (8 USD) can be paid electronically at Parka.is, or by scanning the QR code at the lot.
Keep in mind that no services are available at the eruption site. Pack accordingly, or make a pit stop in Grindavík to get food and drinks is an excellent idea before hitting the trail to the eruption site.
Safety hazards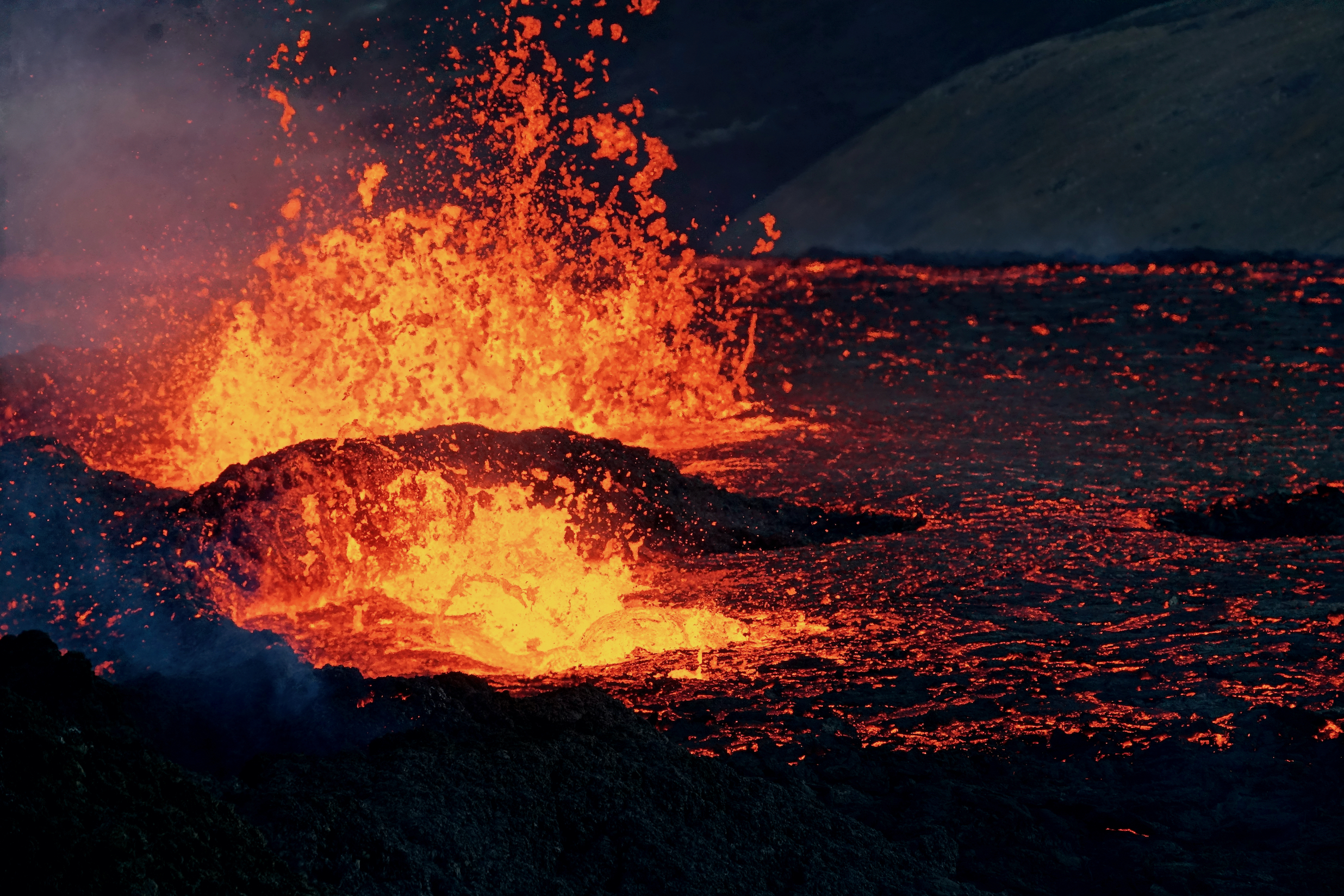 As elsewhere in Iceland, the number one safety concern is the weather. The volcano is located on a mountain close to the ocean, where rain, fog, and cold temperatures are serious hazards, and conditions may change very quickly. Here are the most vital ones:
Check SafeTravel.is. for alerts at the eruption site—or any other travels in Iceland.
The hike all the way to the new eruption site is about 7 km (4.4 miles) each way, with an elevation gain of 300 meters (990 feet). Depending on the conditions, there are three routes (hiking & parking information). Path A is the most used and follows the graded path from the 2021 eruption and then progresses to a well-marked path across very rocky terrain mixed with loose gravel and spongy, mossy areas. At the eruption site, steep cliff areas consist of loose scree. Plan for your average hiker to spend at least 2-3 hours on just the hike. Shorter hikes also offer great views of the craters and closeness to new lava (see the map here).
Do not walk on the lava! The "old" lava from the 2021 and 2022 eruptions is still hot, fragile, and dangerous to walk on. Even though it feels cool and looks safe, below the hardened crust, lava can remain dangerously hot for months. The lava tends to crumble underfoot and makes it slippery and treacherous walking. Trust us, falling on newly formed lava is not fun!
Weather changes can be sudden. Always expect cold, wet, windy, and icy conditions, even if you begin your hike in good weather.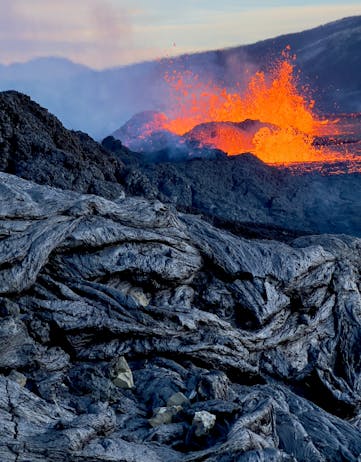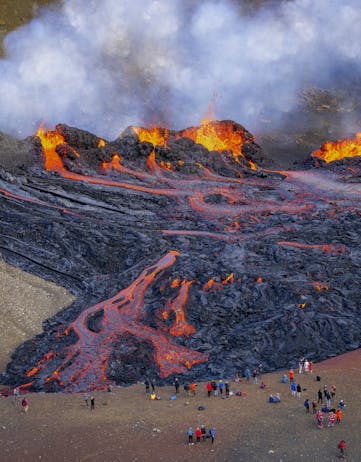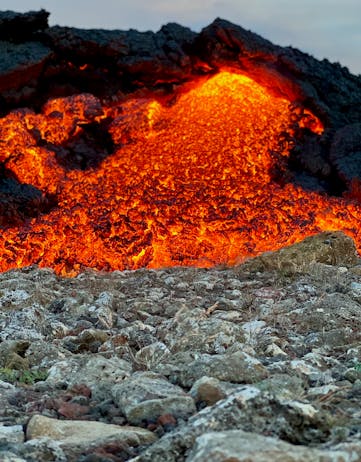 Photos L to R: In the foreground is some of Iceland's newest basalt rock with spatter cones forming in the background (Parker O'Halloran), a brand new fissure opening on August 3, 2022 (Ragnar Th Sigurdsson), The lava frontline at Fagradalsfjall Volcano on August 4, 2022 (Parker O'Halloran)
GUIDED TOURS TO THE VOLCANO
Many tour operators offer guided tours to the volcano. Visiting with a local guide is highly recommended to get the most out of the experience and maximum safety. Tours vary and may include transport or a meeting with your guide in the parking if you prefer to drive there yourself.  
OTHER WAYS TO GET THERE - BY AIRPLANE OR HELICOPTER 
If hiking to the volcano in Iceland is not your thing: witnessing the eruption site from above is a unique and very exclusive experience. So, if you want a bird's eye view of Fagradalsfjall, a helicopter or airplane flight over the volcano might be the right option for you. 
See more information on VisitReykjanes.is