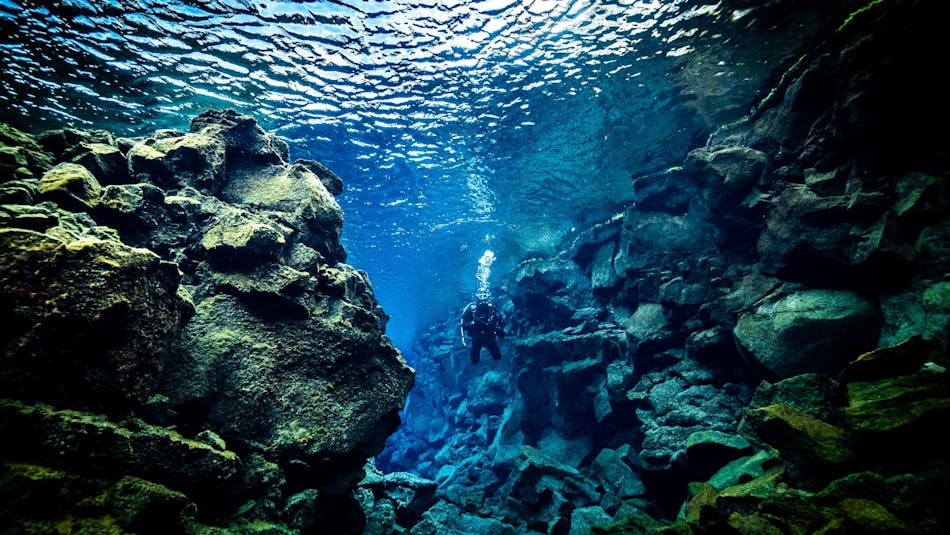 Diving and snorkeling in Iceland
Iceland is a geologic hot spot and famous for everything that's warm: volcanoes, hot springs, and thick wool sweaters. It, therefore, seems far-fetched to pick this country for diving and snorkeling in ice-cold oceans and lakes. But the ones who leave the bathtub warm waters of our comfortable swimming pools will be rewarded with a view of a magnificent underwater world. So, squeeze yourself into a dry suit and jump!
No diver's license, no problem
Scuba diving and snorkeling in Iceland means exploring geologically unique sites and getting into the middle of a country, that is still in the making. Local diving companies offer tours for certified scuba divers in different difficulty levels.

But also without a diver's license, you have the chance to explore Iceland's underwater world. A big selection of exciting trips for physically fit snorkelers is available with most dive tour providers.
Each part of the country offers exciting dives. A trip around Iceland can easily include visiting them all! But whether you are picking a one-day snorkel tour or a multi-day diving journey around Iceland - you'll be in for a treat!
Between the tectonic plates
The Silfra fissure in Þingvellir National Park is without a doubt Iceland's most famous diving site. It also is the only place in the world where you can dive between the North American and Eurasian tectonic plates. Year by year those drift further apart and widen the ravine about 2 centimeters.
Snorkelers and divers praise the amazing underwater visibility in the lava-filtered, crystal clear water in Silfra. Other lava fissures, that offer the clearest water and great visibilities are Bjarnagjá, Davíðsgjá, and Nesgjá.
Diving Hot (S)Pots
Though our cold waters always require a dry suit, there are some dive sites where you can see bubbling hot springs underwater!
Lake Kleifarvatn located on the geothermally active Reykjanes peninsula is supplied by hot water springs, that prevent it from freezing during winter.
The shallow river Litlaá close to the Arctic circle even gets a comfortable 17C warm and mesmerizes snorkelers with its colorful sediments.
For advanced divers, it is possible to visit the underwater white smoker Strýtan that is close to Akureyri and the only hydrothermal chimney in the world possible to dive to. On this demanding dive, you can see impressive stalagmites formed by mineral deposits when hot water releases into the ice-cold ocean.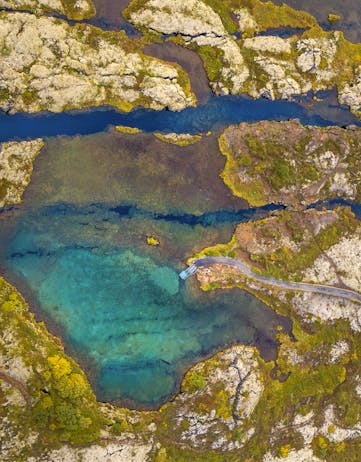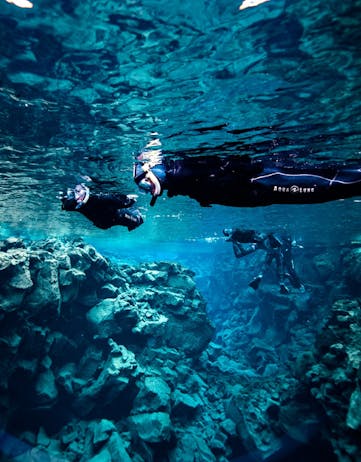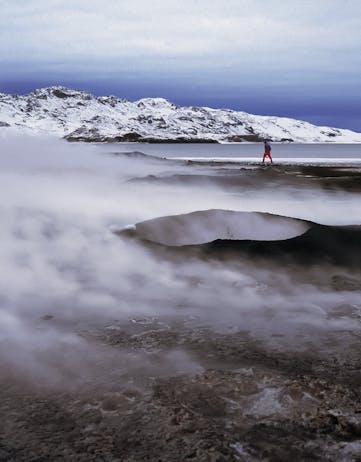 Unusual dive sites - nothing short of spectacular
Ever wanted to dive in an active volcano? Askja lake (Öskjuvatn) makes it possible. The second deepest lake in Iceland was created by a volcanic explosion in 1875. Many stories and myths are told about this area and Nasa's moon landing team practiced in this otherworldly landscape. Diving there requires a long car trip into the heart of Iceland, followed by a difficult hike with all the equipment. But the reward is a unique underwater experience with some surprises!
Divers who want to stay close to shore can wreck dive to the British oil tanker El Grillo in Seyðisfjörður. Heavily damaged by a German airplane bombing in February 1944, the wreck now lies on the bottom of the fjord and is an adventurous diving site.
Diving with puffins and whales? Sure!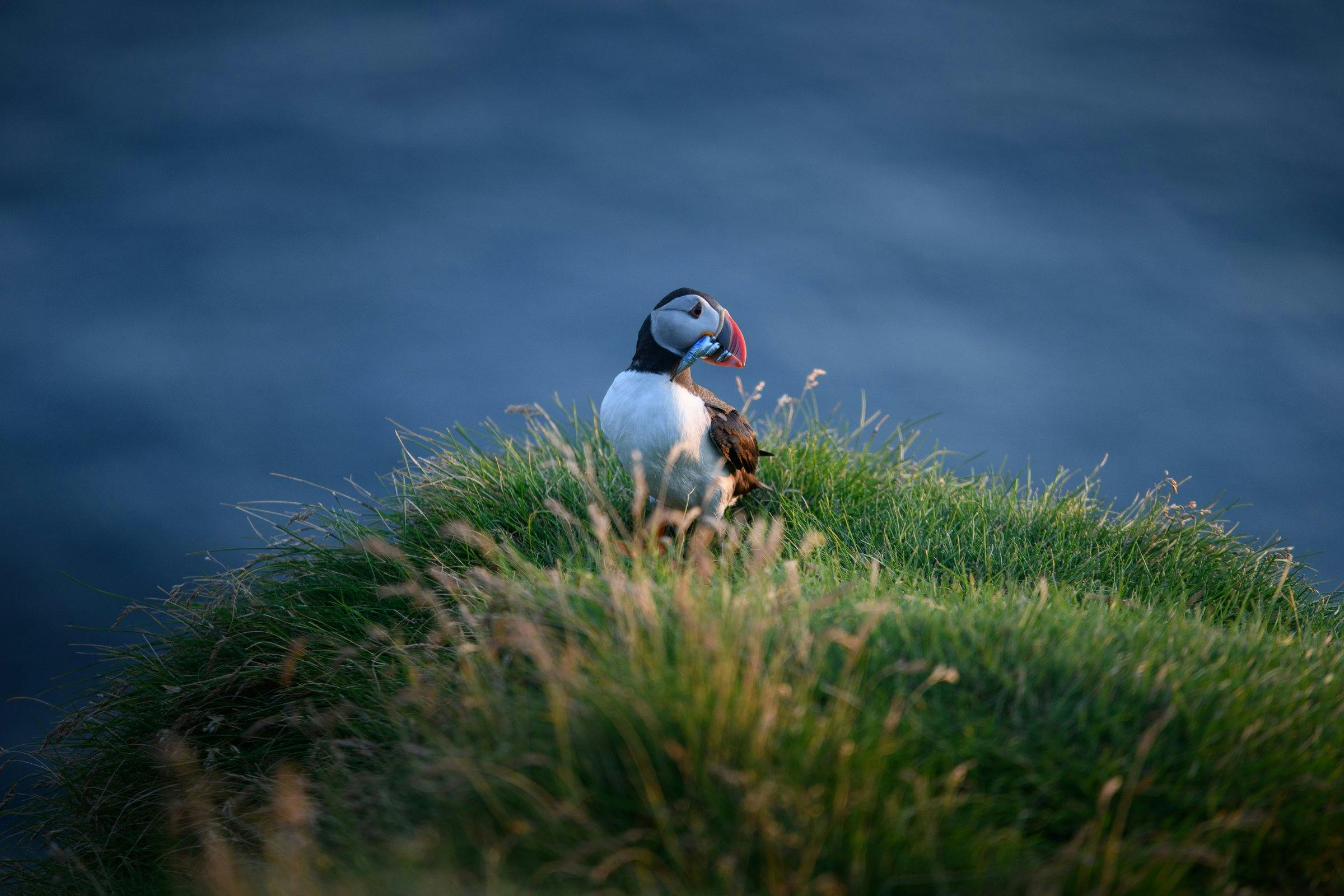 Join the puffin hunting for fish!
Meeting the locals isn't only possible in swimming pools: diving and snorkeling with puffins, auks, and humpback whales in Akureyri and Grimsey Island make for an unforgettable encounter with the Icelandic fauna!
For divers and snorkelers that are more intrigued by the underwater flora, we recommend Garður ("Garden") on Reykjanes peninsula, where a large variety of marine algae and kelp forests can be explored.