Christmas in Iceland - Celebrating light in the darkness
The Christmas celebrations or Yuletide are the biggest holiday in Iceland. Many traditions may be familiar, but some perhaps a bit peculiar, like that children put shoes in their bedroom window for 13 days in the hope of getting presents from mischievous yule-lads. So how do Icelanders celebrate the Yuletide and how can travelers participate in the festivities?
Icelandic holiday traditions - a mixed bag of cultures
Yule traditions in Iceland are probably as old as the country's settlement in medieval times and are a mixed bag of religion and folklore. The month-long festivities shorten the long dark winter where the sun only crawls above the horizon for four hours during the winter solstice. For a whole month, Christmas-related festivities involving food and drinks, cultural and religious events, parties and family dinners, decorations and shopping, keep many people busy. Yet, at the same time, quiet evenings with candlelight, books, hot chocolate, and cookies are equally appreciated.
"Lovel" "folk" stories for children - The 13 Yule-lads, their vicious troll mother Grýla, and the terrifying Yule-cat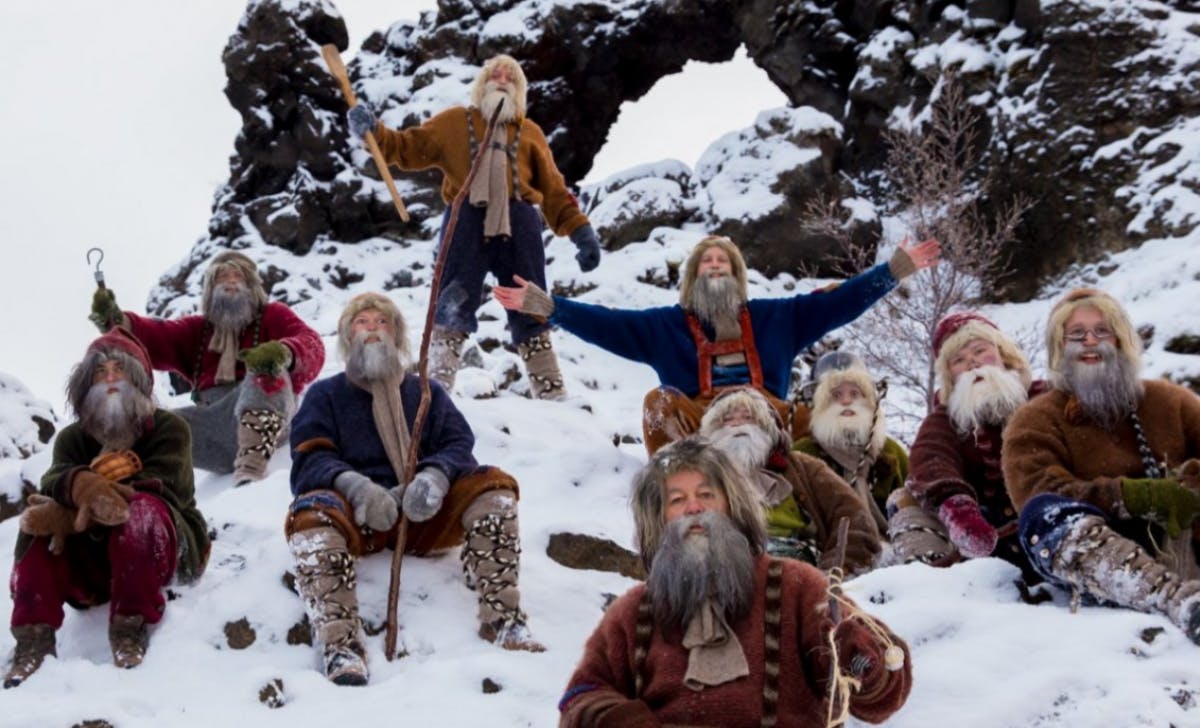 The Icelandic Yule-lads are harmless pranksters that even bring gifts to children.
Many mysterious figures appear during the Yule season that belong to the same Yule-troll family. The 13 Yule Lads are sometimes called the Icelandic Santas, but they are certainly no saints, although completely harmless. They are pranksters who each have a peculiar craving that usually reflects in their names; for example, Spoon Licker, Door Slammer, Skyr Gobbler, and Sausage Stealer. Despite their naughty behavior, they can be friendly to well-behaved children.  
Each of the thirteen nights leading up to Christmas one of them comes to town from the mountain cave they live in. They bring small gifts to children who have placed a shoe on their window sill. It can be a small toy, a piece of candy, or a healthier choice like a mandarin orange. Those that haven't behaved get a rotten potato and need to step up their game before the next Yule-lad shows up.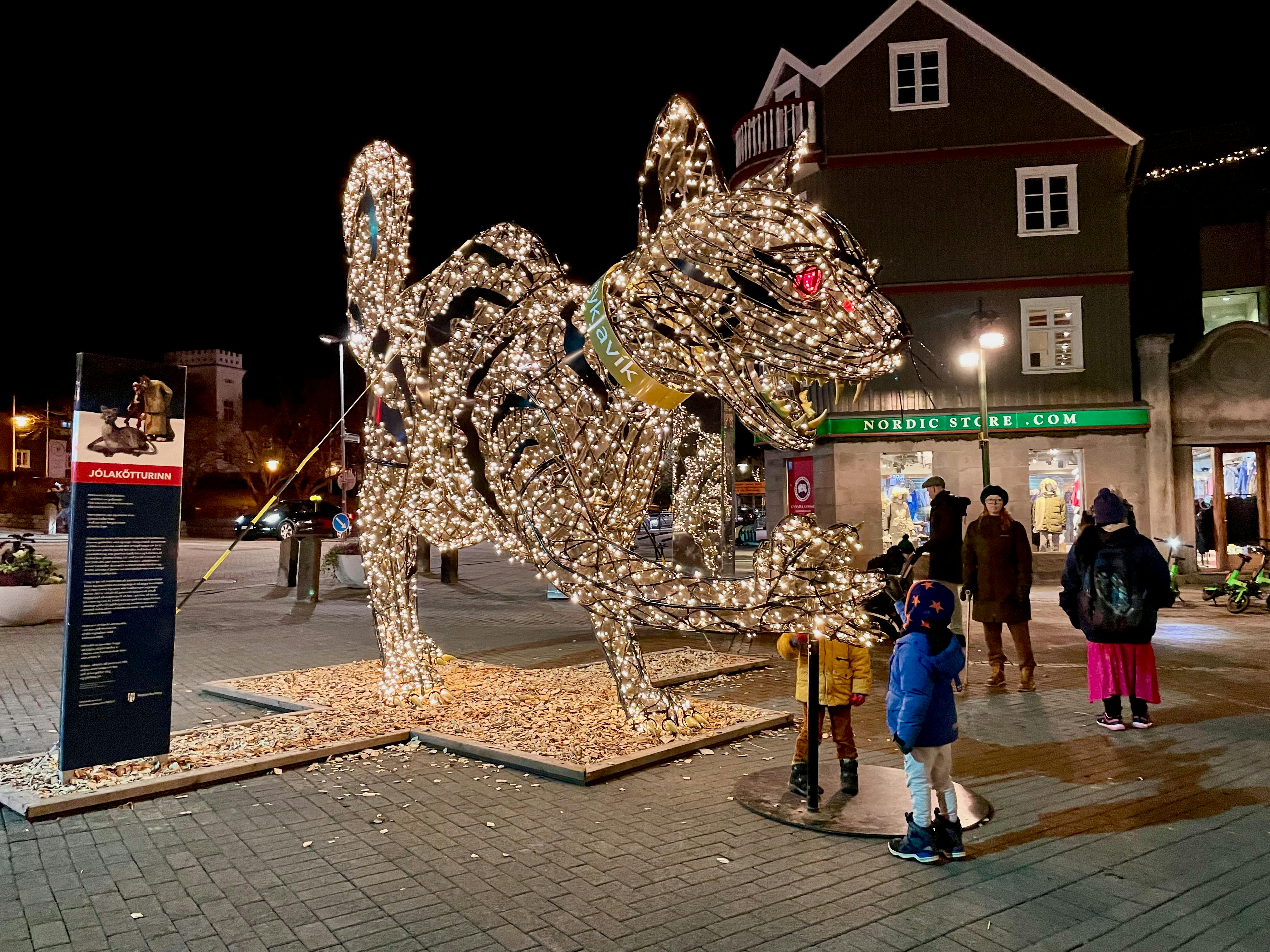 Children are not afraid of the "terrible" Christmas cat anymore.
Then there are two in the family, Grýla and the Yule Cat, that entirely lack any Christmas spirit. Grýla is the Yule-lads troll mother and she collects naughty children in her sack, brings them to her cave, and boils them. Their big black cat hunts on Christmas eve and eats poor people that didn't get a new piece of clothing before Christmas. There is a rumor they haven't had much luck in the past decades and may be dead, but Icelandic children don't count on it and do their best to behave in the excitement before Christmas. 
A note to children: Always try your best to behave in Iceland and keep a shoe on your window sill between December 11-24.
A note to parents: You may need to assist the Yule-lads with putting the gifts in the shoe; they can be a bit clumsy ;)
Shopping and gifts - the annual Yule book flood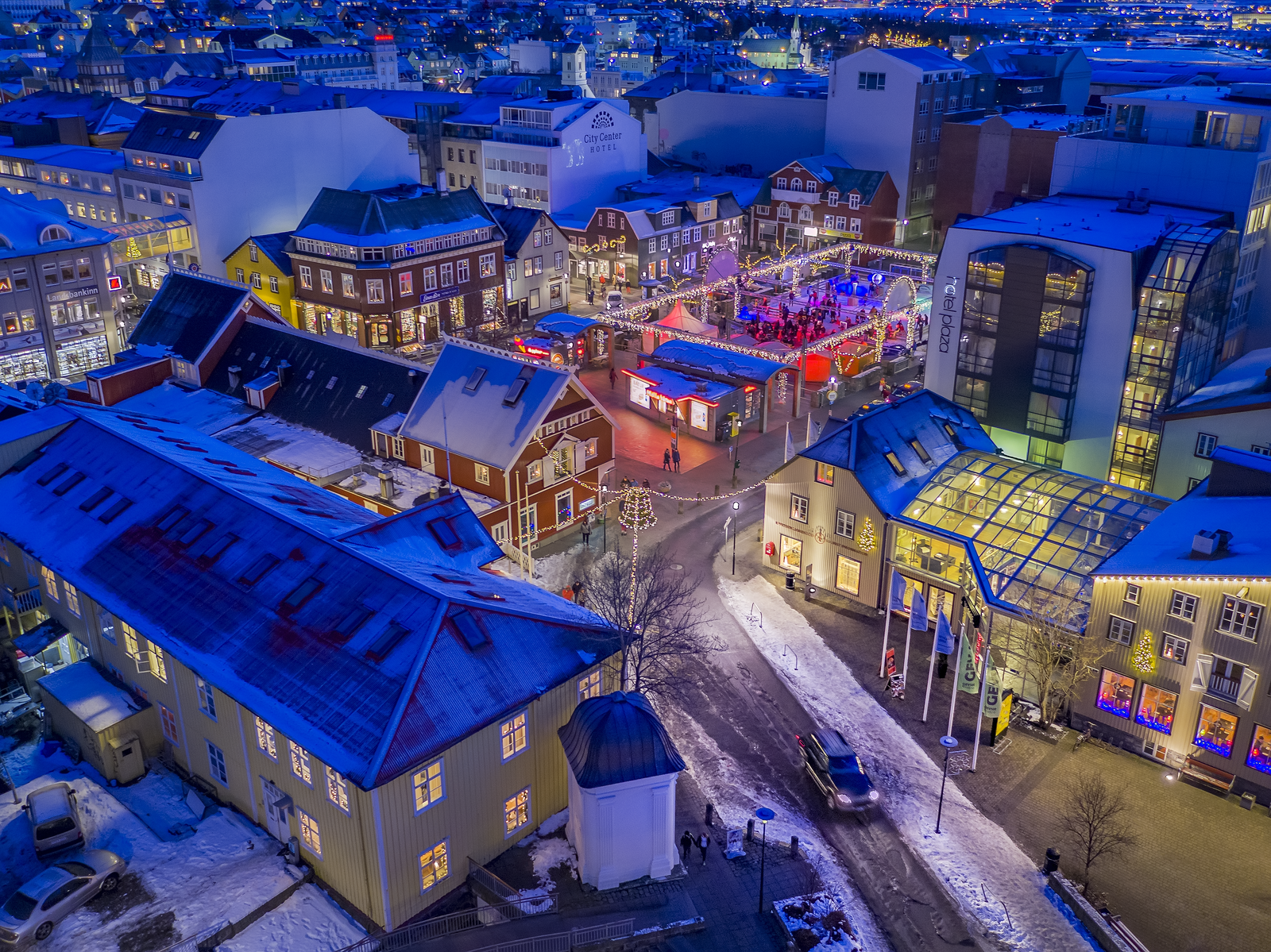 Downtown Reykjavík is decorated with Christmas lights.
Giving books for Christmas has been a tradition in Iceland for decades and lies in our literary roots from medieval times when the Icelandic Sagas were written. Therefore, many books are published before Christmas when book sales are peaking, and we get the annual Christmas book flood.
Other popular gifts are clothes, music and event-related gifts and of course phones and other gadgets and toys for the children. The gifts are usually opened after dinner on Christmas eve on the 24th of December when most Icelanders celebrate Christmas.
Whether people like shopping in malls or strolling the downtown shopping streets, there are several options. The most prominent malls are the Kringlan and Smáralind shopping malls in the Capital area and Glerártorg in Akureyri in North Iceland. For those seeking the downtown atmosphere, Laugavegur, Skólavörðurstígur, and surroundings in Reykjavík are a great option as well as the Christmas village in Hafnarfjörður. Most larger towns around the island will also have shops in the downtown area with longer opening hours, Christmas decorations, and popup music events, such as the Christmas center in Selfoss. You may even run into some cheeky Yule-lads or the Santa-Claus himself somewhere on his annual stopover in Iceland.