Caving in Iceland
It may sound like a sci-fi novel by Jules Verne that you can travel inside the veins of a glacier and go down a crater vent of a volcano to visit a magma chamber - but in Iceland, it is the actual reality. The unique geological setting of the island makes some awe-inspiring rock and ice formations, waiting to be explored.
Why is Iceland the ideal place for cave exploration? 
Due to Iceland's position on the North-Atlantic Ridge, it is one of the most active volcanic regions globally. The island is like a big cake, formed from layers on top of layers of basalt lava, the perfect material for making lava-tube caves, that can be safely explored year-round.  
The northerly position on the globe adds the icing on the cake, literally, because the wet-bottom glaciers in Iceland also produce some extraordinary ice caves, available for exploring seasonally.
Lava caves - frozen moments in time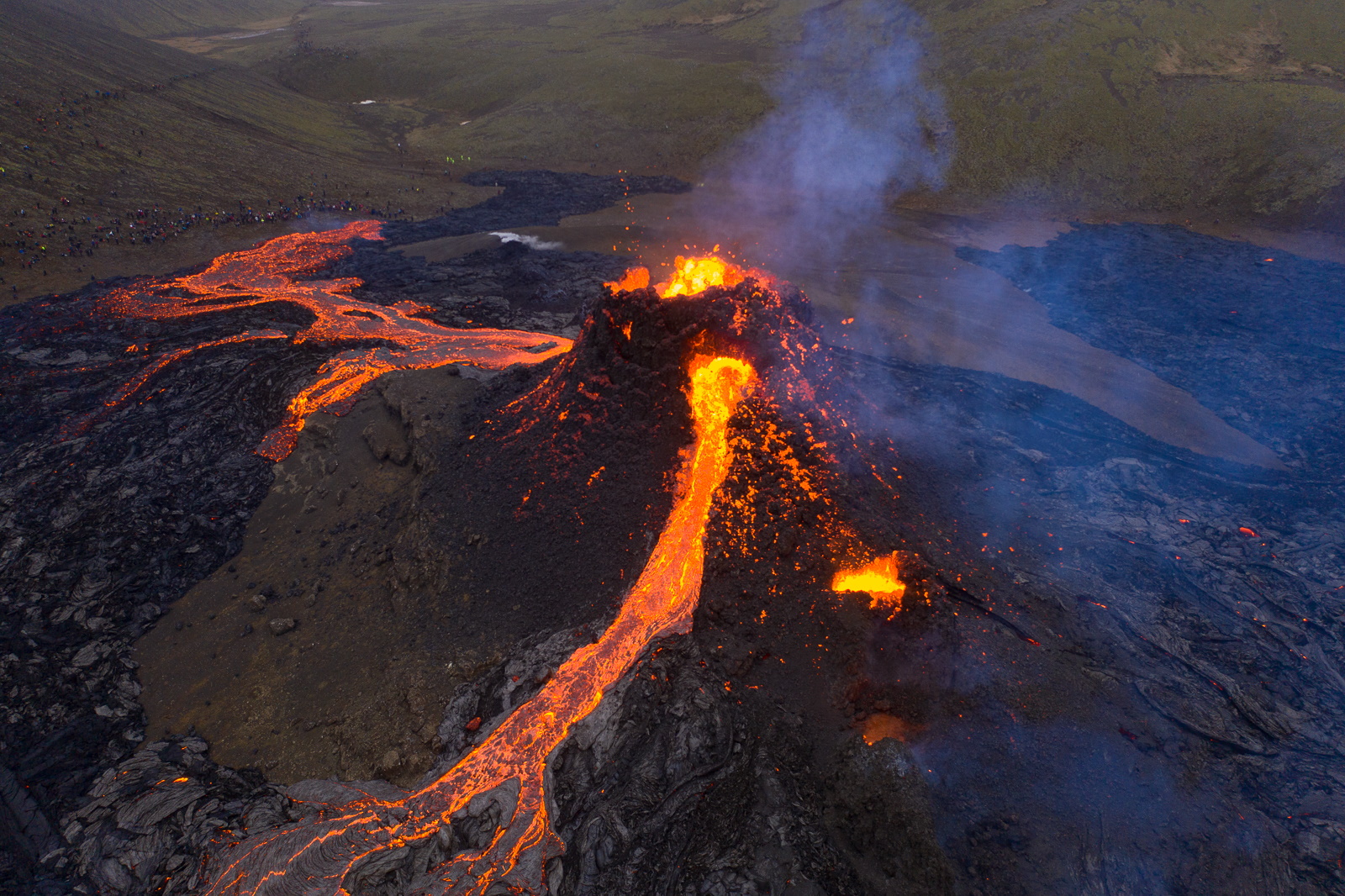 Lava tube caves are formed by rivers of basalt lava flowing in confined channels and tunnels
Lava tube caves are formed by rivers of basaltic lava flowing from a volcanic crater. When the 1000C hot magma comes to the surface (then called lava), it starts cooling very quickly and freeze. The lava flow confines in river channels and levees form on the riverbanks, deepening the channel. If the flow is slow and steady for a while, a crust forms on top and the flow continues in tunnels and tube systems below. When the lava flow stops, a lava tube is formed, if the tunnel empties and the roof holds.  
The lava rivers are usually fed from magma storage chambers inside the craters, which are sometimes preserved after the eruption stops, leaving behind a colorful world of dissected feeding dykes and steam alterations. 
Natures stunning sculptures – You can look but not touch! 
The lava flow can leave behind stunning formations inside the caves: shark tooth- and splash stalactites, flow lines, ledges, and lava falls. While cooling, tubular stalactites and stalagmites are created from leftover magma that gas pressure squeezes out of small cavities, somewhat like toothpaste from a tube. In addition, ice stalagmites often form near the cave entrances during the winter, giving them extra decor. 
Lava tube caves are natural treasures with delicate lava sculptures that often are hollow on the inside with only a thin shell that can be easily damaged. Lava caves and their formations are protected by nature conservation law, and it is strictly forbidden to break anything. We want to make sure future generations will also be able to enjoy and study them – please help us with that. 
How to behave in a cave - what equipment do I need? 
A visit to a lava cave is an extraordinary experience but can be dangerous without professional knowledge and the right equipment. Going with an experienced guide is therefore strongly recommended. 
Some lava caves are accessible to the public, such as Gjábakkahellir and Leiðarendi, but the most stunning and decorated ones are usually closed to the public for conservation purposes and safety reasons and can only be accessed through guided tours.  
Safety tips for lava caving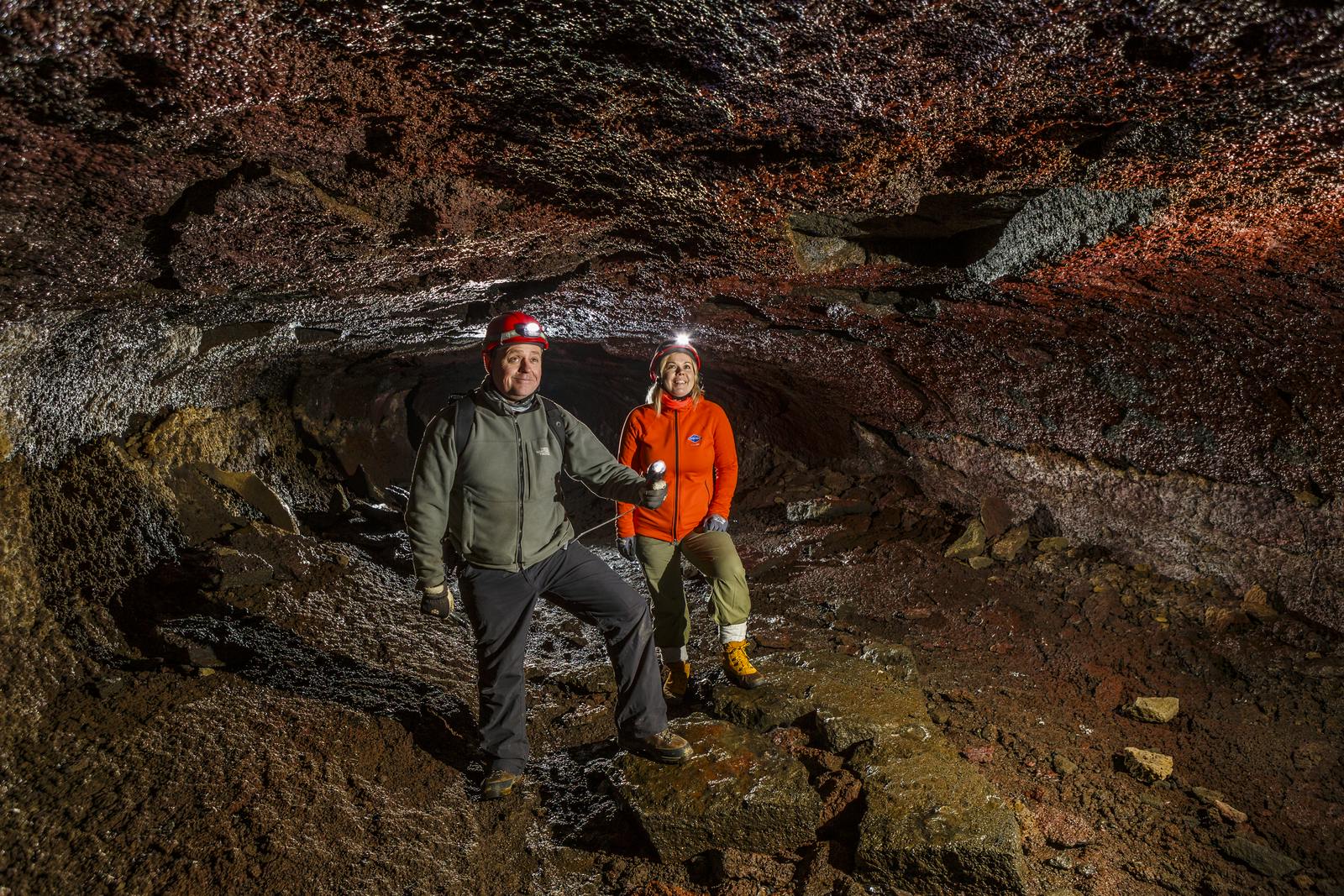 Safety is important when exploring caves in Iceland
If you plan to visit a cave on your own, make sure you have the right equipment, tell someone about your travel plan and never go alone into a cave. 
Standard and necessary safety equipment is a helmet and a flashlight (provided in guided tours). 
Usually, there is no cell phone reception in caves, so you can't rely on calling for help. 
The temperature in Icelandic lava caves is 0-4°C (32 – 38°F) year-round, so warm clothing is necessary. 
Water is often dripping from the ceiling of caves so a waterproof jacket is recommended. 
The floor can be rugged and icy, so sturdy boots are necessary and ice cleats during the winter (provided in guided tours). 
Be careful of loose rocks that may fall, so check what is above you before going further. 
Lava tube caves are protected by law. Don't break or take anything or leave any litter. Be careful what you touch since many rock formations are extremely delicate and easily damaged.  
Guided lava cave tours - Offered year-round 
You can find several options for guided lava cave tours in Iceland. Cave guides are usually geologists or experienced naturalists that bring extra insight as well as following strict safety rules. 
All guided tours include essential safety equipment such as a helmet and flashlight. The temperature in the caves is low (1-5°C) year-round, so warm clothing is necessary and sturdy shoes are recommended. 
Each of the caves has its own character and charm, but most are surprisingly large in volume. Many of them have been equipped with staircases and walkways for safe exploring, making it a perfect family activity. Tour duration is between 1-5 hours, sometimes with some hiking involved to get to the cave, so make sure you read the tour description to see if it suits your fitness level.