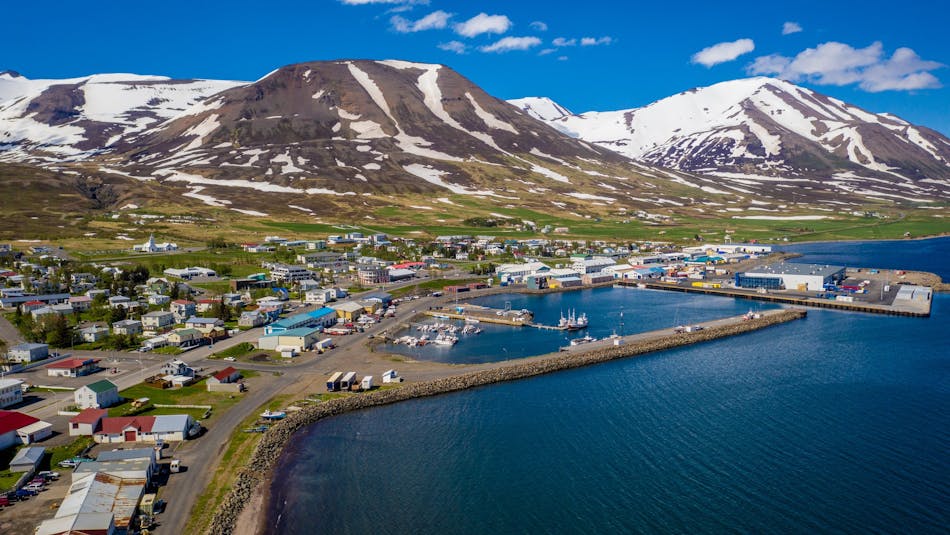 DALVÍK AND AROUND: RIDE FJORDS AND MOUNTAINS
On the East coast of the Tröllaskagi peninsula in northern Iceland, above the Ring Road, you'll find a series of gems just off the beaten path. 
Tröllaskagi, literally meaning "Troll Peninsula," has some of the country's tallest mountains outside the Highlands - some over 1km high - towering over the road as it winds through small fishing villages. Taking a detour around the coast of the whole peninsula will add a couple hours to the Ring Road drive, but if you're looking for stunning scenery and a place with fewer fellow tourists - it's worth it.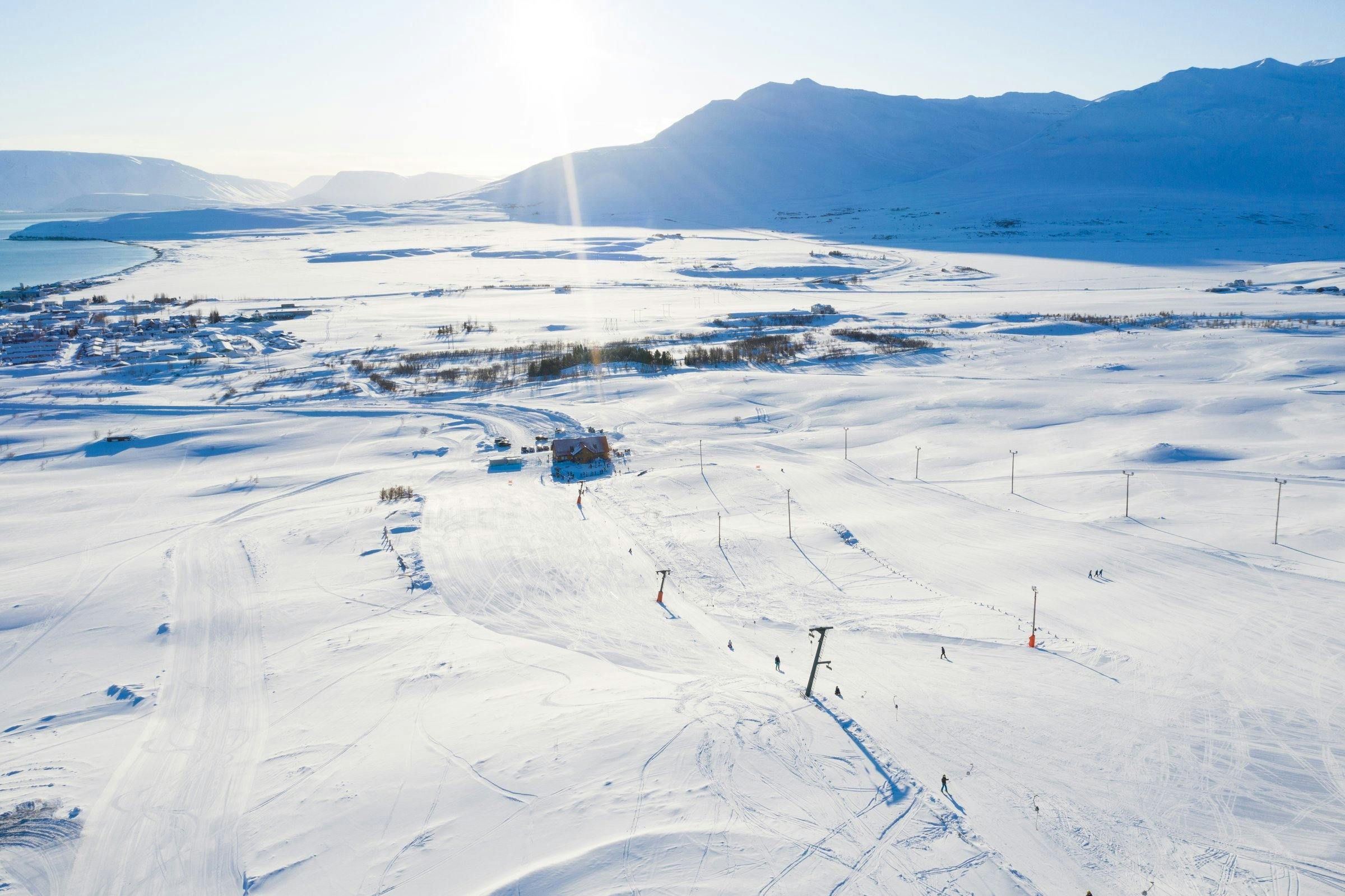 Dalvík Winter Sports
Dalvík sits just off Route 82, between Akureyri and Olafsfjordur. (Note that the roads are paved and smooth to drive, so you can access these areas without a 4x4.)
This small fishing town sits nestled around a harbor, full of small and colorful fishing boats moored at the foot of steep, snow-capped hills. Due to the surrounding landscape, Dalvik is a popular base for extreme winter sports like heliskiing, ice climbing, and alpine climbing.
Nearby, Skíðasvæði Dalvíkur is one of the most celebrated ski areas in Iceland. You'll find endless backcountry skiing, and might even find yourself slicing through fresh powder under the Northern Lights. Despite Dalvik's small size - the town boasts a population of just 1400 - the town has produced a series of celebrated skiers who've gone on to the Olympics, World Cup, and many other international competitions. That means you can ski on slopes where the best have trained. There are also easier paths for beginners.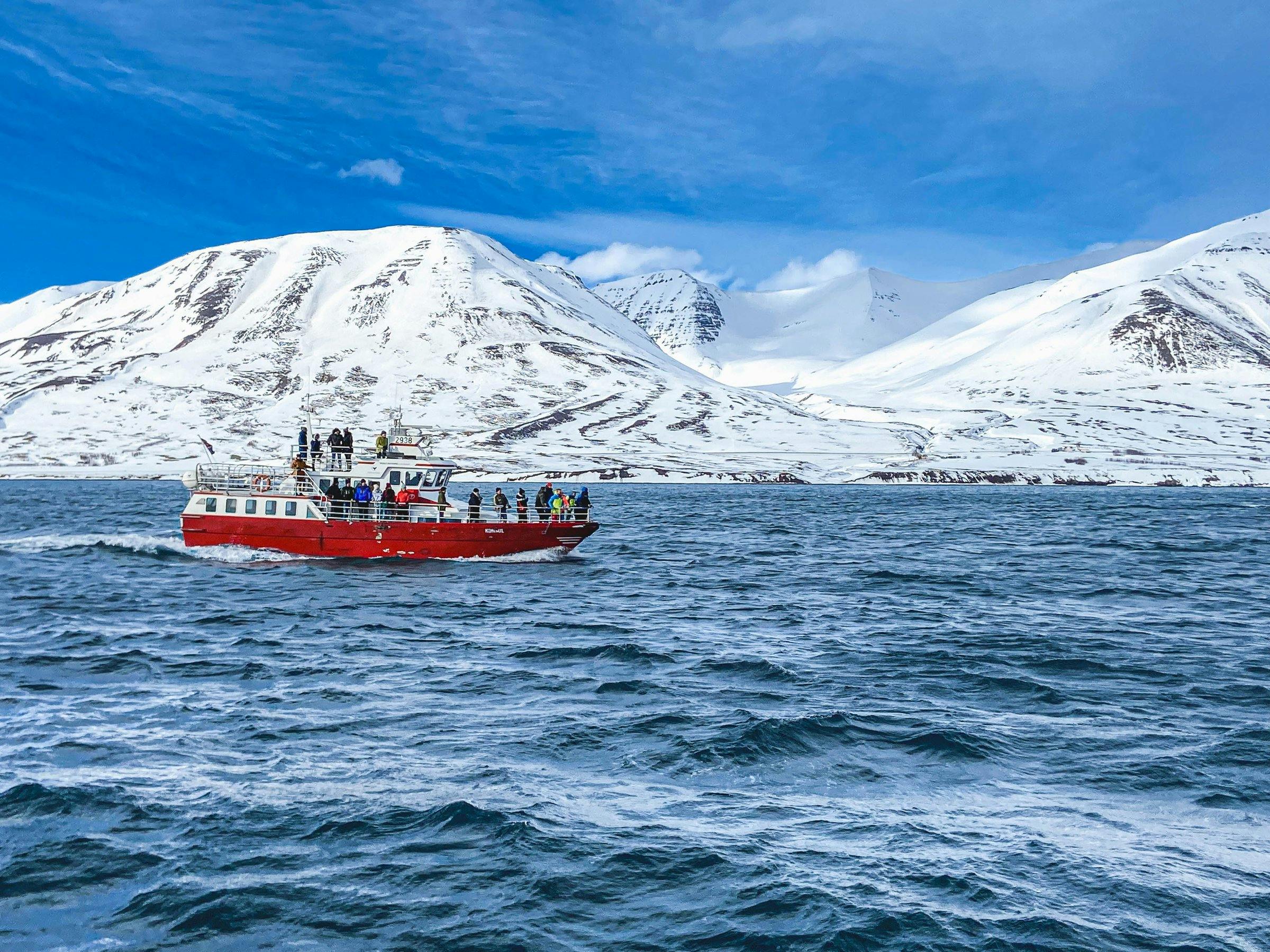 Whale Watching from Dalvík
Eyja Fjord attracts ocean fauna, who come to its deep, rich waters to feed, so this is also a popular launch point for whale watching tours - and you'll have better odds of seeing many whales as compared to in more trafficked waters like near Reykjavik. On Arctic Sea Tours you can see humpbacks, blue whales, porpoises, dolphins and puffins. There are plenty of viewing areas on the boat, and the company reports a 98% success rate  in tour sightings, so you're almost guaranteed to see some - even seeing whole families breech for air - and since the boats are small, they're able to get relatively close.
Dalvík Swimming Pool
Even if you're just passing through, Dalvik is a great spot to pull over and jump out for a dip. The Dalvik pool sits just on the edge of the small village, with large and clean changing rooms. Swim or soak in the steaming water with the snowy hills of the fjord soaring around you. This particular hot pool is great for children as well, as it has a kid's pool and a waterslide. You can find a sauna and gym attached, and towels and swimsuits are available for rent or purchase.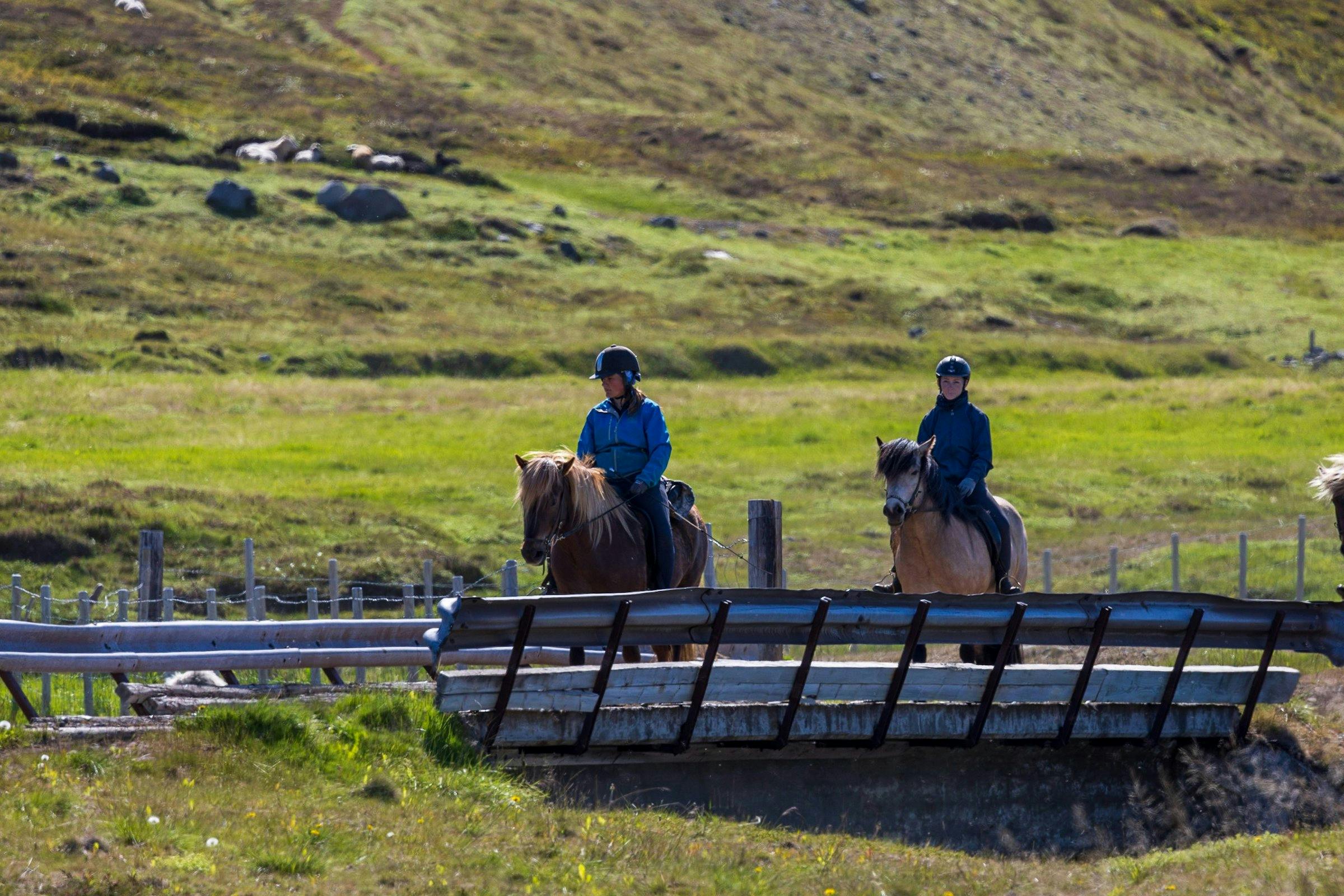 Guided Riding Tours
If the weather is decent, you can take a guided horse tour for a view of the town and surrounding countryside. Horse farms are the most common type of farm on this peninsula, and Icelandic horses are famously docile, sure-footed, and gorgeous animals. The father-son team of Tvistur Horse Rentals, about 2.5 km south of Dalvik in the valley of Svarfaðardalur, can guide first-time riders and children as you take a relaxing ride over meadows and streams.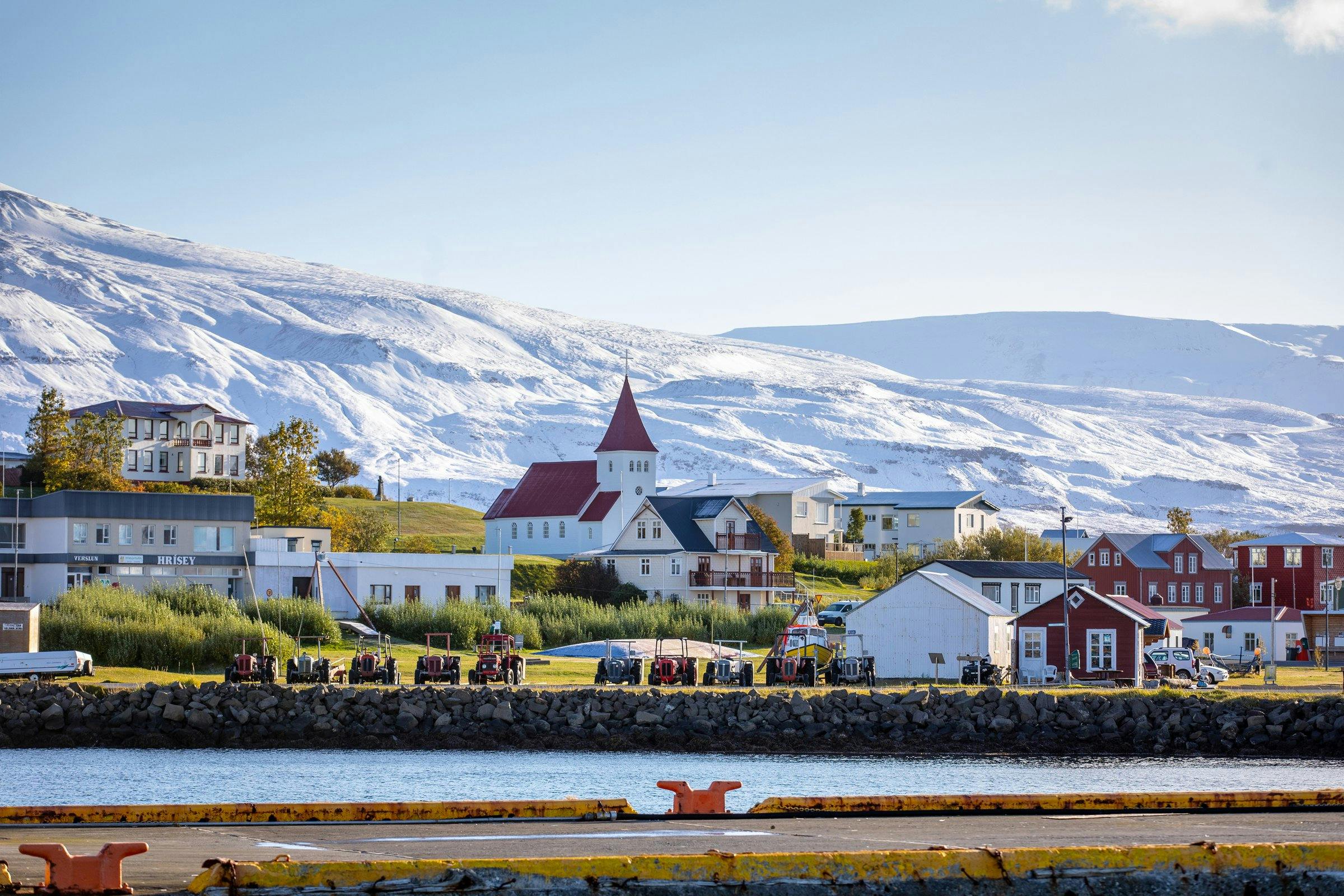 Ferry to Hrísey and Grímsey
Dalvik is where you can catch the 30-minute ferry to Hrisey Island. This cute island has colorful cottages, and is a great daytrip for birders. It also boasts an exhibition on shark hunting, once a profitable and dangerous industry in Iceland. 
Here is also where you can catch the Seafari Ferry to Grimsey, Iceland's northernmost community, which lies within the border of the Arcitc Circle. The ferry takes about three hours, so the island is best visited as an overnight trip, and while the ferry runs year-round, the schedule changes, so check ahead.
Read our full coverage of Hrísey and Grímsey.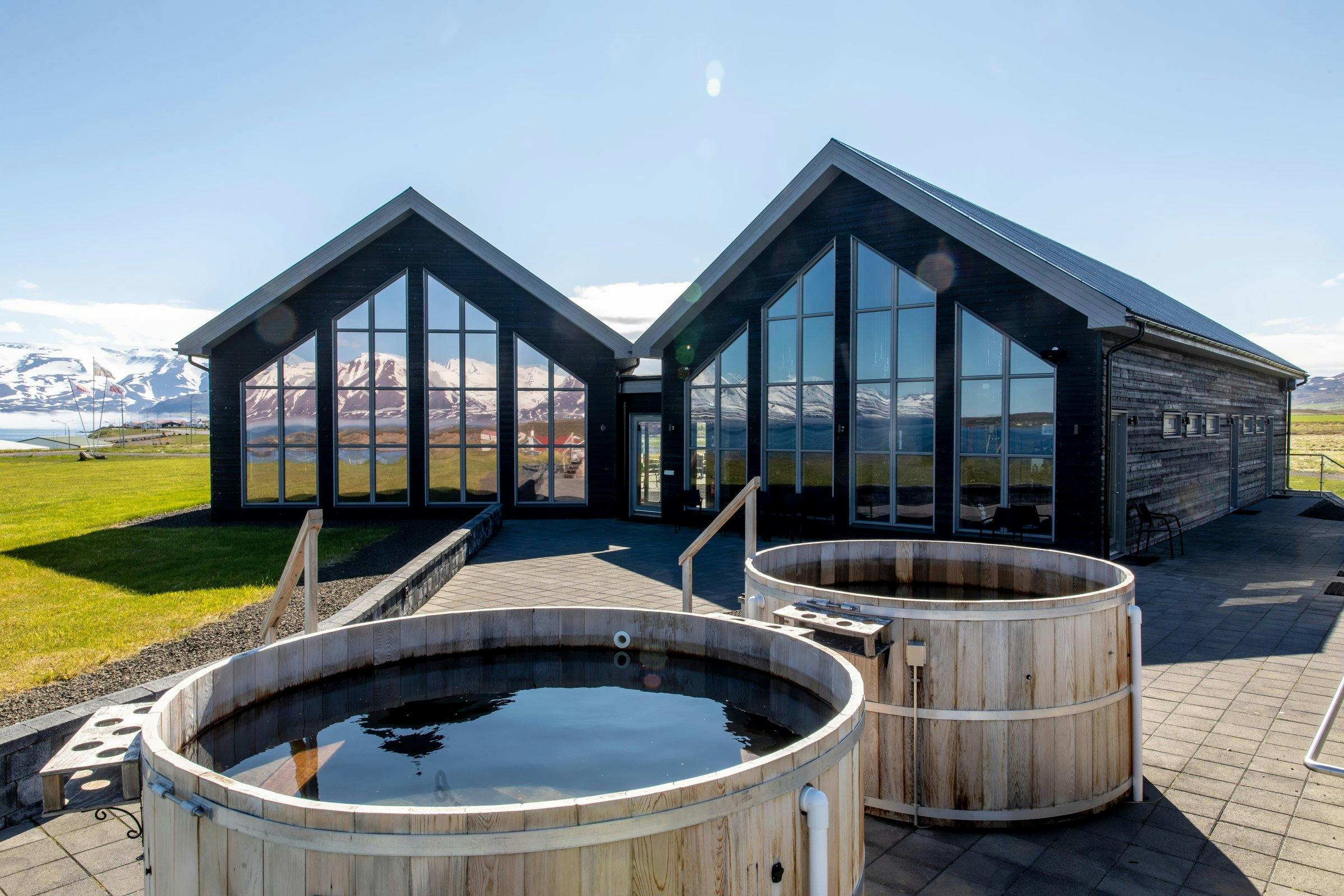 Árskógssandur and the Beer Spa
If you continue south of Dalvik, you'll reach Árskógssandur, which, though, tiny, boasts an exciting first: Iceland's first (and only) microbrewery, named Kaldi. The brewery is so beloved (and the town so small) that it employs about 10% of the community. That's a big deal for a country where beer was banned just 40 years ago.
Some will be excited to learn that just next door sits a beer spa, Bjórböðin: lower yourself into a glossy wooden tub for an indulgent soak in the local beer (mixed with water and herbs), all while pouring yourself a nice cold pint from the personal tap nearby. Of course, if you prefer a more classic approach, there are hot tubs outside. 
The brewery also has a restaurant serving bar food like burgers and pizza, and a small house for rent if you'd like to make this your stopover point (or if you enjoy the beer spa a bit too much).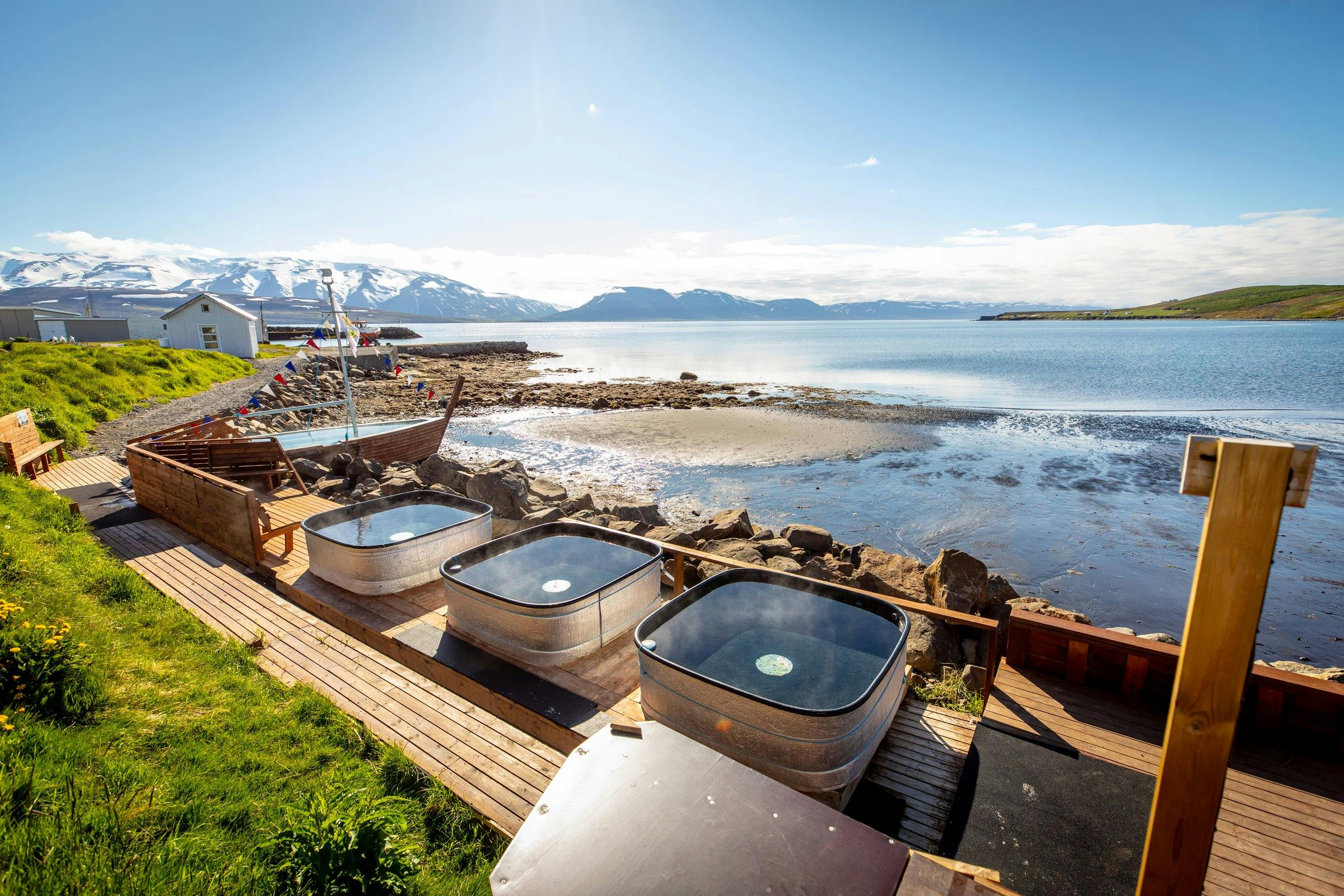 Hauganes Hot Tubs
Swim in the cold sea from the beach in Hauganes, a tiny village, where local entrepreneurs have installed a hot pots. The tubs at Sandvíkurfjara beach are sheltered from the wind and the black beach sand is warmed by the sun. Go to Visit Hauganes for opening hours and admission.
Hauganes is also home to the popular Baccalá Restaurant and a place to go whale watching without the crowds.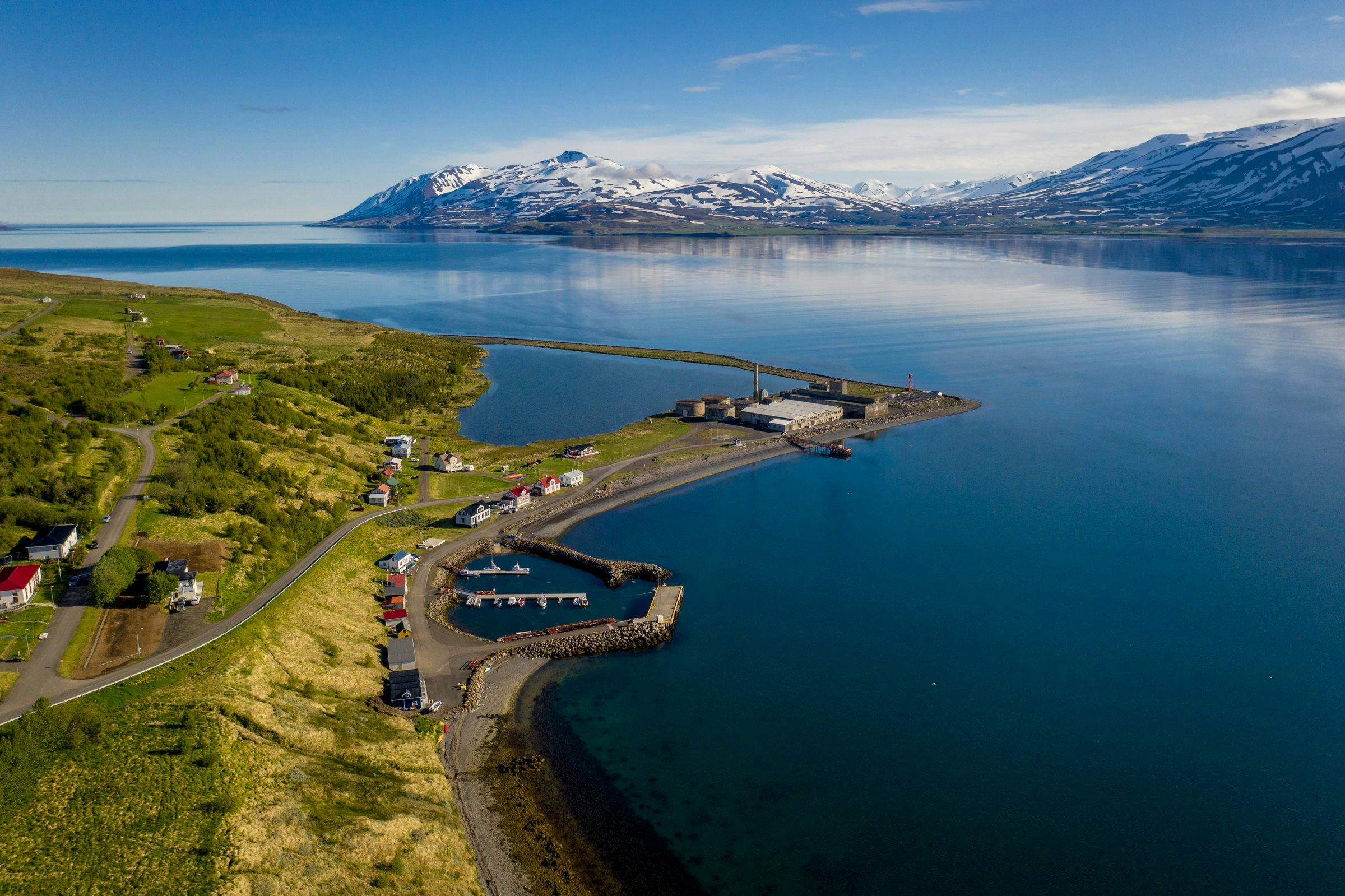 A bit further south still, as you near the Ring Road, you'll come to Hjalteyri. This town is home to the contemporary art space Verksmiðjan and the Strytan divecenter - both located inside an abandoned herring factory.
At Strytan certified divers will take you down into the depths of a fjord to see the incredible vision of underwater geothermal chimneys. The company even offers courses appropriate for first-time divers. Where better to begin?